BPSC Syllabus :- http://www.bpsc.bih.nic.in/Downloads/Syllabus-CC-Exam-Updated.pdf
BIHAR
Bihar is located in the eastern part of the country (between 83°-30′ to 88°-00′ longitude). free Practice set
It is an entirely land–locked state, although the outlet to the sea through the port of Kolkata is not too far away.
Bihar lies mid-way between the humid West Bengal in the east and the sub humid Uttar Pradesh in the west which provides it with a transitional position in respect of climate, economy and culture.
It is bounded by Nepal in the north and by Jharkhand in the south. The Bihar plain is divided into two unequal halves by the river Ganga which flows through the middle from west to east.
Physical Features
| | |
| --- | --- |
| Latitude | 24°-20′-10″ ~ 27°-31′-15″ N |
| Longitude | 83°-19′-50″ ~ 88°-17′-40″ E |
| Rural Area | 92,257.51 sq. kms |
| Urban Area | 1,095.49 sq. kms |
| Total Area | 94,163.00 sq. kms |
| Height above Sea-Level | 173 Feet |
| Avg. Number of Rainy Days | 52.5 Days in a Year |
Coordinates (Patna): 25.37°N 85.13°E
Country
India
Formation
22 March 1912
Capital
Patna
Largest city
Patna
Districts
38
Government
• Governor
Shri Phagu Chauhan
• Chief Minister
Shri Nitish Kumar
• Deputy Chief Minister
Shri Sushil Kumar Modi
• Legislature
Bicameral
Legislative Council 75
Legislative Assembly 243
• High Court
Patna High Court
Area
• Total
94,163 km2 (36,357 sq mi)
Population (2011)
• Total
10,40,99,452
• Density
1,106/km2 (2,850/sq mi)
Time zone
(GMT+5:30)
Official language
Hindi
Website
state.bihar.gov.in
Administrative Units
| | |
| --- | --- |
| Divisions | 9 |
| Districts | 38 |
| Sub-Divisions | 101 |
| CD Blocks | 534 |
| Panchayats | 8,406 |
| Number of Revenue Villages | 45,103 |
| Number of Towns | 199 |
| – Statutory Towns | 139 |
| – Non-Statutory Towns | 60 |
| Police Stations | 853 |
| – Civil Police Stations | 813 |
| – Railway Police Stations | 40 |
| – Police Districts | 44 |
| Civil Police District | 40 |
| Railway Police District | 4 |
Key Statistics – as per 2011 Census
| | |
| --- | --- |
| Density of Population | 1,106 per sq kms |
| – Highest Density | Sheohar, 1880 per sq kms |
| – Lowest Density | Kaimur, 488 per sq kms |
| Most Populous District | Patna: 58,38,465 |
| Least Populous District | Sheikhpura: 6,36,342 |
| Sex Ratio (Females/Thousand Males) | 918 |
| – Highest Ratio | (Gopalganj) 1,021 |
| – Lowest Ratio | (Munger) 876 |
| Lowest Literacy Rate | Purnia, 51.08% |
| Highest Literacy Rate | Rohtas, 73.37% |
| Average Population of a District | 27,39,459 |
History of Bihar
Bihar is a unique state endowed with rich history. It is the seat of significant mythological events and tales from Ramayana. The birth place of prominent religions including Buddhism and Jainism.
It was Bihar that sprouted the first seed of democracy. Was Bihar where first true kingdom, Maurya Empire, reigned all over the subcontinent.
Patna, situated on the bank of river Ganga, the capital of Bihar and state's current geographical boundary is shaped after its partition from Bengal and later on after separation of Jharkhand in 2000.
Ancient History of Bihar
The history of Bihar dates back to the very dawn of human civilization as mythological tales and legends of Hinduism, the Sanatana (Eternal) Dharma, can trace to the land of Bihar.
A Significant place in Ramayana
According to mythological tales, Sita, the consort of Lord Rama, was a princess of Bihar. She was the daughter of King Janak of Videha, the present districts of Muzaffarpur, Sitamarhi, Samastipur, Madhubani and Darbhanga, in north-central Bihar mark this ancient kingdom.
According to legends, the birthplace of Sita is Punaura, located on the west of Sitamarhi town and Janakpur, the capital of King Janak and the place where Lord Rama and Sita were married, lies just across the border in Nepal.
Maharishi Valmiki, author of Hindu epic 'Ramayana', also said to have lived in Bihar in a place currently known as Valmikinagar, a small town in the district of West Champaran.
Visit these places of Mythological importance
One can reach Janakpur from Janakpur railway station located in Sitamarhi district, on the Narkatiyaganj – Darbhanga section of the North-Eastern Railway. Valmikinagar is a small town in the district of West Champaran, close to the railhead of Narkatiyaganj in northwest Bihar.
Did you know: The word Champaran is derived from champa-arnya, or a forest of the fragrant Champa (magnolia) tree. Interestingly, the whole region covered with forest of Champa tree and hence the name.
Birthplace of the great religion of Buddhism and Jainism
It was in Bodh Gaya, a town in central Bihar, where Prince Gautam attained enlightenment, became the Buddha and the great religion of Buddhism was born.
Also, it was in Bihar that Lord Mahavira, the founder of another great religion, Jainism, born and attained nirvana (death). The place where Lord Mahavira attained Nirwana is located at the present town of Pawapuri, not far away from Patna, the capital city.
An important site for Sikhism
The tenth and last Guru of the Sikhs, Guru Gobind Singh Ji Maharaj was born in Bihar. A lovely and majestic Gurudwara, Takhat Shri Harmandir Ji Saheb, located in eastern Patna, built to commemorate his memory. Reverentially known as the Patna Sahib, it is one of the five holiest places of worship (Takhat) of Sikhs.
Earliest formulator of Modern Economy
The ancient kingdoms of Magadh and of Licchavis, around about 7-8th century B.C., produce rulers and nobles who devised a system of administration that truly, progenitor of modern science of statecraft.
Kautilya, the authored of Arthashastra, who author treatise in the science of statecraft, economic policy and military strategy, lived in Bihar. Also known as Chanakya, he was the teacher, guardian and adviser of the Magadh king, Chandragupta Maurya.
As an emissary of Chandragupta Maurya, Chanakya travelled far and wide in pursuit of promoting the interests of the State and dealing with the Greek invaders, settled in the northwest of India, along the Indus valley.
He not only succeeded in preventing the further onslaught of the Greeks but brought an amicable co-existence between the Greeks and the Mauryan Empire.
Megasthenes, an emissary of Alexander's General, Seleucus Necator, lived in Pataliputra (ancient name of Patna, the Mauryan capital) around 302 B.C. He left behind a chronicle of life in and around Patliputra.
This is the first recorded account by a foreign traveller in India. It describes in vivid terms the grandeur of life in Patliputra, a city established by King Ajatshatru, in around 5th Century B.C., at the confluence of the rivers Sone and Ganga.
Ganga
Another Mauryan king, Ashok, (also known as Priyadarshi or Priyadassi), around 270 B.C., was the first to formulate firm tenets for the governance. He had these tenets, popularly known as Edicts of Ashok, inscribed on stone pillars which were erected across his kingdom.
The pillars crowned with the statue of one or more lions sitting on top of a pedestal which was inscribed with symbols of wheels. The lion symbolises strength, the wheel symbolises the eternal (endless) nature of truth (dharma), hence the name Dharma (or Dhamma) Chakra.
This figure of lions, atop a pedestal, with inscription of a wheel, was adopted as the Official Seal of the independent Republic of India (1947). Also, Ashok's dharma chakra was incorporated into the national flag of India, the Indian Tricolor.
Remains of a few of these pillars still exist in places such as Lauriya-Nandan Garh in the district of West Champaran and at vaishali, in Vaishali district.
Ashok, a contemporary of Ptolemy and Euclid, was a great conqueror. His empire extended from what is now the North West Frontier Province (in Pakistan) in the west, to the eastern boundaries of present India in the north, and certainly, up to the Vindhyan Range in the south.
Ashok was responsible also for the widespread proselytization of people into Buddhism. He sent his son, Prince Mahendra, and daughter, Sanghamitra, for this purpose to as far south as the present country of Sri Lanka (Sinhal Dweep in ancient times, and Ceylon during the British Empire. Some historians, particularly Sinhalese, consider Mahindra and Sanghmitra as brother and sister.
British Empire
Ancient Bihar also saw the glorification of women in matters of state affairs. It was here that Amrapali, a courtesan of Vaishali in the kingdom of the Lichhavis, wielded enormous power.
The Lord Buddha, during his visit to Vaishali, refused the invitation of many princes, and chose to have dinner with Amrapali instead. A little-known, but historically and archaeologically documented, event worth mentioning in this context.
After his visit to Amrapali, Lord Buddha continued with his journey towards Kushinagar (also called Kusinara in Buddhist texts.) He travelled along the eastern banks of the river Gandak (also called Narayani, which marks the western border of Champaran, a district now administratively split into two- West and East Champaran.) A band of his devoted Licchavis followers accompanied Lord Buddha in this journey.
At a spot known as Kesariya, in the present Purbi (East) Champaran district, Lord Buddha took rest for the night. It was here that he chose to announce to his disciples the news of his impending niravana (death); and implored them to return to Vaishali. The lamenting Licchavi steadfastly refused to leave. Whereupon, Lord Buddha, by creating a 3,000 feet wide stream between them and himself compelled them to leave. As a souvenir he gave them his alms-bowl.
The Licchavis, most reluctantly and expressing their sorrow wildly, took leave and built a stupa there to commemorate the event. Lord Buddha had chosen that spot to announce his impending nirvana because, as he told his disciple Anand, he knew that in a previous life he had ruled from that place, namely, Kesariya, as a Chakravarti Raja, Raja Ben.
(This is not just a mere legend, myth or folk-lore. Although, this part of Buddha's life and about the town of Kesariya is little known in India)
Pinnacle of Education
At Nalanda, the world's first university of higher learning was established during the Gupta period. It continued as a seat of learning until invaders destroyed and burnt it down.
The ruins are a protected monument and a popular tourist spot. A museum and a learning center, The Nava Nalanda Mahavira, is located here.
Nearby, Rajgir, was capital of the Magadh Empire during the reign of Bimbisara. It's frequently visited by Lord Buddha and Lord Mahavira. There are many Buddhist ruins here. It is also well-known for its hot-springs with medicinal properties.
Medieval History
The glorious history of Bihar lasted till around the middle of the 7th or 8th century A.D. during the Gupta Period with the conquest of northern India by invaders from the middle-east.
In medieval times, Bihar's prestige as the political and cultural center of India faded considerably. Some of the remarkable period in Bihar in medieval times was the rise of Sher Shah, or Sher Khan Sur, an Afghan. Based in Sasaram, which is now headquarter town of Rohtas, Sher Shah was a jagirdar of the Mughal King Babur and was successful in defeating his son Humayun once at Chausa and then at Kannauj (in the present state of Uttar Pradesh) Through his conquest Sher Shah became the ruler of a territory which extended all the way to the Punjab.
He was noted as a ferocious warrior and a noble administrator. Several acts of land reform are attributed to him. The remains of a grand mausoleum that he built for himself can be seen in Sasaram (Sher Shah's maqbara.)
Guru Nanak Dev Ji Maharaj visited Patna and stayed at Bhagat Jaitamal's house near Gaighat, Patna in 1509 CE. Later Guru Tegh Bahadur Ji Maharaj came to Patna with his family in 1666.
The 10th and the last Guru of Sikhism, Guru Gobind Singh Ji Maharaj was born at Patna Sahib, Patna in 1666. Prince Azim-us-Shan, the grandson of Aurangzeb, appointed as the governor of Pataliputra in 1703. Azim-us-Shan renamed Pataliputra as Azimabad, in 1704.
Medieval Period
Sher Shah Suri revived Bihar to position of glory.
Hemu was the Emperor of India during the 16th century.
The 10th Sikh Guru Gobind Singh Ji Maharaj was born in Patna, Bihar.
A view of Takht Shri Harmandir Saheb, Patna.
Battle of Buxar
The Battle of Buxar, fought on 21 October 1764, between the forces under the command of the British East India Company, led by Hector Munro, and the combine armies of Mir Qasim, Nawab of Bengal till 1764; the Nawab of Awadh Shuja-ud-Daula;
and the Mughal Emperor Shah Alam II. The battle fought at Buxar, It was a decisive victory for the British East India Company. The war brought to an end by the Treaty of Allahabad in 1765.
The British victory at Buxar had "at one fell swoop", disposed of the three main scions of Mughal power in Upper India. Mir Kasim [Qasim] disappeared into an impoverished obscurity.
Shah Alam realigned himself with the British, and Shah Shuja [Shuja-ud-Daula] fled west hotly pursued by the victors. The whole Ganges valley lay at the Company's mercy; Shah Shuja eventually surrendered; henceforth Company troops became the power-brokers throughout Oudh as well as Bihar".
Modern History
During most of British India, Bihar was a part of the Presidency of Bengal, and was governed from Calcutta. A prominent figure that emerged from Bihar during India's struggle of Independence was Dr. Rajendra Prasad who later became the first President of free India. Dr. Prasad was native of Jiradei in the district of Saran.
Bihar and Orissa separated from Bengal Presidency in 1912 as a single province and later Orissa became a separate province under the Government of India Act of 1935 and thus Bihar became an administrative unit of British India.
At the time of Independence in 1947, the State of Bihar, with the same geographic boundary, formed a part of the Republic of India, until 1956.
At that time,In 1956, an area in the south-east, predominantly the district of Purulia, was separated and incorporated into West Bengal as part of the Linguistic Reorganization of Indian States.
Role of Bihar in India's struggle of Independence
Veer Kunwar Singh
Bihar's contribution in the struggle of freedom dates back to 1957. Babu Kunwar Singh led the Indian Rebellion of 1857 in Bihar. Was nearly eighty and in failing health when he was called upon to take up arms.
He gave a good fight and harried British forces for nearly a year and remained invincible until the end. an expert in the art of guerilla warfare. His tactics left the British puzzled. Singh assumed command of the soldiers who had revolted at Danapur on 25 July.
Two days later he occupied Arrah, the district headquarters. Major Vincent Eyre relieved the town on 3 August, defeated Singh's force and destroyed Jagdishpur. During the rebellion, his army had to cross the Ganges river. Douglas' army began to shoot at their boat.
One of the bullets shattered Singh's left wrist. Singh felt that his hand had become useless and that there was the additional risk of infection due to the bullet-shot. He drew his sword and cut off his left hand near the elbow and offered it to the Ganges In his last battle, fought on 23 April 1858, near Jagdispur, the troops under the control of the East India Company were completely routed.
On 22 and 23 April, being injured he fought bravely against the British Army and with the help of his army drove away the British Army, brought down the Union Jack from Jagdishpur Fort and hoisted his flag. He returned to his palace on 23 April 1858 and soon died on 26 April 1858.
Deshratna Dr. Rajendra Prasad and Bihar Vibhuti Anugrah Narayan Sinha during Mahatma Gandhi's 1917 Champaran Satyagraha
Resurgence in the history of Bihar came during the struggle for India's independence. From Bihar that Mahatma Gandhi launched his civil-disobedience movement, which ultimately led to India's independence. In 1917, at the persistent request of a farmer named Raj Kumar Shukla from the district of Champaran, Gandhiji took a train ride to Motihari.
Here he got to know the plight of the indigo farmers suffering under the oppressive rule of the British. Alarmed at the tumultuous reception of Gandhiji in Champaran, the British authorities served notice on him to leave the Province of Bihar. Gandhiji refused to comply, stating the right of an Indian to freely travel anywhere in his own country. For this act of defiance he was detained in the district jail at Motihari.
From his jail cell, with the help of his friend from South Africa days, C. F. Andrews, Gandhiji managed to send letters to journalists and the Viceroy of India describing what he saw in Champaran, and made formal demands for the emancipation of these people.
When produced in court, the Magistrate ordered his release on the condition of furnishing bail bond. Gandhiji refused to furnish the bail. Instead, he indicated his preference to remain in jail.
Alarmed at the huge response he was receiving from the people of Champaran, the magistrate set him free, without any precondition. This was the first instance of the success of civil-disobedience as a tool to win freedom.
After this incident, British for the first time, noticed Gandhiji as a national leader and realized the power of civil-disobedience. What Raj Kumar Shukla had started and the massive response people of Champaran gave to Gandhiji, catapulted India's struggle for free India.
Therefore, in 1917, a series of events ignited in a remote corner of Bihar led to the massive movement for independence across the country till India gained freedom in 1947. Therefore, many people from Bihar became leading participants in India's struggle for independence.
Another personality from Bihar that rose to leadership was Jay Prakash Narayan, affectionately called JP. JP's substantial contribution to modern Indian history continued until his death in 1979. It was he who led a movement that led to massive win of a non-Congress government, The Janata Party, at Delhi, for the first time.
In the year 2005 the people of Bihar handed over the reins of power to Nitish Government with full hope and confidence. Shri Kumar is known for his endeavor to establish the rule of law and to move on the path of justice with development.
By including all segments of the society together, he laid the foundation of the programme of Good Governance, transparency and all inclusive growth. He formulated programmes of Good Governance first for the period 2005-2010 and then for 2010-2015.
Within a period of only a few years Shri Kumar has revamped many public organisations and systems. On one hand he succeeded in establishing effective law and order and rule of law while on the other hand he achieved greater height in the development of Human Resource along with good infrastructure.
Reservation to women in PRIs and ULBs, steps towards women empowerment, Right to Public Servic Act, Bihar Public Grievance Redressal System, Campaign against Child Marriage and Dowry System, enforcement of Prohibition, Agriculture Road Map, Start up Policy, Seven Resolves, unprecedented progress in Power and Road sector are some of the initiatives which have brought paramount change in socio-economic and administrative scenario.
Conclusion
For its geographical location, natural beauty, mythological and historical importance, Bihar feels proud of the assets it has been gifted over a period of time. Centuries old stories related to this land are told even today. Many great rulers have lived here and it fills us with a sense of pride when we think of Bihar as the 'Karmabhumi' of Buddha and Mahavir.
DEMOGRAPHICS
Important City of Bihar
After the 2011 Census, Bihar was the third most populous state of India with total population of 104,099,452 (54,278,157 male and 49,821,295 female). Nearly 89% of Bihar's population lived in rural areas. The density was 1,106. The sex ratio was 918 females per 1000 males.
Almost 58% of Bihar's population was below 25 years age, which is the highest in India. Most of Bihar's population belongs to Indo-Aryan-speaking ethnic groups along with few Dravidian-speaking and Austroasiatic-speaking people mostly in Chhotanagpur Plateau (now part of Jharkhand).
Bihar has a total literacy rate of 61.80% (71.20% for males and 51.50% for females), recording a growth of 20% in female literacy over the period of a decade.
At 11.29%, Bihar has the second lowest urbanisation rate in India. As per of the 2011 census, Bihar is India's most densely-populated state.
Largest cities in Bihar
City
District
Population
City
District
Population
1
Patna
Patna
20,46,652
8
Arrah
Bhojpur
2,61,430
2
Gaya
Gaya
4,70,839
9
Begusarai
Begusarai
2,52,008
3
Bhagalpur
Bhagalpur
4,10,210
10
Katihar
Katihar
2,40,565
4
Muzaffarpur
Muzaffarpur
3,93,724
11
Munger
Munger
2,13,303
5
Purnea
Purnea
3,10,817
12
Chhapra
Saran
2,12,955
6
Darbhanga
Darbhanga
3,06,089
13
Saharsa
Saharsa
1,56,540
7
Biharsharif
Nalanda
2,97,268
14
Hajipur
Vaishali
1,47,688
Source: Census of India 2011
Bihar Population Census data 2011
As per details from Census 2011, Bihar has population of 10.41 Crores, an increase from figure of 8.30 Crore in 2001 census. Total population of Bihar as per 2011 census is 10,40,99,452 of which male and female are 5,42,78,157 and 4,98,21,295 respectively.
In 2001, total population was 8,29,98,509 in which males were 4,32,43,795 while females were 3,97,54,714.
The total population growth in this decade was 25.42 percent while in previous decade it was 28.43 percent. The population of Bihar forms 8.60 percent of India in 2011. In 2001, the figure was 8.07 percent.
Census Statistics
Description
2011
2001
Actual Population
10,40,99,452
8,29,98,509
Male
5,42,78,157
4,32,43,795
Female
4,98,21,295
3,97,54,714
Population Growth
25.42%
28.43%
Percantage of total Population
8.60%
8.07%
Sex Ratio
918
919
Child Sex Ratio
935
942
Density/Km2
1,106
881
Density/mi2
2,863
2,283
Area(Km2)
94,163
94,163
Area mi2
36,357
36,357
Total Child Population (0-6 Age)
1,91,33,964
1,68,06,063
Male Population (0-6 Age)
98,87,239
86,52,705
Female Population (0-6 Age)
92,46,725
81,53,358
Literacy
61.80 %
47.00 %
Male Literacy
71.20 %
59.68 %
Female Literacy
51.50 %
33.12 %
Total Literate
5,25,04,553
3,11,09,577
Male Literate
3,16,08,023
2,06,44,376
Female Literate
2,08,96,530
1,04,65,201
Source: Census of India 2011
Bihar Sex Ratio & Density 2011
Sex Ratio in Bihar is 918 i.e. for each 1000 male, which is below national average of 940 as per census 2011. In 2001, the sex ratio of female was 919 per 1000 males in Bihar.
Total area of Bihar is 94,163 sq. km. Density of Bihar is 1,106 per sq km which is higher than national average 382 per sq km. In 2001, density of Bihar was 881 per sq km, while nation average in 2001 was 324 per sq km.
Sex Ratio & Density
State/District
Persons
Male
Female
Sex ratio (female per 1000 male)
Density (Per sq.km)
Decadal growth rate)
Bihar
10,40,99,452
5,42,78,157
4,98,21,295
918
1106
25.42
Araria
28,11,569
14,63,333
13,48,236
921
993
30.25
Arwal
7,00,843
3,63,497
3,37,346
928
1098
18.89
Aurangabad
25,40,073
13,18,684
12,21,389
926
769
26.18
Banka
20,34,763
10,67,140
9,67,623
907
674
26.48
Begusarai
29,70,541
15,67,660
14,02,881
895
1549
26.44
Bhagalpur
30,37,766
16,15,663
14,22,103
880
1182
25.36
Bhojpur
27,28,407
14,30,380
12,98,027
907
1139
21.63
Buxar
17,06,352
8,87,977
8,18,375
922
1002
21.67
Darbhanga
39,37,385
20,59,949
18,77,436
911
1728
19.47
Purvi Champaran
50,99,371
26,81,209
24,18,162
902
1285
29.43
Gaya
43,91,418
22,66,566
21,24,852
937
883
26.43
Gopalganj
25,62,012
12,67,666
12,94,346
1,021
1260
19.02
Jamui
17,60,405
9,16,064
8,44,341
922
568
25.85
Jehanabad
11,25,313
5,85,582
5,39,731
922
1209
21.68
Khagaria
16,66,886
8,83,786
7,83,100
886
1122
30.19
Kishanganj
16,90,400
8,66,970
8,23,430
950
897
30.40
Kaimur (Bhabua)
16,26,384
8,47,006
7,79,378
920
488
26.17
Katihar
30,71,029
16,00,430
14,70,599
919
1005
28.35
Lakhisarai
10,00,912
5,26,345
4,74,567
902
815
24.77
Madhubani
44,87,379
23,29,313
21,58,066
926
1282
25.51
Munger
13,67,765
7,29,041
6,38,724
876
964
20.21
Madhepura
20,01,762
10,47,559
9,54,203
911
1120
31.12
Muzaffarpur
48,01,062
25,27,497
22,73,565
900
1514
28.14
Nalanda
28,77,653
14,97,060
13,80,593
922
1222
21.39
Nawada
22,19,146
11,44,668
10,74,478
939
890
22.63
Patna
58,38,465
30,78,512
27,59,953
897
1823
23.73
Purnia
32,64,619
16,99,370
15,65,249
921
1011
28.33
Rohtas
29,59,918
15,43,546
14,16,372
918
763
20.78
Saharsa
19,00,661
9,97,174
9,03,487
906
1127
26.02
Samastipur
42,61,566
22,30,003
20,31,563
911
1467
25.53
Sheohar
6,56,246
3,46,673
3,09,573
893
1880
27.19
Sheikhpura
6,36,342
3,29,743
3,06,599
930
924
21.09
Saran
39,51,862
20,22,821
19,29,041
954
1496
21.64
Sitamarhi
34,23,574
18,03,252
16,20,322
899
1492
27.62
Supaul
22,29,076
11,55,283
10,73,793
929
919
28.66
Siwan
33,30,464
16,75,090
16,55,374
988
1501
22.70
Vaishali
34,95,021
18,44,535
16,50,486
895
1717
28.57
Pashchim Champaran
39,35,042
20,61,110
18,73,932
909
753
29.29
Source: Census of India 2011
Bihar Literacy Rate 2011
Literacy rate in Bihar has seen upward trend and is 61.80 percent as per 2011 population census. Of that, male literacy stands at 71.20 percent while female literacy is at 51.50 percent. In 2001, literacy rate in Bihar stood at 47.00 percent of which male and female were 59.68 percent and 33.12 percent literate respectively.
In actual numbers, total literates in Bihar stands at 5,25,04,553 of which males were 3,16,08,023 and females were 2,08,96,530.
Literacy Rate
Literates
Literacy rate(%)
State/District
Persons
Male
Female
Persons
Male
Female
Bihar
5,25,04,553
3,16,08,023
2,08,96,530
61.80
71.20
51.50
Araria
11,95,768
7,27,643
4,68,125
53.53
62.30
43.93
Arwal
3,86,351
2,35,279
1,51,072
67.43
79.06
54.85
Aurangabad
14,66,002
8,68,733
5,97,269
70.32
80.11
59.71
Banka
9,65,321
5,90,961
3,74,360
58.17
67.62
47.66
Begusarai
15,48,673
9,18,507
6,30,166
63.87
71.58
55.21
Bhagalpur
15,73,066
9,37,669
6,35,397
63.14
70.30
54.89
Bhojpur
15,99,151
9,73,486
6,25,665
70.47
81.74
58.03
Buxar
9,89,807
5,93,544
3,96,263
70.14
80.72
58.63
Darbhanga
18,16,634
11,25,566
6,91,068
56.56
66.83
45.24
East Champaran
22,76,957
14,07,603
8,69,354
55.79
65.34
45.12
Gaya
22,97,613
13,68,803
9,28,810
63.67
73.31
53.34
Gopalganj
13,82,998
7,93,905
5,89,093
65.47
76.51
54.81
Jamui
8,58,588
5,34,385
3,24,203
59.79
71.24
47.28
Jehanabad
6,18,881
3,74,412
2,44,469
66.80
77.66
55.01
Khagaria
7,68,028
4,61,153
3,06,875
57.92
65.25
49.56
Kishanganj
7,45,056
4,39,921
3,05,135
55.46
63.66
46.76
Kaimur (Bhabua)
9,20,276
5,49,923
3,70,353
69.34
79.37
58.40
Katihar
12,80,190
7,62,256
5,17,934
52.24
59.36
44.39
Lakhisarai
5,07,270
3,05,182
2,02,088
62.42
71.26
52.57
Madhubani
21,55,338
13,40,085
8,15,253
58.62
70.14
46.16
Munger
8,01,817
4,73,741
3,28,076
70.46
77.74
62.08
Madhepura
8,34,577
5,17,666
3,16,911
52.25
61.77
41.74
Muzaffarpur
25,09,232
14,87,117
10,22,115
63.43
71.28
54.67
Nalanda
15,19,933
9,19,558
6,00,375
64.43
74.86
53.10
Nawada
10,91,012
6,59,474
4,31,538
59.76
69.98
48.86
Patna
34,59,679
20,28,047
14,31,632
70.68
78.48
61.96
Purnia
13,32,326
8,05,261
5,27,065
51.08
59.06
42.34
Rohtas
17,99,832
10,61,783
7,38,049
73.37
82.88
62.97
Saharsa
8,04,996
5,06,374
2,98,622
53.20
63.56
41.68
Samastipur
21,42,880
12,93,575
8,49,305
61.86
71.25
51.51
Sheohar
2,83,698
1,71,645
1,12,053
53.78
61.31
45.26
Sheikhpura
3,28,676
1,96,431
1,32,245
63.86
73.56
53.40
Saran
21,57,454
12,85,767
8,71,687
65.96
77.03
54.42
Sitamarhi
14,36,794
8,85,188
5,51,606
52.05
60.64
42.41
Supaul
10,33,283
6,47,672
3,85,611
57.67
69.62
44.77
Siwan
19,30,175
11,15,906
8,14,269
69.45
80.23
58.66
Vaishali
19,26,740
11,52,576
7,74,164
66.60
75.41
56.73
West Champaran
17,59,481
10,91,226
6,68,255
55.70
65.59
44.69
Source: Census of India 2011
FAIRS IN BIHAR
Fairs
Bihar is located in the eastern part of the India and it shares the passion and zeal of celebrating the established and spiritual fairs and festivals of India with the rest of the country. Fairs and festivals have always been an essential part of life in Bihar.
These fairs are relevant in the way that they narrow the gaps between different communities by bringing them closer and give them a reason to enjoy and celebrate. These fairs may last from one single afternoon to several weeks.
There exist different variations of fairs, including street fairs, agricultural fairs, state fairs, trade fairs, and so on. Each of these fairs denotes vivacity, color, high spirit, dedication, ebullience, peace, power, humanity, artistic performances, prayers, and rituals. Some of the fairs most prevalent in Bihar are described in the following.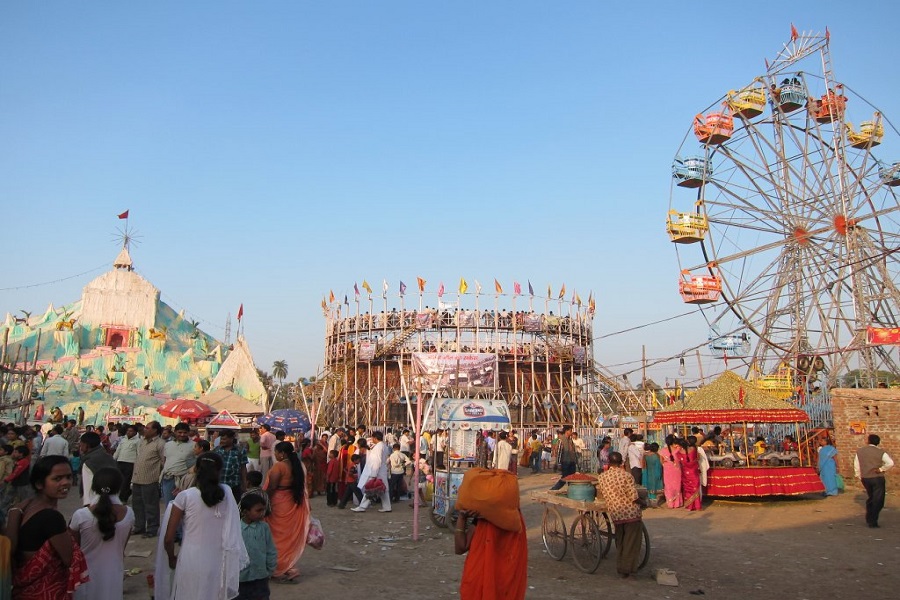 Sonepur Mela:
This Cattle Fair is held on Kartik Poornima (the full moon day) in the month of November in Sonepur, Bihar. Is situated at the confluence of the sacred rivers Ganga and Gandak.
Hindus regard it as a holy site. One of the purposes of the people visiting the Sonepur Cattle Fair, apart from the fair, is to take a holy dip at the confluence and offer prayer at the Hariharnath Temple. It is also known as Harihar Kshetra Mela and it attracts visitors from all over world. Till date, it is the biggest cattle fair of Asia and stretches on from fifteen days to one month.It has its origins during ancient times.
This is where Chandragupta Maurya (340 – 297 BCE) used to buy elephants and horses across the river Ganges. The Sonepur Cattle Fair once used to attract traders from places as distant as Central Asia.
Sonepur Mela plays host to a variety of animals, ranging from all breeds of dogs, buffaloes, monkeys, donkeys, ponies, rabbits, birds, poultry to occasionally camels. The spot that attracts most of the attention, however, is the "Haathi Bazaar" where elephants are lined up, all beautifully decorated for sale.
This fair is the only place where such a large number of elephants can be traded legally. Other than animals, a large number of stalls are set up at the Sonepur cattle fair such as garments, furniture and toys, utensils and agricultural implements, jewellery, handicrafts, and the like.
Malmas Mela :
As per the Indian calendar is the third year to 13 months which is also called Adhimas as Malmas. It is believed that is considered very sacred month. And all the Gods of the Hindus dwell in Rajgir in this Adhimas. To Please 33 millions for a month.
A big fair is held here on this occasion. lakhe of devotees visits in this fair and enjoys after prayers. Concerned to Hindu religion of all saint-Monk strong hold remains in Malmas fair. Arrangements of a char by religious organization also here for 24 hours.
This city is full of sermon and worship far one month with devotees. On this occasion there is also the gathering of foreign tourist. Previous Malmas fair was held on 2010.
Makar Sankranti Mela :
Makar Sankranti, also known as Makara Sankranti or Maghi, is a festival day in the Hindu calendar, in reference to deity Surya. It is observed each year in January. It marks the first day of sun's transit into the Makara (Capricorn), marking the end of the month with the winter solstice and the start of longer days.
On 14 January, it is celebrated as Makar Sankranti or Sakraat or Khichdi (in local dialects). As in other parts of country, people take bath in rivers and ponds and feast upon seasonal delicacies as a celebration of good harvest. The delicacies include chura, gur (jaggery), sweets made of til (sesame seeds) such as tilkut, tilwa, maska, etc., curd, milk and seasonal vegetables. Kite flying festivals are organised.
On 15 January, it is celebrated as Makraat (in some parts of the state) when people relish special khichdi (dal-rice replete with cauliflower, peas and potatoes). People start their day by worshiping and putting til (sesame seeds) into fire followed by eating "dahi-chuda", a dish made of beaten rice (chuda or poha, in Hindi, or avalakki, in Kannada) served with a larger serving of dahi (curd), with cooked kohada (red pumpkin) that is prepared specially with sugar and salt but no water.
The meal is generally accompanied by tilkut and lai (laddu made of til, chuda and rice). The festive meal is traditionally made by women in groups.People spend their days on socializing and participating in kite flying festivals.
For dinner a special khichdi is made and served with its four traditional companions, "char yaar" (four friends) — chokha (roasted vegetable), papad, ghee and achaar. Since such a rich khichdi is generally made on this festival, the festival is often colloquially referred to as "Khichdi".
Pitrapaksha Mela :
Historically, Gaya has been considered as one of the holiest cities for Hindus. Its religious importance becomes more important during the occasion of Pitrapaksha.
During Pitrapaksha Hindus worship their ancestors, and perform Shraddha ritual and do Pinda Daan. This is believed to bring salvation to the departed soul.
History of the Pinda Daan ceremony goes back to the times of Lord Buddha. It is believed that he had performed first Pinda Daan at Gaya. Some Brahmin Purans too tell us about the origin of Pinda Daan in Gaya. According to one Puran, Gaya – a demon had become so strong that even Gods started feeling insecure from him.
Now Gods wanted to kill him but he wished to die in the holy city of Gaya. The Pitrapaksha Mela in Gaya is held in the month of September when people from all over, flock to this place to offer Pinda Daan to their ancestors. The last day of this period, the new moon day is most important day in the year for performing obsequies and rites. A Hindu performs Pitra Paksha from the 1st day / tithi of the Ashwin month to the following New Moon (Amavasya) day.
Each of these 15 days is dedicated to the Shraddha of those ancestors who had met eternity on that particular day/tithi. Pitrapaksha is the occasion to repay debt to our departed ancestors by satisfying their souls by performing rites. Hindus believe that in Pitrpaksha, Yamaraja, the God of death allows the souls to come down to the earth and receive offerings from their descendants.
Shrawani Mela :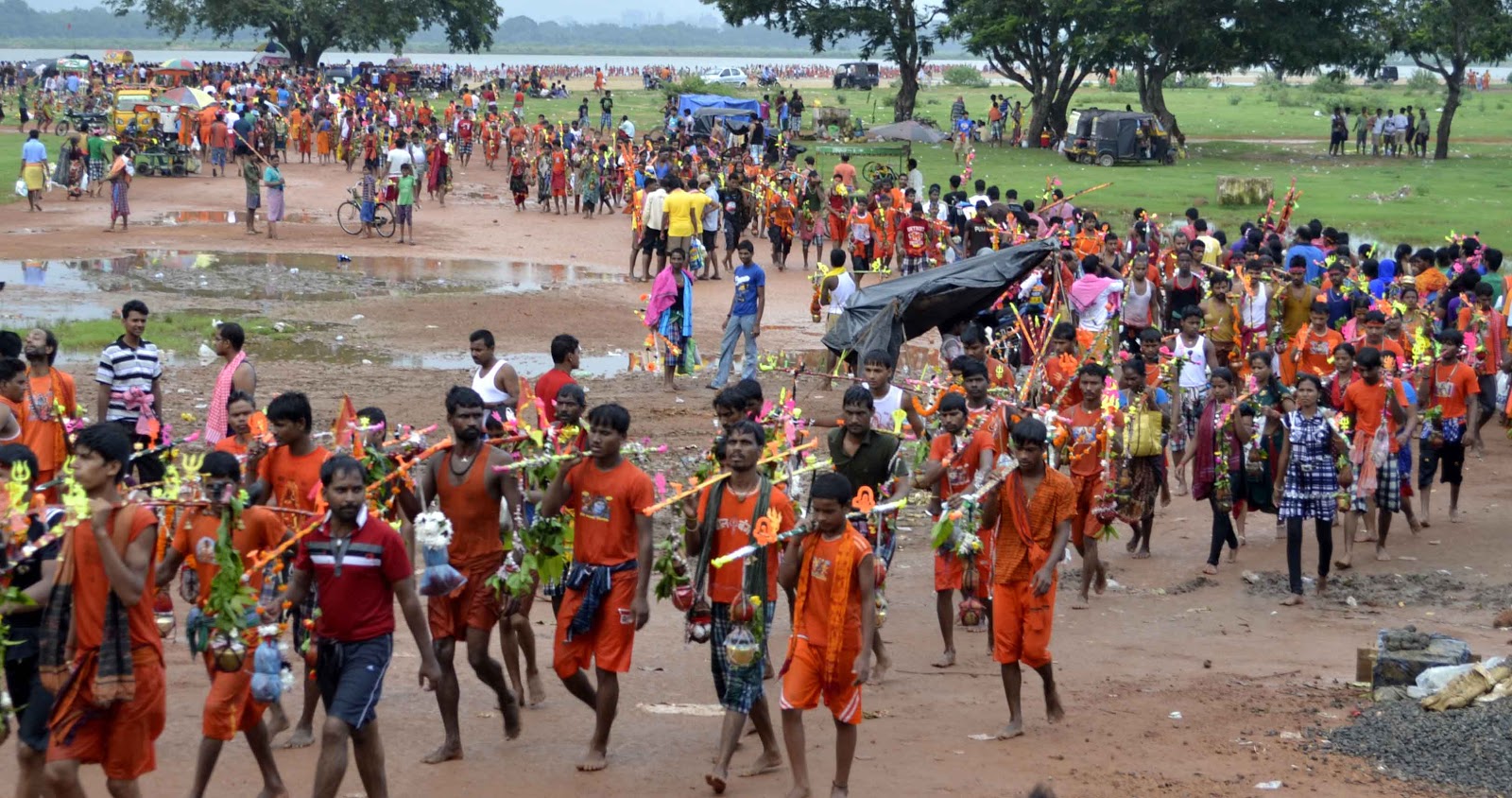 Shrawani Mela is held in Deoghar (Jharkhand) where millions of devotees from all over the country gather at the Baba Baidyanath Temple. This mela falls mostly in the months of July and August. It lasts for 30 days and is considered as the biggest and longest religious fair in the world.
In the month of shravan, lakhs of kanwariyas collect holy water from the Ganga at Sultanganj, carry it in pots on a kanwar (sling) and walk 105km across hills and rivers to offer libations on the jyotirlinga at Baidyanath Dham in Deoghar (Jharkhand).
Saffron-clothed devotees traverse the path from Bihar to Jharkhand, which becomes an unending sea of orange with chants of 'Bol bam'. On Mondays, a day dedicated traditionally to Shiva, traffic rises up to 4 lakh pilgrims. Some do it on foot, some measure the length with their bodies, while another class of devotees called dak bams complete the spiritual marathon in 15-17 hours, without stopping for a single moment.
Saurath Sabha :
Saurath is a village situated six Kilometers north east of Madhubani town in Madhubani District of Bihar, India. It is famous for being the place where thousands of Maithil Brahaman converge to fix marriage during marriage season.
This gathering is an annual event held in the Hindu calendar months of Jyestha-Aasadh. This was an important social congregation where the marriages of Maithil boys and girls are fixed up after matching the horoscope by the Panjikars ( Registrars ). The gathering is organised in an orchard covering 22 bighas of land that was donated by the Maharaja of Darbhanga.
FESTIVALS IN BIHAR
Festivals
Mahaparv in Bihar (Chhath Pooja)
Chhath Pooja is the most important festival in Bihar, dedicated to the Sun and his wife Usha in order to thank them for bestowing the bounties of life on earth and to request the granting of certain wishes.Chhath Pooja is unique in its own way.
This is the only festival that celebrates and acknowledges setting of sun.There is no idol worship and is purely dedicated towards nature.The festival emphasizes on cleanliness at home and surroundings, preserving rivers and nature and purification of body and mind. It can be celebrated by everyone irrespective of gender or religion.
MAKARSANKRANTI
It marks the first day of sun's transit into the Makara (Capricorn), marking the end of the winter solstice and the start of longer days.
BASANT PANCHAMI
Basant Panchami is the festival dedicated to goddess Saraswati who is ancient goddess of knowledge, language, music and all arts.She is the energy of Brahma, and she symbolizes creative energy and power in all its form.
The season and festival also reflects the agricultural fields which are ripening with yellow flowers of mustard crop, which Hindus associate with Saraswati's favorite color. People dress in yellow saris/attire or accessories, share yellow colored snacks and sweets. Some add saffron to their rice then eat cooked yellow rice as a part of an elaborate feast.
MAHASHIVARATRI
Maha Shivaratri a Hindu festival celebrated annually in honour of the god Shiva. There is a Shivaratri in every luni-solar month of the Hindu calendar, on the month's 13th night/14th day, but once a year in late winter (February/March, or Phalguna) and before the arrival of Summer, marks Maha Shivaratri which means "the Great Night of Shiva".
HOLI
The Holi, also known as the "festival of colours", is an Indian spring festival celebrated all across the Indian subcontinent. It signifies the victory of good over evil, the arrival of spring, end of winter, and for many a festive day to meet others, play and laugh, forget and forgive.
GOOD FRIDAY
Good Friday is a Christian holiday commemorating the crucifixion of Jesus Christ and his death at Calvary. It is observed during Holy Week as part of the Paschal Triduum on the Friday preceding Easter Sunday, and may coincide with the Jewish observance of Passover.
RAMNAVMI
The Rama Navami is a spring Hindu festival that celebrates the birthday of god Rama. He is particularly important to the Vaishnavism tradition of Hinduism, as the seventh avatar of Vishnu.
The festival is a part of the spring Navratri, and falls on the ninth day of the bright half (Shukla Paksha) in the Hindu calendar month of Chaitra. This typically occurs in the Gregorian months of March or April every year.
JANAKI NAVAMI
Janaki Navami is celebrated as birth anniversary of Goddess Sita. This day is also known as Sita Jayanti. Married women keep fast on Sita Navami day and pray to seek long lives of their husbands.
Sita Jayanti is celebrated on Navami Tithi during Shukla Paksha of Vaishakha month. It is believed that Goddess Sita was born on Tuesday in Pushya Nakshatra. Goddess Sita was married to Lord Rama who was also born on Navami Tithi during Shukla Paksha of Chaitra month. On Hindu calendar Sita Jayanti falls after one month of Rama Navami.
Mata Sita is also known as Janaki as she was the adopted daughter of King Janaka of Mithila. Hence this day is also known as Janaki Navami. According to Hindu mythology, when King Janaka was ploughing the land while performing a Yajna he found a baby girl in the Golden casket. The Golden casket was found inside the field while ploughing the land. A ploughed land is called Sita hence King Janaka named the baby girl as Sita.
BUDDHA PURNIMA
Vesak (Buddha Purnima, Buddha Jayanti) is a Buddhist festival that marks Gautama Buddha's birth, enlightenment and death. It falls on the day of the full moon in May and it is a gazetted holiday in India.
SHAB E BARAT
Shab E Barat or Mid-Sha'ban is a holiday observed by various Muslim communities on the night between 14 and 15 Sha'ban. It is regarded as a night when the fortunes of men for the coming year are decided and when Allah may forgive sinners.
In many regions, this is also a night when prayers are arranged for forgiveness from Allah for one's deceased ancestors. Additionally, Twelver Shia Muslims commemorate the birthday of Muhammad al-Mahdi on this date.
EID-UL-FITR
Eid Ul-Fitr, Malay "Lebaran", "feast of breaking the fast") is an important religious holiday celebrated by Muslims worldwide that marks the end of Ramadan, the Islamic holy month of fasting (sawm). This religious Eid (Muslim religious festival) is the first and only day in the month of Shawwal during which Muslims are not required to keep fast.
The holiday celebrates the conclusion of the 29 or 30 days of dawn-to-sunset fasting during the entire month of Ramadan. The day of Eid, therefore, falls on the first day of the month of Shawwal. The date for the start of any lunar Hijri month varies based on the observation of new moon.
SHRI KRISHNA JANAMASHTMI
Krishna Janmashtami, also known simply as Janmashtami or Gokulashtami, is an annual Hindu festival that celebrates the birth of Krishna, the eighth avatar of Vishnu.
It is observed according to Hindu luni-solar calendar, on the eighth day (Ashtami) of the Krishna Paksha (dark fortnight) in the month of Bhado or Bhadra of the Hindu Calendar, which overlaps with August and September of the Gregorian calendar.
ID-AL-ADHA (Bakreed)
Eid-al-Adha, also called the "Sacrifice Feast", is the second of two Islamic holidays celebrated worldwide each year, and considered the holier of the two. It honors the willingness of Ibrahim (Abraham) to sacrifice his son, as an act of obedience to God's command.
Before Abraham sacrificed his son, God provided a lamb to sacrifice instead. In commemoration of this, an animal is sacrificed and divided into three parts: one third of the share is given to the poor and needy; another third is given to relatives, friends and neighbors; and the remaining third is retained by the family.
DURGA POOJA
Durga Puja, also called Durgotsava, is an annual Hindu festival in the Indian subcontinent that reveres the goddess Durga. It is particularly popular in West Bengal, Bihar, Jharkhand, Odisha, Assam, Tripura, Bangladesh. And the diaspora from this region, and also in Nepal where it is called Dashain.
The festival is observed in the Hindu calendar month of Ashvin, typically September or October of the Gregorian calendar, and is a multi-day festival that features elaborate temple and stage decorations (pandals), scripture recitation, performance arts, revelry, and processions. It is a major festival in the Shaktism tradition of Hinduism across India and Shakta Hindu diaspora.
MUHARRAM
Muharram is the first month of the Islamic calendar. It is one of the four sacred months of the year. Held to be the holiest month, Ramadan coming after.
The word "Muharram" means "forbidden". Since the Islamic calendar is a lunar calendar, Muharram moves from year to year when compared with the Gregorian calendar.
DEEPAWALI
Diwali or Deepavali is the Hindu festival of lights celebrated every year in autumn in the northern hemisphere (spring in southern hemisphere). One of the most popular festivals of Hinduism, it spiritually signifies the victory of light over darkness, good over evil, knowledge over ignorance, and hope over despair.
Its celebration includes millions of lights shining on housetops, outside doors and windows, around temples and other buildings in the communities and countries where it is observed.
The word Diwali is used by some communities to mean all the festivities while others think of it as one festival night on the no moon day of the Hindu Lunisolar month Kartika in Bikram Sambat calendar (the month of Aippasi in Tamil Calendar). In the Gregorian calendar, Diwali falls in mid-October and mid-November.
CHITRAGUPTA POOJA/BHAI DOOJ
Every year, a day after the festival of lights Diwali, Kayastha's all over the world celebrate Chitragupta Puja also known as Kalam-Dawaat Puja. This festival falls on the second day of the lunar day of Shukla Paksha in the Vikram Samvat calendar month of Kartik and coincides with Bhai Dooj.
Devotees believe that by doing this puja they will be benefited and get to ascend to heaven as Chitragupta Maharaj keeps a record of all good and evil deeds of humans and by praying to him on this day they get absolution from all the sins. Upon the death of a human being, it is Chitragupta Maharaj who decides on heaven or hell for the person depending on their good work or bad deeds on earth.
Bhai Dooj a festival celebrated by Hindus of India and Nepal on the second lunar day of Shukla Paksha (bright fortnight) in the Vikram Samvat Hindu calendar month of Kartika.
CHEHALLUM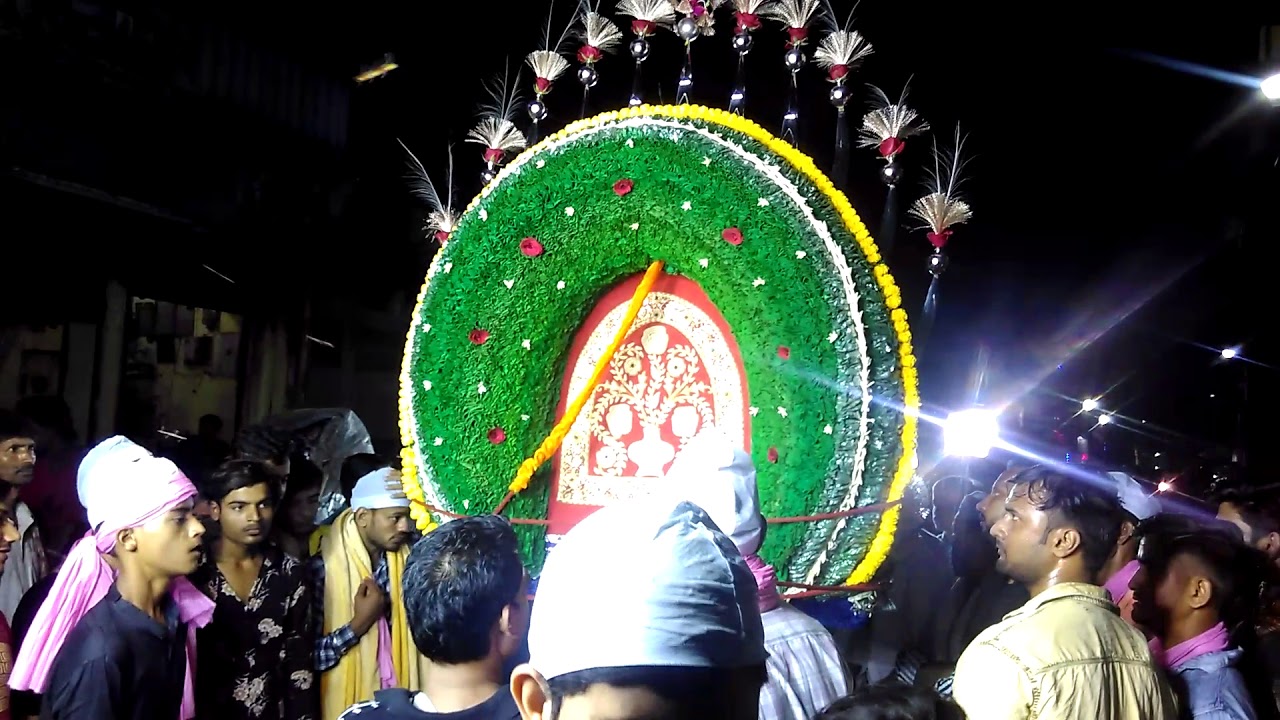 HAJRAT MOHAMMAD SAHAB'S BIRTHDAY
Sunni Muslims observe the Prophet Muhammed's (also known as Mohammed or Muhammad) birthday on the 12th day of the Islamic month of Rabi' al-awwal, while Shi'a Muslims mark it on the 17th of this month. Muhammed is believed to be the last prophet.
CHRISTMAS
Christmas is an annual festival commemorating the birth of Jesus Christ, observed primarily on December 25 as a religious and cultural celebration among billions of people around the world.
A feast central to the Christian liturgical year, it is preceded by the season of Advent or the Nativity Fast and initiates the season of Christmastide, which historically in the West lasts twelve days and culminates on Twelfth Night; in some traditions, Christmastide includes an octave.
Christmas Day is a public holiday in many of the world's nations, is celebrated religiously by a majority of Christians, as well as culturally by many non-Christians, and forms an integral part of the holiday season centered around it.
Occasions
GURU GOVIND SINGH JAYANTI
Guru Govind Singh Jayanti is celebrated in the memory of 10th Guru of Sikkh Community.
INDEPENDENCE DAY
Independence Day is annually celebrated on 15 August, as a national holiday in India commemorating the nation's independence from the United Kingdom on 15 August 1947, On 15 August 1947, the Prime Minister, Jawaharlal Nehru unfurled the Indian national flag above the Lahori Gate of the Red Fort in Delhi. On each subsequent Independence Day, the prime minister customarily hoists the flag and gives an address the nation.
REPUBLIC DAY
Republic Day honours the date on which the Constitution of India came into effect on 26 January 1950 replacing the Government of India Act (1935) as the governing document of India.
MAHAVEER JAYANTI
Mahaveer Janma Kalyanak, is one of the most important religious festival for Jains. It celebrates the birth of Mahaveer, the twenty-fourth and last Tirthankara.
VEER KUNWAR SINGH JAYANTI
Kunwar Singh (1777 – 26 April 1858) was a notable leader during the Indian Rebellion of 1857. He belonged to a royal Ujjainiya (Panwar) Rajput house of Jagdispur, currently a part of Bhojpur district, Bihar, India.
At the age of 80, he led a select band of armed soldiers & the great lohtamia rajputs against the troops under the command of the British East India Company. He was the chief organiser of the fight against the British in Bihar. He is popularly known as Veer Kunwar Singh.
KABIR JAYANTI
Sant Kabirdas (1440-1518 circa) was a famous poet, saint and social reformer of India. His writings have greatly influenced the Bhakti movement. Kabir Panth which is a religious community recognizes him as its founder and its members are known as Kabir Panthis, the followers of Saint Kabirdas.
His writings include Bijak, Sakhi Granth, Kabir Granthawali and Anurag Sagar. The major part of Kabir's work was collected by the fifth Sikh Guru, Guru Arjan Dev, and incorporated into the Sikh scripture Guru Granth Sahib. The hallmark of Kabir's work consists of his two line couplets, known as Kabir Ke Dohe. The birth anniversary of Sant Kabir is observed on Jyeshtha Purnima as per Hindu lunar calendar.
MAHATMA GANDHI JAYANTI
Gandhi Jayanti is a national festival celebrated in India to mark the occasion of the birthday of Mohandas Karamchand Gandhi, who is also known as the "Father of the Nation".
It is celebrated on 2nd October. The United Nations General Assembly announced on 15 June 2007 that it adopted a resolution which declared that 2 October will be celebrated as the International Day of Non-Violence.
MUSIC AND DANCE IN BIHAR
Music and Dance
When we think of culture, music, art and religion, we at once form an image in our minds, an image of the holy land of Bihar. The history of Bihar can be traced back to as far as the history of civilization itself. Lord Rama's wife, Sita is known to have been born in Bihar.
The city of Pataliputra or Patna was founded by the great Mauryan emperor, Ashoka in 270 B.C. The religions of Buddhism and Jainism were founded in Bihar. Vardhamana Mahavira attained nirvana in this land and founded the new religion of Jainism. Another prince sacrificed all his worldly treasures and meditated under the Bodhi tree in Bodhgaya. He too attained salvation from the continuous cycle of birth and rebirth and founded Buddhism.
Today he is known as the Buddha. Chanakya, also known as Kautiliya, wrote the first treatise on modern science of economics, called the Arthashastra and he too hailed from this land. This land also witnessed the birth of the tenth and last Sikh guru, Guru Gobind Singh, who attained sainthood in Bihar.
The tribal and folk songs, as well as the varied dance forms of Bihar are a representation of the emotional upheavals experienced by the people, as well as their values, hopes, beliefs and traditions. The music and dance forms in Bihar are as many as the numerous tribal groups, filling the state with love, music, art and diversity.
Bihar has produced musicians like Bharat Ratna Ustad Bismillah Khan and dhrupad singers like the Malliks (Darbhanga Gharana) and the Mishras (Bettiah Gharana) along with poets like Vidyapati Thakur who contributed to Maithili Music. The classical music in Bihar is a form of the Hindustani classical music.
Folk Culture of Bihar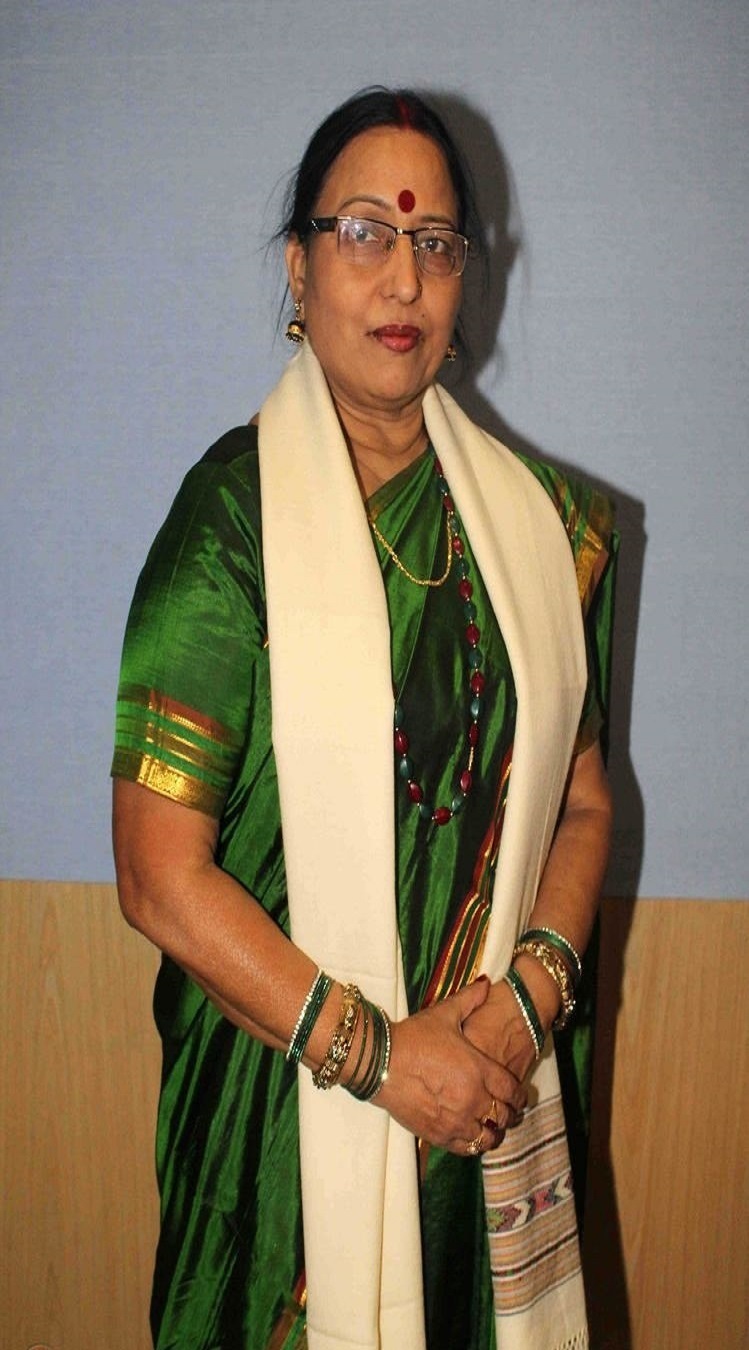 The region's folk songs are associated with the various events in the life of an ordinary person. The historical ballads dealing with the heroic deeds of the freedom fighter Kunwar Singh have also been immortalized through folk songs in the plain tracts of Bihar.
Religiosity is the pivot around which the music and amusements of the village folk of Bihar revolve. There are songs like sohar – performed during childbirth, sumangali – associated with wedding, ropnigeet – performed during the season of sowing paddy, katnigeet – performed during the paddy harvesting season.
There is a great tradition of folk songs started by Bhikhari Thakur, an artist from the Bhojpur region. In the field Bhojpuri Music and Songs, there are notable works done by Mahendar Misir, Radhamohan Chaubey 'Anjan', Laxman Pathak Pradeep, and Sharda Sinha.
Other wandering folk singers include the Kathaks, who travelled in groups and performed accompanied by dholak, sarangi, tamburu and majira. Other musician classes included Roshan Chouki, Bhajaniya, Kirtaniya, Pamaria and Bhakliya.
Bihar, in the ancient times has been an important place for dance and music. In places like Vaishali and Rajgir, in ancient Bihar, beautiful girls acted as Nagar Shobhinis or town ornaments (courtesans). Lord Buddha himself accepted this fact and he himself received an invitation from Amrapalli, the chief courtesan of Vaishali.
Theses girls were proficient in music and dancing and were part of processions of religious and social nature. It appears that singing and dancing were the chief amusements of that age.
The regular history of Mithila music dates back from Nanyadeva (1097-1133), a great patron of music and author of a treatise on this art. He developed the popular ragas on systematic lines. This Mithila music was carried to Nepal, Uttar Pradesh, Bengal, etc.
Folk Songs
Folk-song (lok geet) is a very important form of folk literature. One of the categories of folk-songs is the ceremonial or sanskar songs. These songs form an essential part of rituals of various ceremonies relating to child- birth, initiation (yagyopavita or janeu) ,marriage and in some areas with rituals of death as well.
Child-birth, initiation and marriage and other ceremonies are accessions of great happiness and joy. But on such occasions great care is taken to avoid any misfortune; hence the ceremonial songs and rituals are believed to have a magical potency.
There are some folk-tales and folk-songs where the impact of Hindu mythology is clearly seen. There are stories of Rama and Sita from the Ramayana.Fairs, festival and melas have also contributed a lot in preserving the folklore.
Being great hubs of social life, these melas have kept up the traditions, stories, ballads and songs. When people attend the Ramnavami or the Janakpur Mela, they are all imbued with the immortal saga of Rama and Sita. Pastoral songs form another important element in Bihar's folklore.
Folk Instruments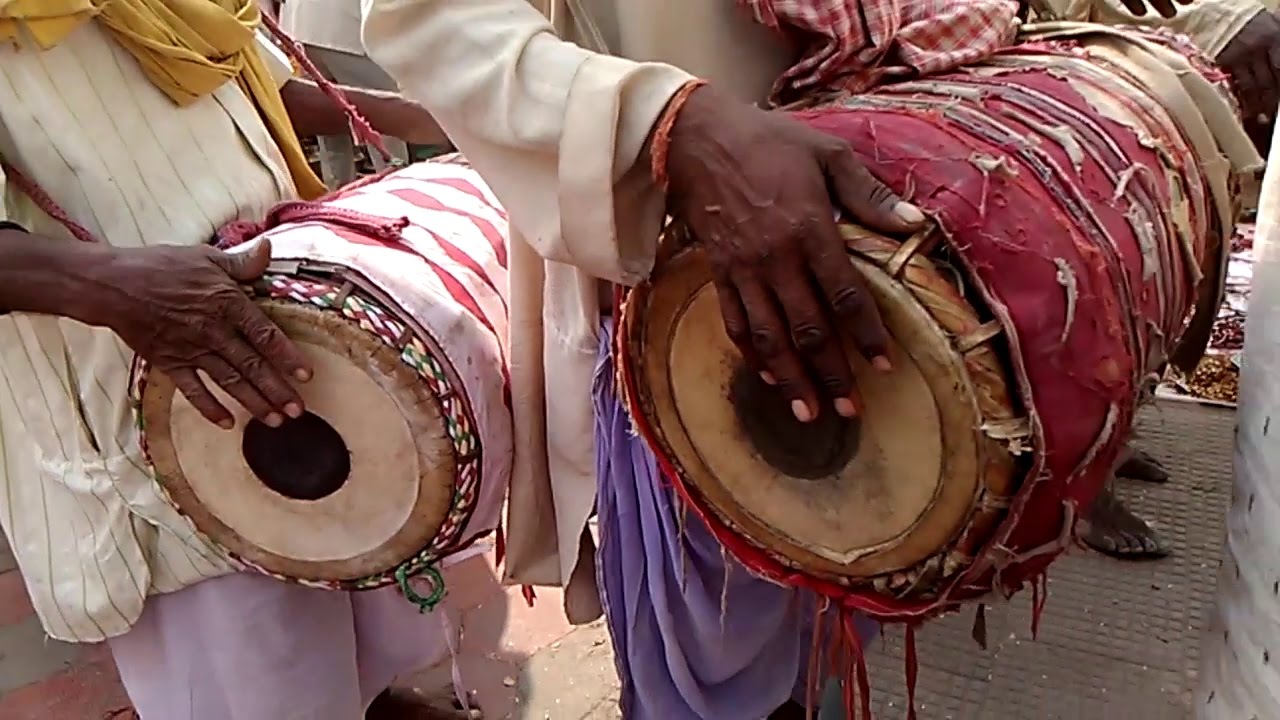 Songs, dances and dramas are accompanied by various musical instruments. Musical instruments of various kinds are common among various tribes and communities in this region.
They comprise of the Dhol, Dhak, Dhanaka, Madal, Mandar or Madol, Nagara, flute, Pipahi (Shhehnai like), Jhanjh, clappers etc. Sometimes a C- shaped hom, Narsingha also called the Sakoa is used.Tumdak and Tamak are two percussion instruments played together.
The Tribal Folk Song of Bihar
The folk songs of the tribals have a strong ethical background. Just as in their dance there is no semblance of base. In spite of the absence of a script, many of the songs have been preserved.
They have been handed down from generation to generation by the old men and women singing the songs to the younger generation and making them sing. The younger ones have the dancing floor to themselves. But the older generation, men and women, sit, watch and correct mistakes and provide guidance in music or rhythm.
Purity and the primeval form in tribal poetry, songs or dance has been preserved wonderfully, although without any written literature.
In their social life there is no place for the individual and it is the community for which the individuals exits. So the tribal songs have a moral and cultural bearing which makes them the common property of the entire community and the world at large. The universal appeal is a remarkable feature of the tribal songs and music.
Karma Dance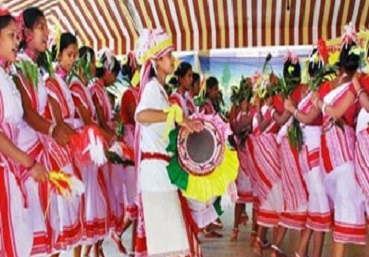 The traditional Karma Dance gets its name from the Karma tree which stands for fortune and good luck. The dance begins with the planting of the tree, followed by circular formations around it. In this group dance, there are usually as many men as women dancers.
The dancers form a two-tiered formation and the movements are usually backward and forward, towards and away from each other. The dancers swing to the rhythm of the drum and the clapping of the women folk. Later, breaking the formation, the dancers thread in and out and the body movements involve bending of the torso and the knees.
The dancers put their arms around the waists of their neighbours and form semicircular rows. Each row of dancers sings and dances alternately to the accompaniment of the Mandur and Timki. Drums beat fast and loud and the dance ends on a happy note. The choreography is imaginative and the themes of the songs are contemporary and relevant.
Jhijhia Dance
Jhijhia is a prayer dance that originated in the Koshi region of Bihar and is performed during droughts, when the land is dry and parched and there are no signs of clouds in the lifeless sky.
Through the Jhijhia dance, the young girls offer their prayers to the King of Gods, Lord Indra. The dancers pray to the Lord of Rains for life-giving rain and a good crop. The words of the song Haali Huli Barsaaun Inder Devta depict the conviction and deep devotion of the dancers as they pray to their Lord.
Kajari Song
Kajari is a song of rainy season. The popular melodious tune of Kajari songs produce a sweet sensation in body and it is heard from the very beginning of the Shravan month with the rhythmatic note of rain. The eves of village begin dancing like peacock with the song of "Bhijat awe Dhaniya Ho Rama …".
Jhumar Dance
Jhumar is a traditional folk dance of Bihar, which is performed by the rural women. There is no fixed season for this beautiful dance form, it is a dance, which is performed at all times.
Spring descends on earth with its beauty and spreads joy and happiness all around. The women dance with gay abandon. The men folk are invited to join in and they usually provide the musical accompaniment.
Magahi Jhumar Dance
The Magahi Jhumar dance is usually presented in the form of a duet, where male and female dancers play the role of husband and wife. They dance in unison, expressing their desires and aspirations.
The wife asks her husband for good clothes and beautiful ornaments. The husband promises to give her everything she desires. This vibrant folk dance in performed to the accompaniment of melodious music.
Jharni Dance
The Jharni Dance is a ritualistic dance performed by the Julaha community during Muharram. The dancers use bamboo sticks split at one end. They stand in a circular formation, and move around, each dancer striking the stick of his partner. The sound produced provides the beat for the dance.
Jat Jatin
Jat-Jatin is the most popular folk dance of North Bihar, especially in Mithila and Koshi region. It is performed by a pair of man and woman. Man goes to far-off place to earn livelihood. Jat-Jatin is a folk dance of the same emigrant husband accompanied by his spouse.
Apart from poverty and sorrow, this dance reflects a rainbow of the sweet and tender quarrel as well as some complaints between husband and wife. The folk mocks to comfort the hurdles of life with a smile. The headlines of the lyrics is " Tikwa-jab-jab Maugailion re jatwa – Tikwa kahe na lawle re … "
Jhumeri
Jhumeri is a folk dance from Mithilanchal. After the month of Ashwin comes Kartik with its clear skies. On the full moon night of Kartik the young maidens of the village sing and dance to celebrate the turn of the season. The words of the Jhumeri song Kartik maas na akashey badari and the graceful movements of the dance cast a spell on the audience.
Sohar Khelwana
Sohar Khelwana is a dance performed by women to celebrate the birth of a child. In India, the arrival of a newborn is celebrated with traditional rituals. The child receives blessings from family members, neighbours and well-wishers.
Through the Sohar songs, the women compare the new born to Lord Rama and Lord Krishna, popular Hindu Gods who are the embodiments of virtue. The eunuchs are an integral part of the celebration of childbirth and take part in this dance.
Holi Dance (Dhamar Jogira)
Spring arrives, resplendent in the colours of 'abir' as the magic of Holi sweeps across the land. Commemorative of the victory of good over evil, the Festival of Colours is celebrated with unabated enthusiasm by the young and old alike.
Come Holi and the hues of the rainbow deck the air in fine mists, the streets in telltale smears and our hearts with the joyful hope that peace and happiness shall reign.
The Holi dance is a vibrant dance form of Bihar. The accompanying songs are sung in the Dhamar style.
Krishi Nritya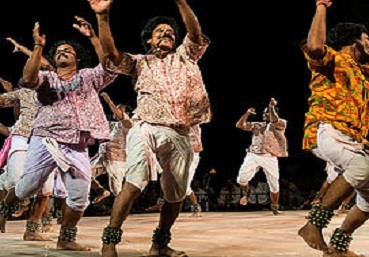 The rains have quenched the earth's thirst. The sight of their fields rich with the golden crop fills the farmers' hearts with joy. They express their happiness through dances, which are rhythmic and enjoyable.
Chaita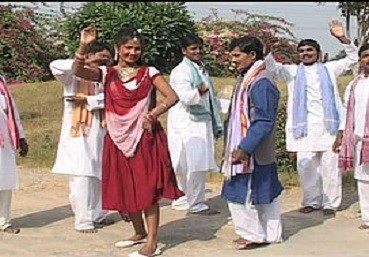 Chaita songs, as the name suggests, are sung in the month of Chaitra, when flowers appear in the mustard plants. Men sing these romantic songs.
Nachni
The Nachni dances with her Rashik or male partner, to the singing and clapping of male accompanists. Nachni dances are presented at various festivals and special occasions. The Nachni is not only the dancer, but also the singer. The accompanying musical instruments include the Nagara, Shenai and Harmonium.
Natua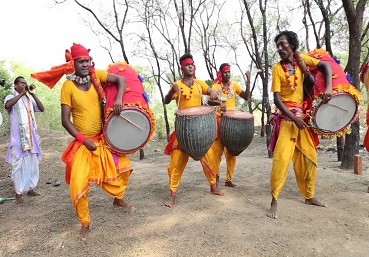 The Natua dance begins with an item called the Natua Kachal. In this duet performance, the accompanying musical instruments include the Nagara, Dhol and Shenai. The costumes worn by the dancers are indigenous and attractive.
Source:Bihar Gatha & Eastern Zonal Culture Center Ministry of Culture, GoI
ART AND CRAFT IN BIHAR
Art and Crafts
The state of Bihar is rich in its arts and crafts, which is quite evident from the fact that it is home to some of India's first paintings, including the famous Madhubani paintings and the miniature paintings done on paper and leaves, wall decorations, patchwork, applique work and local handicrafts.
Mithila, a region situated to the north of Bihar, is the place where the Madhubani paintings are believed to have originated. These paintings are Bihar's most unique folk art, done on either paper or canvas by the women of Mithila.
The Miniature paintings make use of leaves or paper and depict the lives of Buddha or Mahavira. They are sold to the pilgrims and tourists in Bodh Gaya and are quite popular.
Bihar is also famous for stone pottery, white metal statuettes, bamboo artifacts, wooden toys and leather goods. Wood inlay is another ancient craft quite famous here. In this craft, the craftsmen use different wood and metal to create inlaid designs for table toys, wall plaque and trays.
In north Bihar, a special grass called Sikki is found which when dyed in bright colours and woven with the natural grass makes excellent attractive baskets, boxes and figures.
Madhubani Painting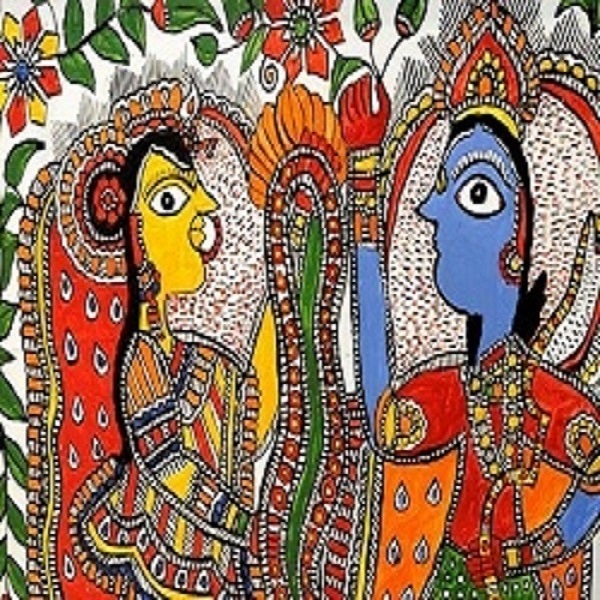 This painting, also called Mithila Painting, is a traditional folk art of Bihar which has succeeded in creating a place globally. painting has been done traditionally by the women of villages around the present town of Madhubani and other areas of Mithila region of Bihar.
The painting was traditionally done on freshly plastered mud wall of huts, but now it is also done on cloth, hand-made paper and canvas. The colors used are derived from plants.
Madhubani painting is a traditional Indian art form mostly done by women. Madhubani paintings mostly depict nature and Hindu religious motifs, and the themes generally revolve around Hindu deities like Krishna, Ram, Shiva, Durga, Lakshmi, and Saraswati.
Natural objects like the sun, the moon, and religious plants like tulsi are also widely painted, along with scenes from the royal court and social events like weddings.
These paintings were usually made on the eve of important dates, to mark the ceremonies to be performed, like a wedding, festivals, religious events etc. Traditionally, rice ground into paste was used to create these works of art.
Upendra Maharathi Shilp Anusandhan Sansthan is able to mobilise and maintain interest in Madhubani paintings, thus keeping alive a centuries old art form. Today, not only women but also men are learning the Madhubani art of painting.
Manjusha Art
Manjusa art is believed to be the only art form in the history of art form in India which has a sequential representation of the story and is displayed in a series. This is also called a scroll painting. Manjusa art is a folk art of Bhagalpur, Bihar, and has been dated back to the 7th century.
The name Manjusa is also associated with an elaborate story, a goddess and also a festival celebrated in Bhagalpur. The Sanskrit word "Manjusa" means a box and Manjusas are temple shaped boxes, made of bamboo, Jute-Straw and Paper inside which the devotees keep their ceremonial materials. These boxes are however illustrated with paintings that tell a tale.
The tale is that of Bihula who saved her husband from the deity's wrath and a snake-bite and also of Bishahari or Mansa, the snake goddess known for her anger when displeased but also her fierce protectiveness when propitiated.
Earlier the story called `Bihula-Bishahari Gatha' had an oral tradition of being sung though, nowadays not too many people sing it, but in Assam and Bengal the tradition is still continued and the songs are sung with the story of Bihula. It is a well-known folk art.
In an attempt to save this art form from extinction, in the year 1984 the Bihar government made an intitative called "Jansampoorna vibagh" in which they went to the villages of Bhagalpur and showed them slideshows of Manjusa art and educated people about this traditional art form encouraging them to revive this age old tradition.
This initiative has led to other governmental and non governmental organisations to come up with unique plans to promote this art form by using them as a mode of communication in various schemes.
Patna Kalam
Patna School of Painting, Company Painting is a style of Indian Painting, which existed in Bihar, India in the 18th and 19th centuries.
I caught the connoisseurs eye for its clear stylistic difference and unusual use of water colours. For the first time, there was a rich coherence between realism and visual perspective. This style combined elements of the Mughal and British styles of paintings so well, that it was called the Feringhee Kalam (the White man's art).
The paintings were done on surfaces as diverse as paper, mica and even ivory diskettes, that were used as brooches. That it was the world's first independent school of painting which dealt exclusively with the commoner and his lifestyle also helped this paintings gain it's popularity.
The subjects of these paintings had always been the common man and his mundane routines. It's basically a miniature form of painting which has, because of its unique style and form, occupied separate shelves at art galleries in London and museums in Prague.
Tikuli Art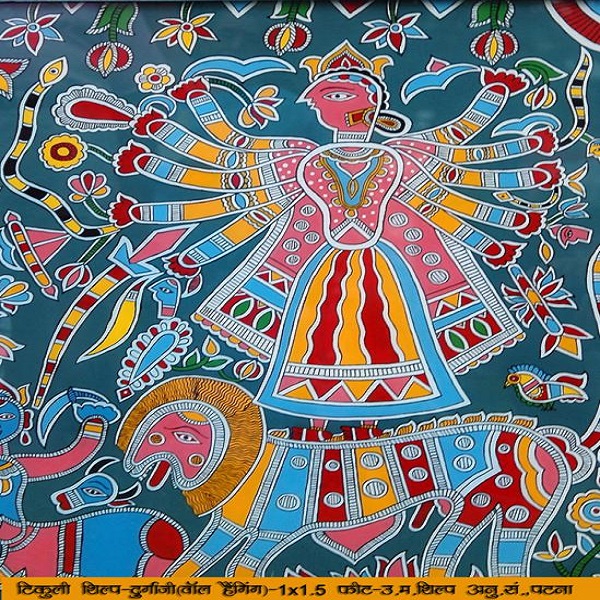 Having its origin in Patna city, the craft, which is believed to be around 800 years old, involved melting glass, adding traced pattern in natural colours and thereafter embellishing it with gold foil to create the "tikuli" or "bindi", which is worn by married Indian women on their forehead.
Bamboo & Cane crafts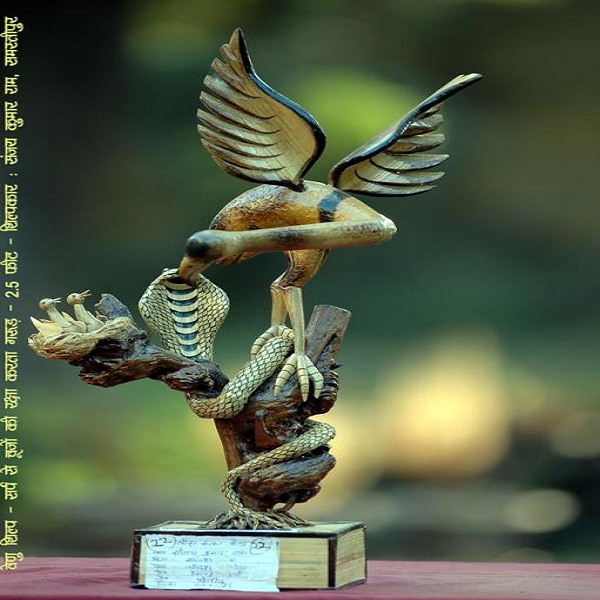 The bamboo and cane crafts of Bihar have a rich historical past that is amalgamated with the preferences of the modern urban people. As Bihar is affluent in the tradition of the powerful dynasties like Magadha Majanapadas, Mauryan Empire and Gupta Empire, the artisans had received encouragement from them.
With the introduction of modern technologies the bamboo and cane craft of Bihar has flourished. As the time precedes the tradition of the past and the style of the modern age have developed the cult of the bamboo and cane crafts of Bihar. This has also led to improvements of the products at a high grade with subtle changes.
The bamboo and cane crafts of Bihar have unique features that carry intrinsic beauties and great creativeness offered by the local artisans. Initiated in the prehistoric age, the bamboo and cane crafts of Bihar comprise utility items like baskets, household wares, woven mats, furniture and cane products like cane furniture and other decorative objects.
The majority of artisans are the tribal people of Bihar who etch out the lifeless bamboos and canes with dexterity and turn them into exquisite art pieces that are of great value.
The abundant accessibility of bamboo and cane in the areas of Tarai and Bhabhar has aided the bamboo and cane craft of Bihar to reach its zenith. An oldest form of creation of bamboo and cane crafts of Bihar is basketry that is used to serve the purpose of utilitarian item as well as suit other needs.
The artisans of Bihar make deft synthesis of Japanese techniques with the Indian tradition and given rise to a complete unique crafts of bamboo and cane. The Bhotiyas, which are the tribal from the Trans-Himalayan region are skilled bamboo and cane artistry. A vast variety of baskets, cups, saucers created by them for local consumption has now found an export market and considering the financial assurance from these crafts the non-tribals are now taking up basket making as their profession too.
The designs of these bamboo and cane crafts vary from simple plain weaving or ribbing and sometimes painting the bamboo-strips or cane reed in vivid colors.
The artisans while creating items from bamboo and cane keep in mind about their longevity that follows the style as well. They sometimes use bamboo stems or culms with smaller diameters along with cane in whole or split form for creating a variety of baskets, furniture, mats etc.
Large containers are made and these are used widely for storing grain among the local people of Bihar. Apart from these bamboo and cane crafts, Bihar is adored for its creativity in making furniture out of bamboo and cane, woven mats for floors etc.
The availability of raw materials, suitable weather, numerous artisans and land for bamboo agriculture have fastened the growth of the bamboo and cane crafts of Bihar.
Bill-hook, knife and a jak (v shaped wooden frame) are the essential tools required for bamboo craft. Saws, hammers, pliers and pincers in addition to daos and knives are used for making bamboo and cane furniture.
Metal Craft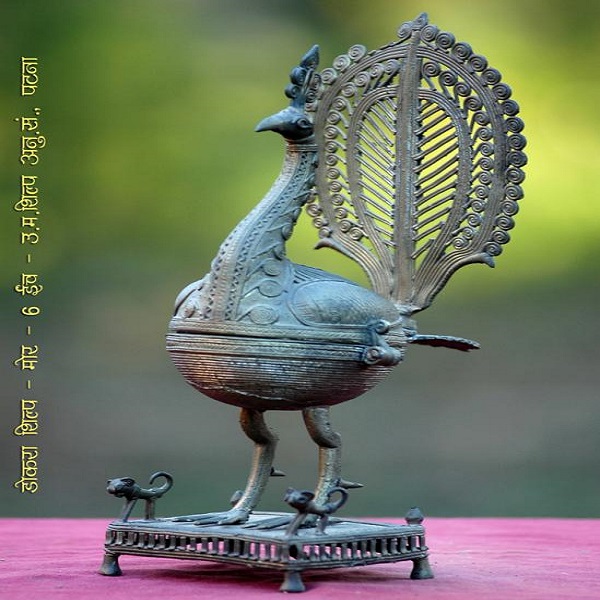 Brass and Bell Metal art is about 300 years old in Bihar. It is popular for decorative items like idols of God-Goddesses, statues and other daily utility items.
Bell metal is a mixture of copper and tin. Wax and wood which are essentially needed for these forest based metal crafts, are naturally available in abundance in tribal areas of Bihar. The craft received patronage from the Royal families, who used to pay the artisans to make idols.
Brass or bell metal craft items are prepared by melting the metal using a lost wax technique. All individuals and group artisans work around their houses or at a common place. Raw materials required for bell metal art are cluster of bees wax, brass metal and fire wood.
The raw materials such as wax and metal are purchased from market. The others like clay and fire wood etc. are collected from the nearby forest itself. Artisans use a mixture of wax and resin and also pitch from coal tar.
They mix two kilograms of pitch with 250 grams of resin, melt the two items and strain them separately. Then they mix the two and heat the mixture over fire, stirring it all the while. This process of mixing takes two hours or sometimes more.
The mixture is strained again before using. The manner of use of this mixture is identical with that of resin. These artisans are very precise in their work and follow their technique meticulously.
The next step is to wax them. The wax wires are prepared by pure bees wax. The wires are separated and attached with the clay model from its front to back in a round fashion. The whole of the clay image is covered with the wax wires and then they make several designs with these wires. After the desired designs on the image are completed, it is immediately coated again with clay.
This time they use local soil added with sand and goat dung. At the time of coating, a hole or an opening is generally kept at the base of the image. The metal is then taken in a container. Generally the metal is brass or bell metal. The container is then covered with a clay cup and is put into the furnace for two to three hours. After that the molten metal is poured on to the image through the opening.
Then the mould is kept for cooling. When the mould is cooled then water is sprinkled on the image, which makes the clay coat to crack and break. The metal moulds into the shapes and designs made by the wax wires. Thus at last an artistic bell metal or brass object is ready. The image is then scrubbed with sandy clay to give it shine. Sometimes they are even polished with wet tamarind.
As the Bell Metal products started easily flowing into the external markets, the number of artisans involved in the craft increased and so did the production.
Sikki Craft
Crafting products, mainly various forms of utilitarian containers, figurines of Gods and Godesses, and toys, using Sikki grass were an integral part of the living heritage of the women of the part of Northern Bihar, which used to be known as Mithila.
This used to be one of the 5 forms of hand crafts that a lady was supposed to be expert in, namely – Painting (this art form has become famous as Madhubani / Mithila painting), embroidery (known as Suzni craft), embroidery (known as Kashidakari), Papier mache craft and Sikki grass work).
Before marriage, a girl's skill in these 5 crafts used to raise her demand as a bride in the village, and products made in these five crafts was to go as a part of the dowry from the girl's side.
The Sikki grass craft has thus have been existing since hundreds of years, and it is difficult to ascertain exactly how old this craft is. However, as a craft being used for commercial use has been a more recent phenomenon, over the last couple of decades.
Papier Mache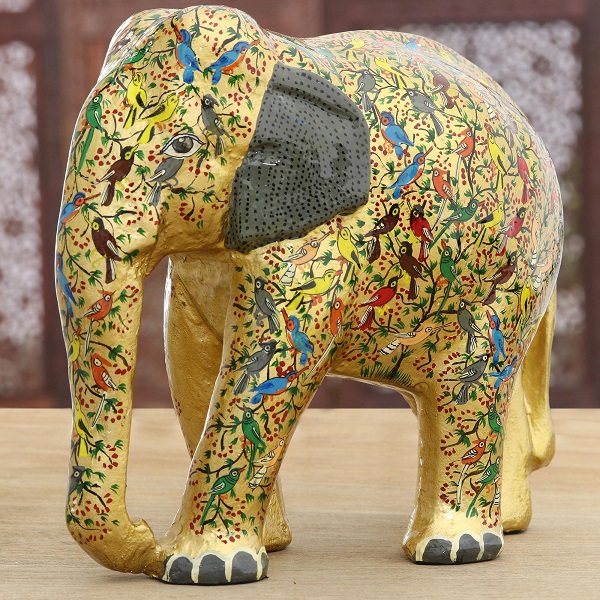 Papier mache is an ancient craft of Bihar that was used for the preparation of masks for different dance forms. It is a construction material made from a paper pulp.
Newspaper or waste Paper, multani mitti, methi powder (for fragrance and protection from insects) and adhesive made from water and wheat flour is used for paper mache crafts.
First, the dry paper is soaked in water for about one week. After it has fragmented in the water, it is crushed in khal musal, or beaten with a hammer, to make it into a paste. Multani mitti is soaked in water for at least 24 hours.
Then, the paper, multani mitti, methi powder and adhesive are mixed together to form various shapes and sizes. Whole process is done by hand and at the end the shapes are dried and painted to give it a perfect look.
At present paper mache is used in production of utilitarian accessories and households. There is a huge collection of paper mache crafts in the museum of Upendra Maharathi Shilp Anusandhan Sansthan. The institute also gives training on paper mache to the students and artisans.
Stone Carvings (Pattharkati)
The tradition of the stone craft of Bihar dates back to the ancient eras and it had reached its zenith during the Mauryan period as the dynasty was characterised by its craftsmanship.
The Pattharkatti region of Atri in Gaya is one of the major centres of stone craft in Bihar. Other centres are located in Nalanda, and Patna. The stone craft of Bihar demonstrates some huge statues of the great sage, Buddha that are basically found in the neighbouring places of Gaya.
Including these, various Stupas and monasteries stand as the great examples of the excellent artistic quality of the artisans of Bihar. Among the most popular stone carvings, the Ashoka pillar at Sarnath is the beautiful piece that exhibit marvellous art of stone craft of Bihar.
Black stone artisans of Gaya in Bihar are also well acclaimed for their creation of the Vishnapad temple in black stone in Gaya.
The stone craft of Bihar follows the traditional technique of polishing which is practiced at Patharkatti in Gaya district. The availability of a huge variety of stones with the accessibility of dexterous artisans has been the reasons of the development of the stone craft of Bihar.
The state is abundant in supplying lustrous gray green stones with black variety, blue black pot stone and several other stones from which several artifacts are created by the artisans. These stones are used not only to create deities or religious figures but are used in creating household items such as thali, bowls etc.
The Gaya town of Bihar presents a huge variety when it comes to stone crafts like statues, images, pestle, stem handled drinking glasses, smoothly turned out coasters and large platters customarily used to serve offerings to deities at temples, the mortar kharal (medicine grinder) tableware, plates, tapering glasses, glass covers etc.
The stone crafts of Bihar are also famous for architecture works of fountains and tables. Including these artifacts the deft artisans of Bihar create numerous traditional Buddha figurines and excellently carved the images of Lord Ganesha.
The traditional craft of Bihar, the stone craft has gained its popularity in the entire country and in the whole world as well for the creative designs amalgamated with rich Buddhist tradition.
The masterly creations of the artisans have attracted the fancy of the tourists and have promoted the tourism of India to some extent. The innovating ideas of the artisans with the changing trend and style of craftsmanship have been alleviating this craft.
Pottery & Ceramics
Pottery and ceramics have been an important part of human culture for thousands of years. From prehistoric storage jars to tiles on the space shuttles, pottery and ceramics have played a key role in innumerable human endeavors.
In art history, ceramics and ceramic art mean art objects such as figures, tiles, and tableware made from clay and other raw materials by the process of pottery.
Some ceramic products are regarded as fine art, while others are regarded as decorative, industrial or applied art objects, or as artifacts in archaeology. They may be made by one individual or in a factory where a group of people design, make and decorate the ware. Decorative ceramics are sometimes called "art pottery".
Pottery is generally considered to be containers made from clay. "Pot" is a term used for any number of container forms. Both words derive from the Old English potian, "to push". When we consider how the potter pushes as they throw the clay on the wheel, it is easy to see how the process got its name.
Bihar has a rich history of clay pottery work. Since the time of Mauryan and Gupta this art has been in practice in Bihar. The archeological excavations at places like Nalanda and Rajgir had confirmed the existence of this artistic craft in Bihar.
Beautiful earthen utensils and tiles are made by potters of Bihar. They have the abilities and skill to do artistic and beautiful paintings on earthen pots. Patna is very famous for such work. Patna is also famous for making earthen statutes of various gods and goddess.
Wood Carving
From time immemorial Bihar had a history of wooden craft which consist of manufacturing of wooden furniture and toys. Right from the time of Mauryan and most particularly form the time of Ashok it has remained high on scale in terms of artistic beauties, creativity, durability and cheap price.
During Ashok's reign beautiful royal throne, royal gates or doors and panels of temples were manufactured by wood artists of Bihar. This ancient art has not only been preserved but also has been converted into a means of livelihood by artists of Bihar which is one of the few places where wood carving work is still practiced.
Bihar is one of the few places where the wood carving and inlay work is done with wall plaques, table tops, pens and paper cutters being from wood and inlaid with diverse materials ranging from metal, ivory, stag horn to chips of different wood.
Patna is a very famous centre of wooden toy making.
Textile – Sujini Embroidery
Sujani (or Sujini) is one of the most popular form of conventional art and craft prevailing in Bihar. It is a traditional quilt made in the rural areas of that state. The art has been preserved in the remote villages by the women who prepare articles of great aesthetic value, primarily meant for household use.
Created with the simplest of stitches, with readily available fabrics and at times with well-worn pieces of clothes, the Sujani works are generally crafted by women in their free time at home.
The craftswomen produce furnishings such as bedspreads, wall hangings, cushion and bloster covers, as well as clothing items like saris, dupaattas, and kurtas.
Traditionally, at the time of child birth, patches of different colored cloth from old saris and dhotis were sewn together with a simple running stitch to make a quilt called Sujani.
The purpose of using old cloth with sujani was very specific – to wrap the newborn, to allow it to be enveloped in a soft embrace, resembling that of its mother.
Three or four sections of saris or dhotis were laid on top of each other and quilted with the thread that was unpicked from the used garments. The stitch filling of the motifs was done with a simple running stitch and the outline of the motif was usually done with a chain stitch in dark color.
The Sujini is distinctive for its transformation of a traditional craft into a vehicle for expressing contemporary social and political themes. These narratives proclaim that social change is the essence and purpose of the craft revival.
Tragically similar stories abound: drunk, disabled, absentee, or unemployable husbands, unsympathetic cruel and demanding mothers-in-law, property that has been mortgaged to pay off debts. A typical quilt is divided into two parts. One side seeks to portray the realities-a drunken man beating his wife; a man giving dowry; men cloistered in a village meeting, and women in purdah.
The other side seeks to express a vision – a woman selling her produce in the market; a woman addressing a meeting; a woman judge, and power!
Sun and cloud motifs signifying life-giving forces, fertility symbols, sacred animals, fantastic winged creatures for protection against destructive forces, and other motifs to attract blessings from the gods.
Different coloured threads were also symbolically used, such as red, signifying blood, a life force, and yellow for the sun.
This Sujani technique of sewing together layered pieces of old cloth is deeply rooted in two ancient beliefs. First, cloth bound together by Sujani served a ritual function – it invoked the presence of a deity, Chitiriya Ma, the Lady of the Tatters and stitching together these disparate pieces symbolically embodied the holistic Indian concept that all parts belong to the whole and must return to it.
The second purpose of stitching pieces of old cloth together was to wrap the newborn; to allow it to be enveloped in a soft embrace, resembling that of its mother. In fact, the word Sujani itself reflects this principle – 'su' means easy and facilitating, while 'jani' means birth.
Today production of Sujini embroidery is done mainly in about 15 villages adjoining village nameld Bhusura in Ghaighatti block of Muzaffarpur district in Bihar and also in some pockets of Madhubani. Bhusura, the village where Sujuni was developed is less than 100 kms away from the center of Mithila painting.
The rural women of Muzaffarpur district of north Bihar now continue to embroider in the Sujini tradition, using a combination of a fine running stitch. This is an ideal vehicle for assisting the many Rajput women who are living in poverty, but are prevented by social custom from working.
Women can now earn money while practicing a craft that their fathers, husbands, and in-laws deem 'respectable'. Craft revival is often characterized by nostalgia for perceived aesthetics and lost skills.
Textile – Applique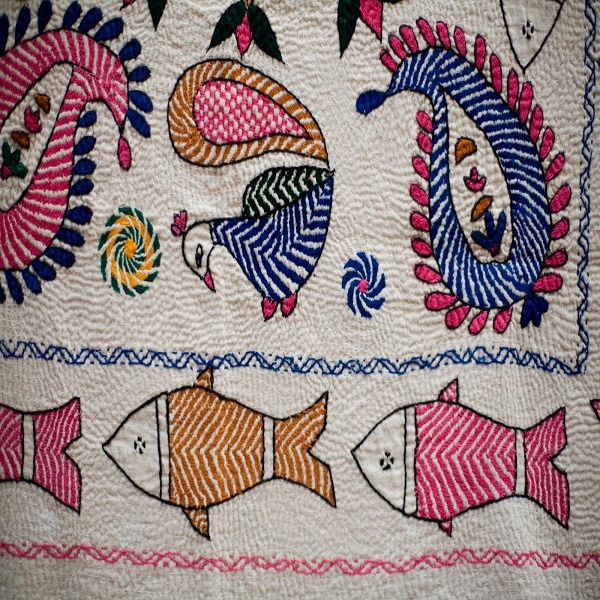 Khatwa is the name given to appliqué works in Bihar. designing by cutting of one fabric and stitching the pieces to another fabric. ainly used to create designer tents, canopies, shamianas and much more.
Making of such tents involves work by both men and women. While cutting of clothes is done by men, women use their expertise in stitching part. Khatwa is also used in designing women garments as well. This is where the real talent of Bihar people is seen in the work. The designs created are more sharp, intricate and highly appealing. Most of the garments shop sell these highly artistic clothes.
People in some villages of Bihar are involved only in art works and it is their main source of income. Since the same skills are passed down to generations, the expertise and innovations are immaculate. So when you are visiting Bihar, don't forget to buy yourself some really great paintings and some exquisite clothes.
Culture
Language and Literature
Hindi is the official language of the state. Maithili (including its dialect Bajjika), Bhojpuri, Angika and Magahi are also widely spoken in the state. Maithili is a recognised regional language of India under the Eighth Schedule to the Constitution of India.Bhojpuri and Magahi are sociolinguistically a part of the Hindi Belt languages fold.
Golden period of Hindi Literature in Bihar
Hindi literature has flourished significantly in the state. Raja Radhika Raman Singh, Shiva Pujan Sahay, Divakar Prasad Vidyarthy, Ramdhari Singh Dinkar, Ram Briksha Benipuri, are some of the luminaries who contributed to the richness of Hindi literature.
The Hindi language and literature began around mid to late nineteenth century. It is marked by the appearance of Bhartendu Babu Harischandra's (a resident of Varanasi in U.P.) drama "Harischandra". Devaki Nandan Khatri began writing his mystery novels in Hindi during this time (Chandrakanta, Chandrakanta Santati, Kajarki Kothari, Bhootnath, etc.)
He was born at Muzaffarpur and spent a part of his life in Tekari Estate in Gaya in Bihar. Later became an employee of the Raja of Benares (now Varanasi.) Started a printing press called "Lahari" which began the publication of a Hindi monthly, "Sudarshan", in 1898.
One of the first short stories in Hindi was "Indumati" written by Pundit Kishorilal Goswami and published in 1900. The collection of short stories "Rajani aur Taare" published by Anupam Prakashan in Patna contains an extended history of the origin and evolution of the short story as a distinct literary form in the Hindi literature.
Vidyapati
Vidyapati (1352–1448), also known by the sobriquet Maithil Kavi Kokil (the poet cuckoo of Maithili), was a Maithili and Sanskrit poet, writer and polyglot.
The poetry for which Vidyapati is best remembered, however, is a collection of love poetry written between 1380 and 1406. This collection expands on what had become the cult of Radha and Krishna, subject also of the 12th-century Bengal poet Jayadeva's celebrated Gita Govinda ("Song of the Cowherd" [Govinda is another name for Krishna]).
According to the English scholar W.G. Archer, Vidyapati's work is distinct from that of Jayadeva in both form and voice. Unlike Jayadeva's work, which is a unified dance-drama, Vidyapati's offering is a collection of separate love songs that examine the many moods and seasons of love and lovemaking.
Jayadeva's viewpoint is also unremittingly masculine, while Vidyapati finds Radha's feminine sentiments and observations the more nuanced, and he does not esteem Krishna over Radha.
Nagarjun
Vaidyanath Mishra (30 June 1911 – 5 November 1998), better known by his pen name Nagarjun, was a Hindi and Maithili poet who has also penned a number of novels, short stories, literary biographies and travelogues, and was known as Janakavi- the People's Poet. He is regarded as the most prominent protagonist of modernity in Maithili.
His famous poems like Bādal kō Ghiratē Dēkhā hai (Hindi: बादल को घिरते देखा है), is a travelogue in its own right. He often wrote on contemporary social and political issues.
His famous poem Mantra Kavita (मंत्र कविता), is widely considered the most accurate reflection of a whole generation's mindset in India. Another such poem is Āō Rānī Hum Ḍhōēṅgē Pālakī (Hindi: आओ रानी हम ढोएंगे पालकी), which sarcastically humiliates the then prime minister of India, Jawaharlal Nehru, for the extravagant welcome thrown by him for Queen Elizabeth.
Besides these accepted subjects of poetry, Nagarjun found poetic beauty in unconventional subjects. One of his most astonishing works is a poem based on a show called With Sharp Teeth (पैने दाँतो वाली). Another such creation is a series of poems on a full-grown jackfruit.
Maila Aanchal by Phanishwar Nath Renu
Considered to be one of the finest examples of a regional novel, Maila Aanchal expertly reflects the uniqueness of the region it is set in- a village in Bihar. The setting plays as much a role in developing the story as do the characters – because the behavioral traits, superstitions etc. are firmly rooted in the region the characters reside in.
Religion
Hindu Goddess Sita, the consort of Lord Rama is believed to be born in Sitamarhi district in the Mithila region of modern-day Bihar. Gautama Buddha attained Enlightenment at Bodh Gaya, a town located in the modern day district of Gaya in Bihar.
Vasupujya, the 12th Jain Tirthankara was born in Champapuri, Bhagalpur. Vardhamana Mahavira, the 24th and the last Tirthankara of Jainism, was born in Vaishali around the 6th century BC.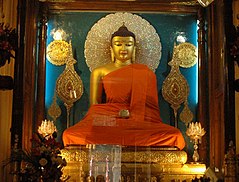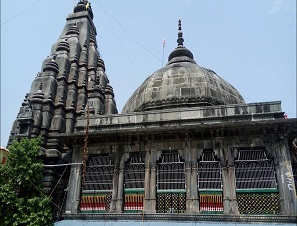 Buddha's statue at Bodh Gaya's templeVishnupadh Temple, Gaya, BiharPortrait of Goddess Sita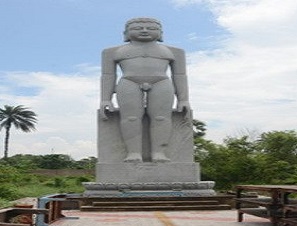 Sita Kund at Sitamarhi, Mithila, Bihar is believed to be the birthplace of Hindu Goddess Sita31 feet Statue of Lord Vasupujya, Champapur, BhagalpurVardhamana Mahavira
Danapur ChurchManer Sharif
Performing Arts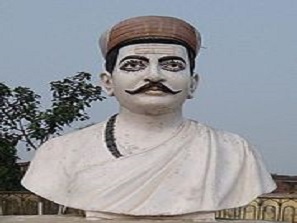 Magahi folk singersVidyapatiBharat Ratna Ustad Bismillah Khan, from Dumraon, Bihar
Bihar has produced musicians like Bharat Ratna Ustad Bismillah Khan and dhrupad singers like the Malliks (Darbhanga Gharana) and the Mishras (Bettiah Gharana) along with poets like Vidyapati Thakur who contributed to Maithili Music. The classical music in Bihar is a form of the Hindustani classical music.
Gaya is another centre of excellence in classical music, particularly of the Tappa and Thumri varieties. Pandit Govardhan Mishra – son of the Ram Prasad Mishra, himself an accomplished singer – is perhaps the finest living exponent of Tappa singing in India today, according to Padma Shri Gajendra Narayan Singh, founder secretary of the Sangeet Natak Academi of Bihar. Gajendra Narayan Singh also writes, in his memoir, that Champanagar, Banaili, was another major centre of classical music.
Rajkumar Shyamanand Sinha of Champanagar, Banaili princely state, was a great patron of music and was himself one of the finest exponents of classical vocal music in Bihar in his time. Singh, in another book on Indian classical music, has written that "Kumar Shyamanand Singh of Banaili estate had such expertise in singing that many great singers including Kesarbai Kerkar acknowledged his ability.
After listening to bandishes from Kumar Sahib, Pandit Jasraj was moved to tears and lamented that, alas!, he did not have such ability himself."
During the 19th century, when the condition of Bihar worsened under the British misrule, many Biharis had to emigrate as indentured labourers to the West Indies, Fiji, and Mauritius.
During this time many sad plays and songs called "birha" became popular, in the Bhojpur region, thus Bhojpuri Birha. Dramas incorporating this theme continue to be popular in the theatres of Patna.
Cinema
Bihar has a robust Bhojpuri-language film industry. There is also a smaller production of Magadhi, Maithili, as well as Angika-language films. The first film with Bhojpuri dialogue was Ganga Jamuna, released in 1961. Bhaiyaa, the first Magadhi film, was released in 1961.
The first Maithili movie was Kanyadan released in 1965. Maithili film Mithila Makhaan won the National Film Award for Best Maithili Film in 2016. The history of films entirely in Bhojpuri begins in 1962 with the well-received film Ganga Maiyya Tohe Piyari Chadhaibo, which was directed by Kundan Kumar.
1963's Lagi nahin chute ram was the all-time hit Bhojpuri film, and had higher attendance than Mughal-e-Azam in the eastern and northern regions of India. Bollywood's Nadiya Ke Paar is another of the most famous Bhojpuri-language movies. However, in the following years, films were produced only in fits and starts.
Films such as Bidesiya ( 1963, directed by S. N. Tripathi) and Ganga ( 1965, directed by Kundan Kumar) were profitable and popular, but in general Bhojpuri films were not commonly produced in the 1960s and 1970s.
In the 1980s, many Bhojpuri films were produced to support a dedicated industry. Films such as Mai ( 1989, directed by Rajkumar Sharma) and Hamar Bhauji ( 1983, directed by Kalpataru) continued to have success at the box office. In 90s, there was significant gap in film production.
Famous Personality in Media and Cinema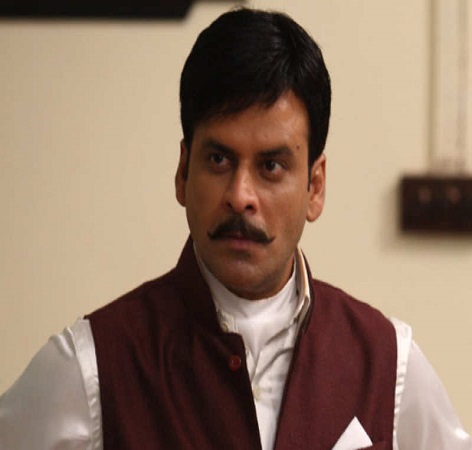 Udit Narayan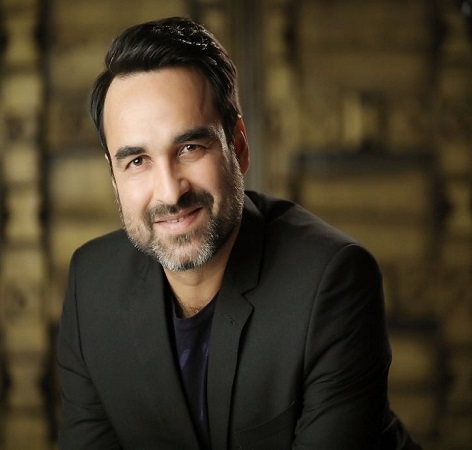 Important Sights of Bihar
Over the years, there has been a significant growth of foreign and local tourists in the state. Importance of Bihar for its religious, mythological,and spritual site has led to influx of impressive number of tourists.
Lets have a look at the important sites and destinations of Bihar popular among tourists.
PATNA (Patliputra)
Patna, the capital of Bihar State, has a fascinating past. And in each chapter of its history, it has been crowned by a new name-Kusumpur, Pushpapur, Patliputra and Azeemabad, it is one of the oldest cities in the world. Patna was founded in 490 BCE by the king of Magadha.
The 5.7 km – long Mahatma Gandhi Setu, one of the longest river bridges in the world, connects Patna with northern Bihar.
Sights
Takht Sri Harmandir Patna Sahib – GURUDWARA
It is a Gurdwara (Sikh place of worship) in the neighborhood of Patna Sahib, India. in remembrance of the birthplace of Guru Gobind Singh Ji, the tenth Guru of the Sikhs. as built by Maharaja Ranjit Singh (1780-1839), the first Maharaja of the Sikh Empire, who also built many other Gurdwara's in the Indian subcontinent.
The current shrine of Patna Sahib or Takht Sri Harmandirji Saheb was built in the 1950s.
Guru Gobind Singh, the tenth Sikh Guru, was born in Patna, Bihar, in 1666. He also spent his early years here before moving to Anandpur. Besides being the birthplace of Guru Gobind Singh, Patna was also honored by visits from Guru Nanak as well as Guru Tegh Bahadur.
Golghar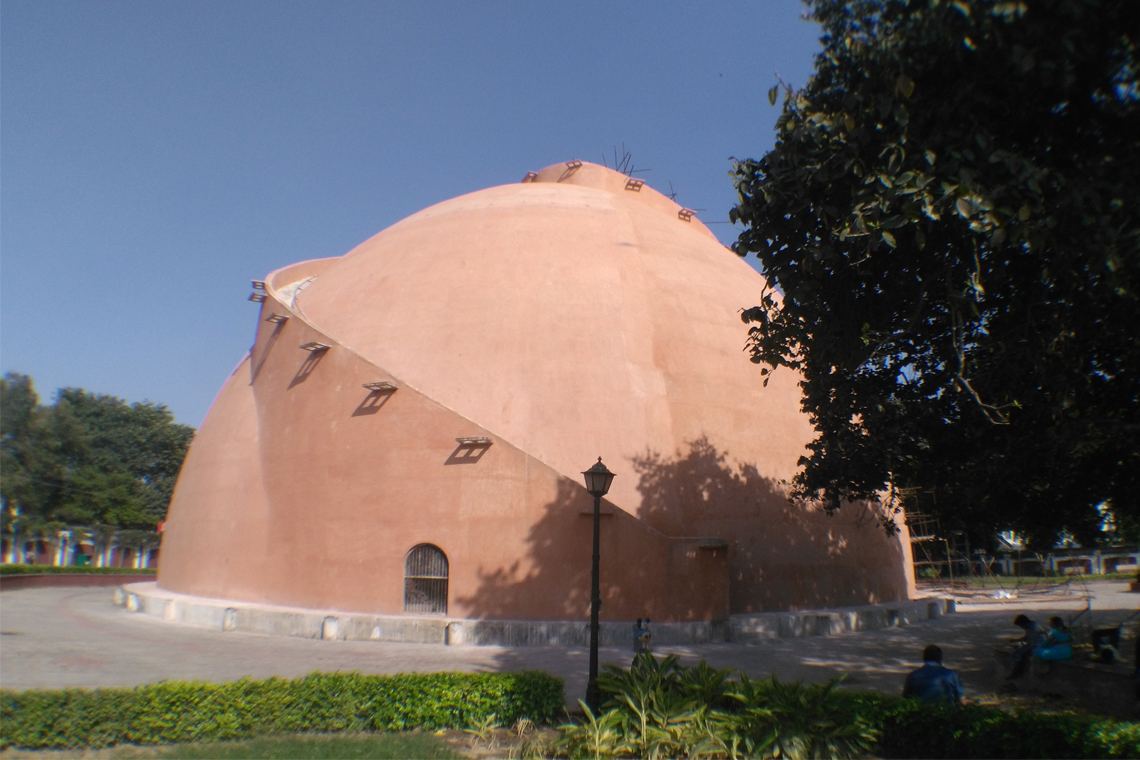 The Golghar or Gol Ghar, ("Round house") is a large granary located to the west of the Gandhi Maidan in Patna, capital of Bihar state, India.
Built in the Stupa architecture, the building has a height of 29 m. It is pillar-less with a wall of thickness of 3.6 m at the base. One can climb at the top of the Golghar through the 145 steps of its spiral stairway around it. The spiral staircase was designed to facilitate the passage of the workers who loaded and unloaded the grain is the granary, who had to carry grain-bags up one flight, deliver their load through a hole at the top, and descend the other stairs.
The top of the Golghar presents a wonderful panoramic view of the city and the Ganges.
ANCIENT TEMPLE – Patan Devi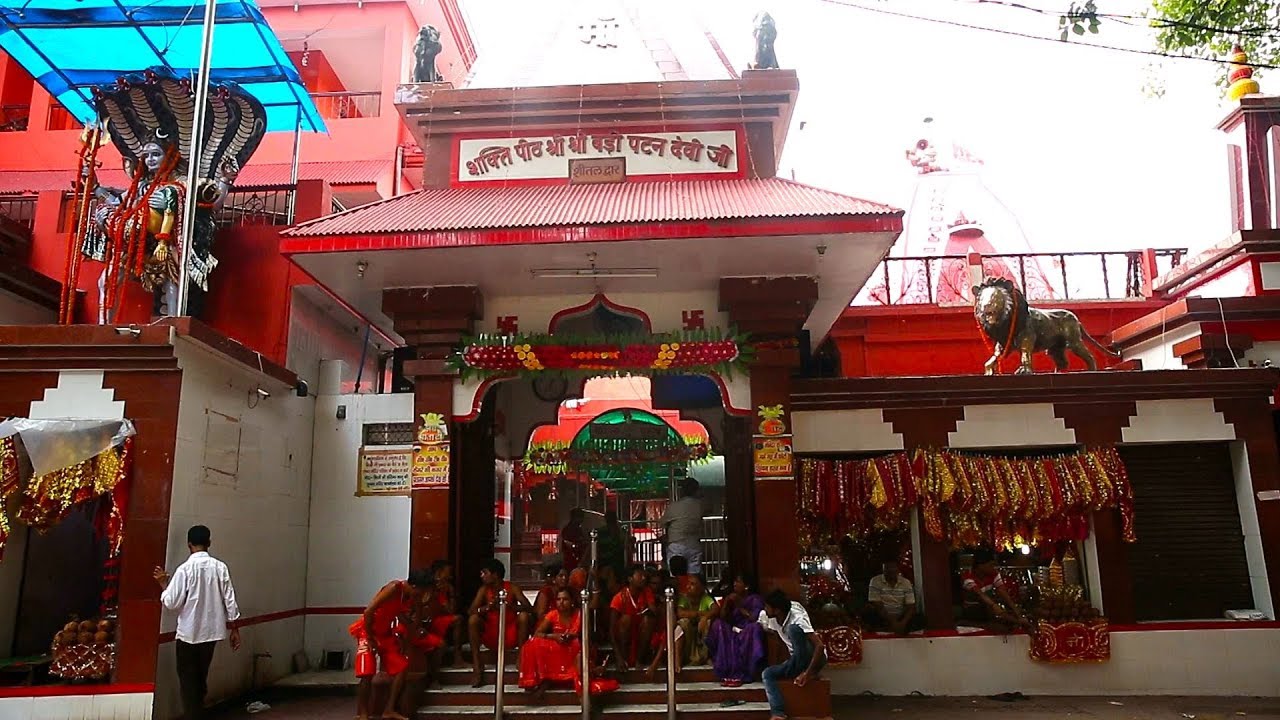 Patan Devi, also called Maa Patneshwari is the oldest and one of the most sacred temples of Patna. It is regarded as one of the 51 Siddha Shakti Pithas in India.
According to Puranic legends, the 'right thigh' of the corpse of Sati had fallen here when it was chopped off by Lord Vishnu with his 'Sudarshan Chakra'. The ancient temple, originally called Maa Sarvanand Kari Patneshwari, is believed to be the abode of the goddess Durga.
The name of the city Patna is widely believed to have been derived from the name of the Bari Patan Devi Temple (located nearby Patna Saheb Gurudwara).However, according to another belief, the name is derived from Patan, which means a town and Patna was a big place of export and import.
OLD TEMPLE – Mahavir Hanuman Temple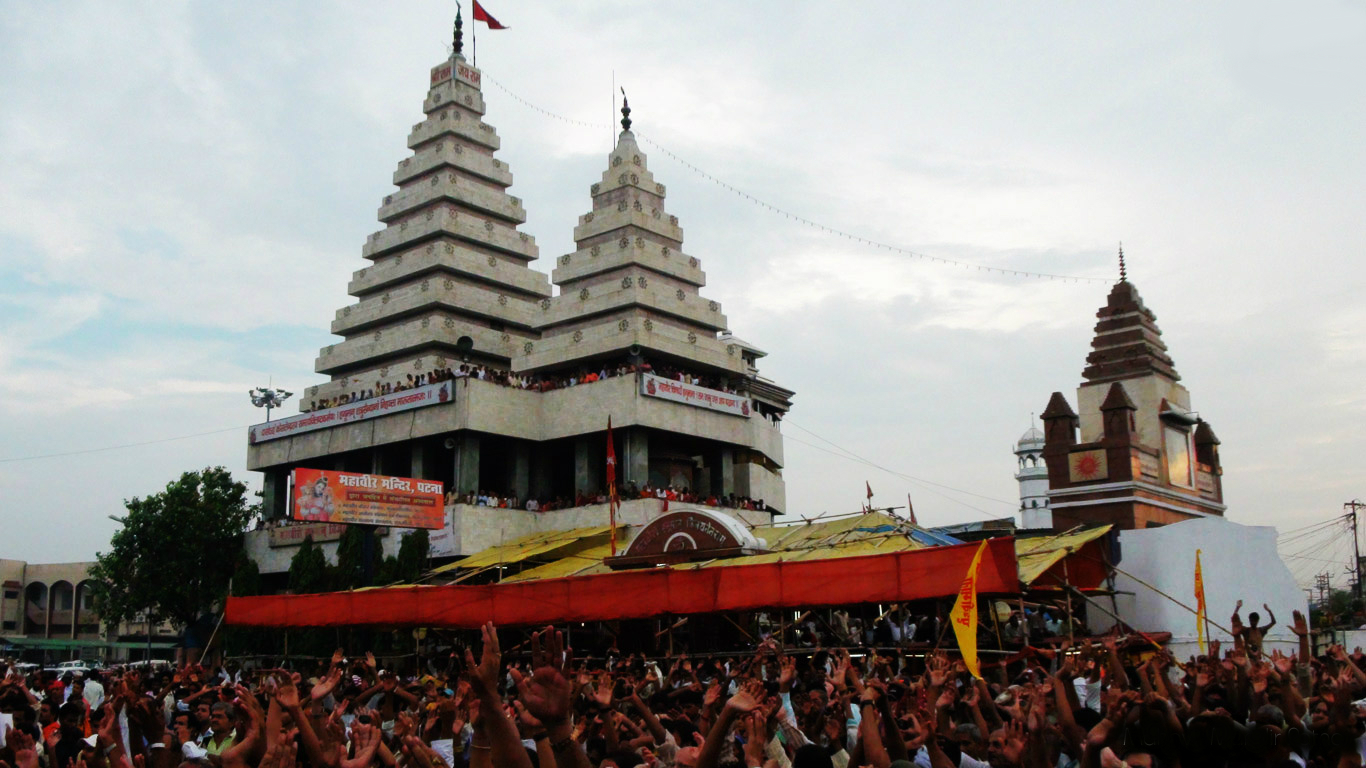 Mahavir or Hanuman temple of Patna is one of the holiest Hindu temples dedicated to Lord Hanuman, located outside Patna Junction in Patna, Bihar. Million of pilgrims visit the temple every year and is the second most visited religious shrine in North India.
The idol of Sankat-Mochan stands in it. The Mahavir Mandir Trusts have the second highest budget in North India after the famous Maa Vaishno Devi shrine.
Kumhrar Park
Kumrahar is the name of an area of Patna, where remains of the ancient city of Pataliputra were excavated. It is located 5 km east of Patna Railway Station.
Archaeological remains of the Mauryan period (322–185 BCE) have been discovered here, this include the ruins of a hypostyle 80-pillared hall. The excavation finding here dates back to 600 BCE, and marks the ancient capital of Ajatshatru, Chandragupta and Ashoka, and collectively the relics range from four continuous periods from 600 BCE to 600 CE.
ANCIENT TEMPLE – Agam Kuan
Agam Kuan (bottomless well) is an ancient well and archaeological site in Patna, India. It is said to date back to the period of Mauryan emperor, Ashoka (304–232 BCE). Circular in shape, the well is lined with brick in the upper 13 metres (43 ft) and contains wooden rings in the remaining 19 metres (62 ft).
The Agam Kuan is set within an archaeological site identified by the Archaeological Survey of India which also contains the adjacent Shitala Devi temple where the folk deity Shitala Devi is venerated. Inside this temple, the pindas of the Saptamatrikas (the seven mother goddesses) are worshipped. The temple is widely revered for its belief in curing smallpox and chicken pox.
Maa Jagdamba Mandir
This is a temple of Maa Jagdamba near Karouta Railway station 35km from Patna.Here each and every Tuesday and Saturday a lots of people come to worship Maa Jagdamba.
Gandhi Museum

This museum contains a pictorial history of Mahatma Gandhi's life, plus some of his meager belongings. On your way in, do not miss the glass-boxed statues of Gandhi and Nobel laureate Rabindranath Tagore in conversation.
Patna Museum
Inaugurated on 3 April 1917 during the British Raj to house the historical artefacts found in the vicinity of Patna, it is in the style of Mughal and Rajput architecture and is known locally as the Jadu Ghar.
Bihar Museum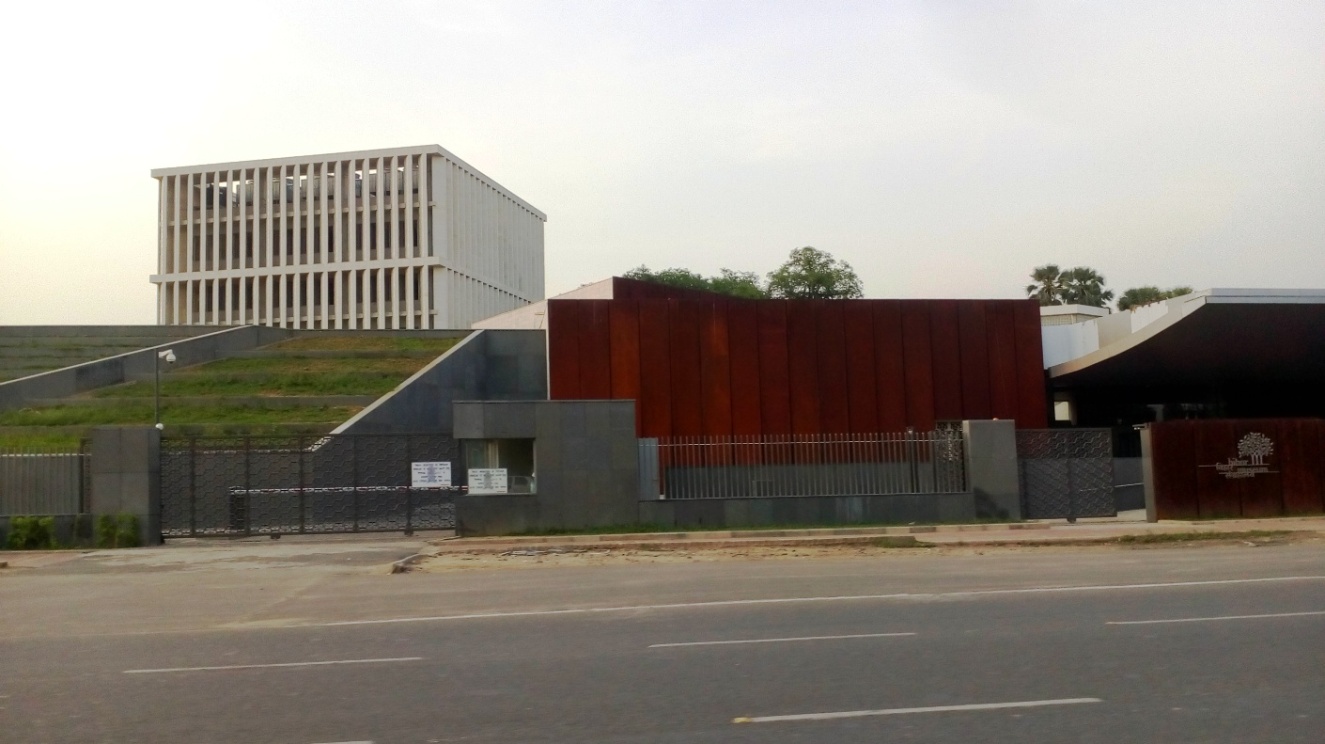 Bihar Museum is a modern state of the art museum located in Patna. It was partially opened in August, 2015. 'The children's museum', the main entrance area, and an orientation theatre were the only parts opened to the public in August 2015. Later, in October 2017 remaining galleries were also opened. More than 100 artefacts were transferred here from Patna Museum.
It was planned as a history museum for the state of Bihar, and its construction began in Bailey Road, Patna in October 2013 with an estimated budget of ₹498 crore (US$74 million).
The Museum was planned to bring the region's thousands year history into focus, inspiring local residents and visitors from across the globe to explore Bihar's rich heritage, historic sites and cultural attractions.
Gurdwara Gai Ghat (Patna)
Gurdwara Pahila Bara, commonly known as Gurdwara Gai Ghat, is a holy Gurdwara of Sikh religion. It is located in the city of Patna, Bihar, India and dedicated to Guru Nanak Dev.
The Gurdwara is part of "Guru Circuit" – A Government of Bihar initiative connecting important Sikh religious destinations in Bihar to attract more pilgrims.
The building where Gurdwara is located was initially Bhagat Jaitamal's house. Jaitamal, a pious man, confectioner by trade, became the Guru's follower and later converted his house into a Dharamshala. It was sanctified first by Guru Nanak in 1509 A.D. and later by Guru Tegh Bahadur along with his family in 1666 A.D.
It is believed, Guru Tegh Bahadur made the river Ganges come in the form of "Gai" (cow) to Jaitamal, who could not go to the riverbank due to his old age. The Gurdwara was thus named 'Gurdwara Gaighat'.
Seek Blessing of Shah Daulat at Choti Dargah, Patna
When in Patna, you must take time out to visit Choti Dargah, the mausoleum of the venerable sufi saint Makhdum Shah Daulat. The mausoleum is rich is architecture and is adorned with intricate carvings on the walls and the inscriptions from the Quaran on the roof. Truly a place to relish, Choti Dargah is absolutely a must-visit in Patna.
Khuda Bakhsh Oriental Library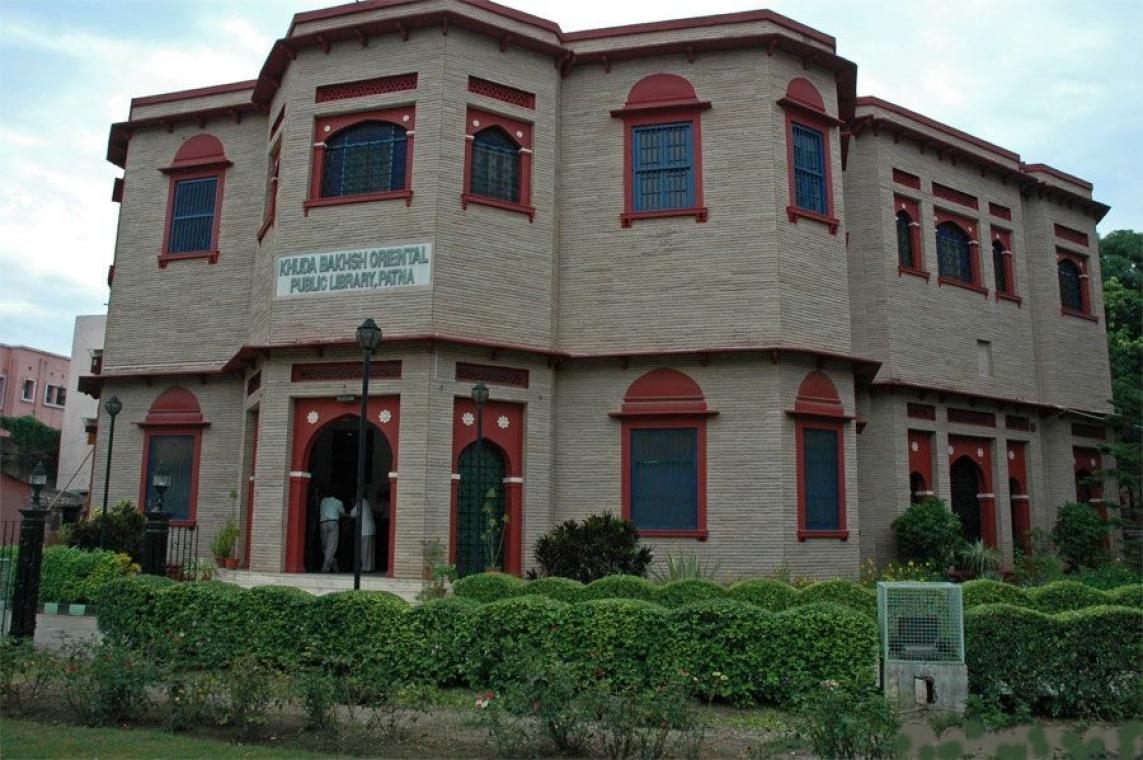 Close to the banks of the Ganges, in Patna, stands the Khuda Bakhsh Oriental Public Library a unique repository of about 21000 Oriental manuscripts and 2.5 lakh printed books.
Though founded earlier, it was opened for public in October, 1891 by the illustrious son of Bihar Khan Bahadur Khuda Bakhsh with 4,000 manuscripts, of which he inherited 1,400 from his father Maulvi Mohammed Bakhsh.
Buddha Smriti Park
Buddha Smriti Park also known as Buddha Memorial Park (as translated in english) is an urban park located on Frazer Road near Patna Junction in Patna, Bihar.
This park has been developed by the Bihar Government to commemorate the 2554th birth anniversary of the Buddha. This park was inaugurated by the 14th Dalai Lama.
Major Attractions:
Laser Show Meditation Centre Smriti Park(Park of Memories) Museum Stupa Bodhi Trees
Sabhyata Dwar
The Sabhyata Dwar or Civilization Gate is a 32 metres (105 ft) high sandstone arch monument located on the banks on River Ganga in the city of Patna in the Indian state of Bihar.
The Sabhyata Dwar is built with a Mauryan-style architecture with a purpose to show the ancient glory of Pataliputra and traditions and culture of the state of Bihar.
The monument is spread over an area of one acre within the campus of Samrat Ashok International Convention Centre.The arches of the Dwar contain inscriptions attributed to Megasthenes, Ashoka, Buddha and Mahavira. Bihar Chief Minister Nitish Kumar inaugurated the monument on 21 May 2018.
Gyan Bhawan
Ganga Arti at Gandhi Ghat
Ganga Aarti is a Spectacular Hindu Ritual that takes place on the Bank of River Ganga at Gandhi Ghat in Patna.
The Aarti starts with the blowing of a conch shell and continues with the movement of incense sticks in elaborate patterns and circling of large burning lamps that create a bright hue against the darkened sky.
GAYA
Amongst the most famous places in Bihar is Gaya, which is a Hindu pilgrimage hub and a transit point for Buddhist pilgrimage centre of Bodhgaya. It is believed that it was here under the tree that Buddha attained enlightenment.
Gaya is a busy city situated on the bank of River Phalgu and it is replete with many temples and historic sites dating back to different eras that stand as the evidence to the successful rule of Maurya and Gupta dynasty here. The glory of Gaya was extended so much so that even Hiuen Tsang could not resist mentioning it in his travelogues.Major Tourist Attractions:
Bodhgaya
Magla Gauri Shrine
Bodhi Tree
Muchalinda Lake
Mahabodhi Temple
Dungeshwari Cave Temples
Chinese Temple and Monastery
Thai Temple and Monastery
Vishnupad Temple
Barabar Caves
Bodhgaya Archaeological Museum
Royal Bhutan Monastery
Sights
Bodh Gaya
Bodh Gaya is a small town in the state of Bihar. Considered one of the most important Buddhist pilgrimage sites, it's dominated by the ancient brick Mahabodhi Temple Complex,
built to mark the site where the Buddha attained enlightenment beneath a sacred Bodhi Tree. A direct descendant of the tree still exists within the complex today, along with six other sacred sites, including a lotus pond.
Maha Bodhi Temple
Maha Bodhi Temple, one of the holiest sites of Buddhism, marking the spot of the Buddha's enlightenment (bodhi). It is located in Bodh Gaya (in central Bihar state, northeastern India) on the banks of the Niranjana River.
The Maha Bodhi Temple is one of the oldest brick temples in India. The original structure, later replaced, was built by the Mauryan emperor Ashoka (died c. 238 BCE), one of Buddhism's most important proselytes, to commemorate the Buddha's enlightenment.
The temple is 55 metres (180 feet) in height. Its pyramidal shikhara (tower) comprises several layers of niches, arch motifs, and fine engravings. Four towers, each identical to its central counterpart but smaller in size and topped with an umbrella-like dome, adorn the corners of the two-story structure. A shrine inside the temple holds a yellow sandstone statue of the Buddha encased in glass.
The Bodhi tree, under which the Buddha is said to have sat until he attained enlightenment, stands adjacent to the temple. Ashoka's stone slab purporting to mark the exact position where the Buddha sat is traditionally called the Buddha's vajrasana (literally "diamond throne" or "thunder seat").
Stone railings surround the temple as well as the Bo tree. One of the most famous of Ashoka's many pillars (on which he had engraved his edicts and his understanding of religious doctrine) stands at the southeast corner of the temple.
The 4.8-hectare (11.9-acre) complex also includes ancient shrines and modern structures built by Buddhist devotees. It was recognized as a UNESCO World Heritage site in 2002.
Bodhi Tree
The Bodhi Tree, also known as Bo (from Sinhalese: Bo), "peepal tree," and "arasa maram" , was a large and very old sacred fig tree (Ficus religiosa) located in Bodh Gaya, under which Siddhartha Gautama,
the spiritual teacher who later became known as the Buddha, is said to have attained enlightenment (Bodhi). In religious iconography, the Bodhi Tree is recognizable by its heart-shaped leaves, which are usually prominently displayed.
The term "Bodhi Tree" is also widely applied to currently existing trees, particularly the Sacred Fig (Ficus religiosa) growing at the Mahabodhi Temple in Bodh Gaya, which is often cited as a direct descendant from the original specimen planted in 288 BC.
This tree is a frequent destination for pilgrims, being the most important of the four main Buddhist pilgrimage sites. Other holy Bodhi trees which have a great significance in the history of Buddhism are the Anandabodhi tree in Sravasti and the Bodhi tree in Anuradhapura, Sri Lanka. Both are believed to have been propagated from the original Bodhi tree.
Vishnupad Temple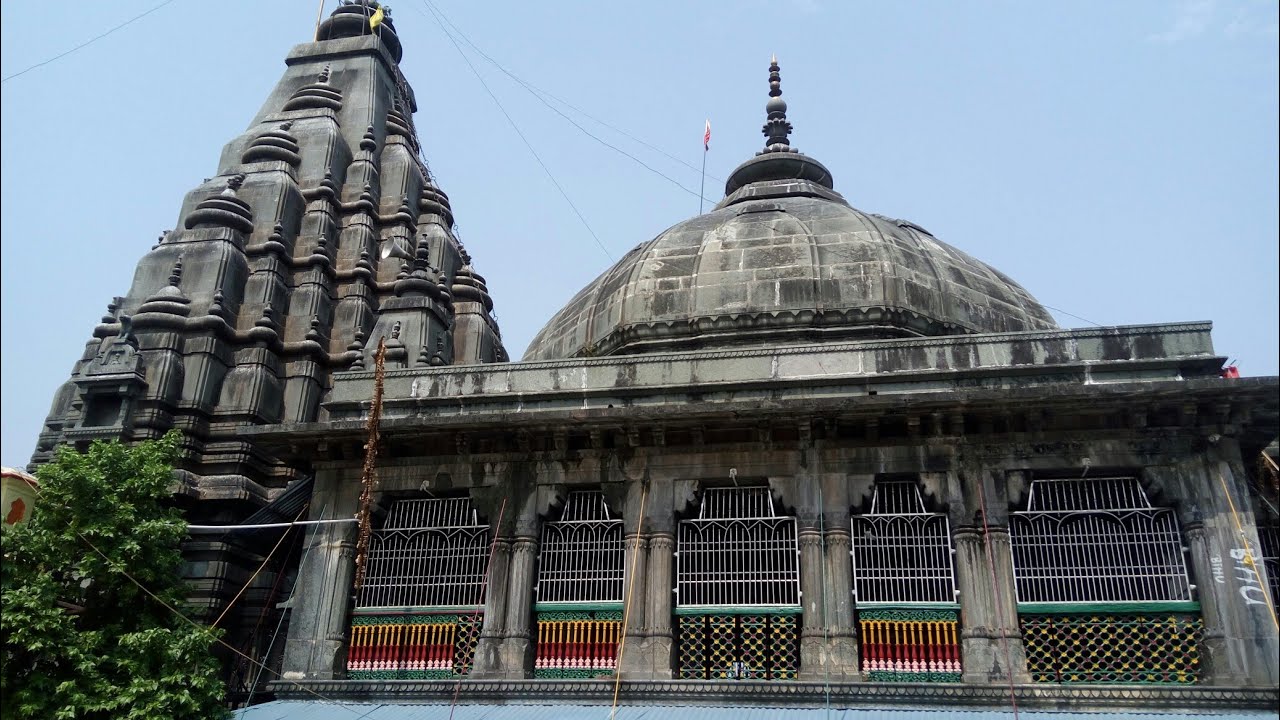 Vishnupada Temple is an ancient temple in Gaya, India. It is a Hindu temple, dedicated to Lord Vishnu. This temple is located along the Falgu River, marked by a footprint of Lord Vishnu known as Dharmasila, incised into a block of basalt.
The Brahmkalpit Brahmans are the traditional priest of the temple from ancient time who is known as Gayawal Tirth Purohit or Panda. Several legendary saints as Ramanujacharya, Madhvacharya, Chaitanya Mahaprabhu and Sri Ramakrishna have visited this shrine.
The construction date of temple is unknown and it is believed that Rama along with Sita had visited this place. The present day structure was rebuilt by Devi Ahilya Bai Holkar, the ruler of Indore, in 1787, on the banks of the Falgu river.
This is believed that the temple was built with the footprints of Lord Vishnu in the centre. In Hinduism, this footprint marks the act of Lord Vishnu subduing Gayasur by placing his foot on his chest. Inside the Vishnupad Mandir, the 40 cm long footprint of Lord Vishnu is imprinted in solid rock and surrounded by a silver plated basin.
The height of this temple is 30 meters and it has 8 rows of beautifully carved pillars which support the pavilion. The temple is built of large gray granite blocks jointed with iron clamps.
Barabar Caves
Dating back to the Mauryan period, Barabar Caves are the oldest rock-cut caves in India. Located in Jehanabad district in Bihar, about 31 Km north of Gaya, some of the caves have inscriptions that date back to the Ashokan period.
The caves are situated in the Barabar Hills. There are similar caves in the Nagarjuni Hills which are located less than two km away which are also considered as part of the Barabar Caves.
There are many Hindu and Jain sculptures in the caves that are believed to have been carved out of huge boulders from 273 BC to 232 BC. The caves were used extensively by monks belonging to the Ajivika sect.
The caves have huge arches and all the caves have two chambers that have been carved completely out of granite. They have an echo effect that is unique to these caves because of the way they have polished interiors. Of the two chambers,
the first is designated for masses to assemble for worshipping shrines known as stupas that were placed in the inner chamber. The inner chambers are now vacant.
There are four caves that form the Barabar caves – Lomas Rishi, Sudama, Karan Chaupar and Vishwa Zopri. Lomas Rishi caves are the most fascinating caves here which has been cut out of a huge mound of granite in such a way that it resembles the wooden huts that the Buddhist monks used to live in. There is a row of elephants that leads towards the stupas in the Lomas Rishi cave.
The Sudama cave has arches similar to a bow and has a circular chamber with a mandap. The Karan Chaupar cave is a single room with exquisitely polished inner walls with inscriptions that date back to 245 BC. The Vishwa Zopri cave has two rooms of rectangle shape that can be reached by the rock cut stairs.
Of these, Lomas Rishi and Sudama are the oldest examples of rock-cut architecture in the country with the architectural designs from the Mauryan period and they went to influence most rock sculptures in the next few centuries. Similar architectural detailing has been found in Ajanta caves and Karla caves along with many other caves in South Asia.
Dungeshwari Cave Temple
Dungeshwari Cave Temples, also known as Mahakala caves, is situated 12 km north-east of Bodhgaya, in Gaya district Bihar. Gautama Siddhartha is believed to have piously meditated at this place for six years before he went to Bodhgaya for the final realization.
Two small shrines are built to commemorate this phase of Buddha. A golden emaciated Buddha sculpture memorising the rigid penance is enshrined in one of the cave temples and a large (about 6' tall) Buddha's statue in the other. A Hindu goddess deity Dungeshwari is also placed inside the cave temple.
Dungeshwari cave temples are also popular as Sujata Sthan to local people. It is believed that when Buddha was doing his self-mortification, he became frail, feeble and starved. When he rested under a Banayan tree, a village woman named Sujata offered him food.
Buddha accepted her offerings and consumed the food; his explicit approval presented him with a divine truth that neither extreme self indulgence nor self-abasement is the right way to attain enlightenment. Buddha attained the knowledge that following the middle path will lead to attaining the supreme nirvana. Sujata Sthan or Dungeshwari Temple stands as a symbol commemorating this event.
Mangla Gauri Temple
The Mangla Gauri Temple in Gaya, Bihar, India has been mentioned in Padma Purana, Vayu Purana and Agni Purana and in other scriptures and tantric works. This temple is among the eighteen maha shakti Peeth. The present temple dates back to 15th century.
The shrine is dedicated to Shakti or the mother Goddess in the predominantly Vaishnavite pilgrimage center of Gaya. Mangalagauri is worshiped as the Goddess of benevolence. This temple constitutes an Upa-Shakti Pitha — where it is believed that a part of the body of Shakti fell according to mythology. It is believed that whoever comes to maa Durga with his wishes and prayers, returns successfully with all of prayers and wishes come true.
It is a very old temple built in the 15th century. We have to climb up a small hillock to reach the temple. The steps route is in between houses of local people. At the starting of steps route, there is the temple of Bhima (One of Five Pandavas). We can see his knee impression here. Here Bhima did Shraddhakarma, hence called as Bhimvedi Gaya.
According to various myths and traditions, there are 51 pieces of Sati's body scattered across the Indian subcontinent. These places are called shakti peethas and are dedicated to various powerful goddesses.
The body was separated part by part. Shiva passed through this place on his way back to Kailash with the dead body of Sati whose body part fell at this spot where the modern temple of Mangla Gauri stands.
NALANDA
Probably the oldest university in India, Nalanda is an important site to visit in Bihar. A perfect reminisce to the time of flourishing Gupta and Pala period, Nalanda is an acclaimed tourist attraction in Bihar. It is believed that the last and most famous Jain Tirthankara, Mahavira spent 14 monsoon seasons here.
Even, Buddha is said to have delivered lectures near the mango grove in Nalanda. The fame of this education centre was to an extent that Hieun Tsang, the famous Chinese traveller visited here and stayed for atleast two years here. Even, I-tsing another famous Chinese voyager stayed at Nalanda for about 10 years.Major Tourist Attraction:
Nalanda Archaeological Museum
Rajgir Dance Festival ( in October)
Xuanzang Memorial Hall
Silao
Nalanda Multimedia Museum
Surajpur Baragaon
Sights
Nalanda Archaeological Museum
Nalanda Museum established in the year 1917 is one of the most prestigious site-museums of Archaeological Survey of India. It houses antiquities found from the excavated site of Nalanda Mahavihara supposedly the earliest university cum monastery complex which flourished during 5th – 12th centuries of Christian era under the patronage of Gupta, Maukhari and Pala rulers.
Later on few object collected from the neighbouring villages of Nalanda and few from Rajgir too were added to the treasures of this museum. There about 350 artifacts at display whereas more than thirteen thousand are kept in the reserve collection.
Display includes stone images and sculptures, bronzes, stuccos, terracottas, inscription, iron objects, ivory & bone objects and potteries etc. arranged in four galleries and the main hall.
The main hall exhibits master pieces of stone and two huge earthen storage jars. Twelve handed Bodhisattva Avalokitesvara, about two meters high image of Samantabhadra, Nagaraj with seven serpent hood canopy, a colossal image of Buddha seated in dharmachakra mudra,
a tantric deity Trailokyavijya trampling Shiva-Gauri, and Buddha seated in bhumisparsa mudra are worth mentioning specimens in this hall. The central space of the hall has been occupied by a scale model of the excavated site in a table showcase.
"The Archaeological Site of Nalanda Mahavihara (Nalanda University) is included among the world heritage list of UNESCO (2016)."
Hiuen Tsang Memorial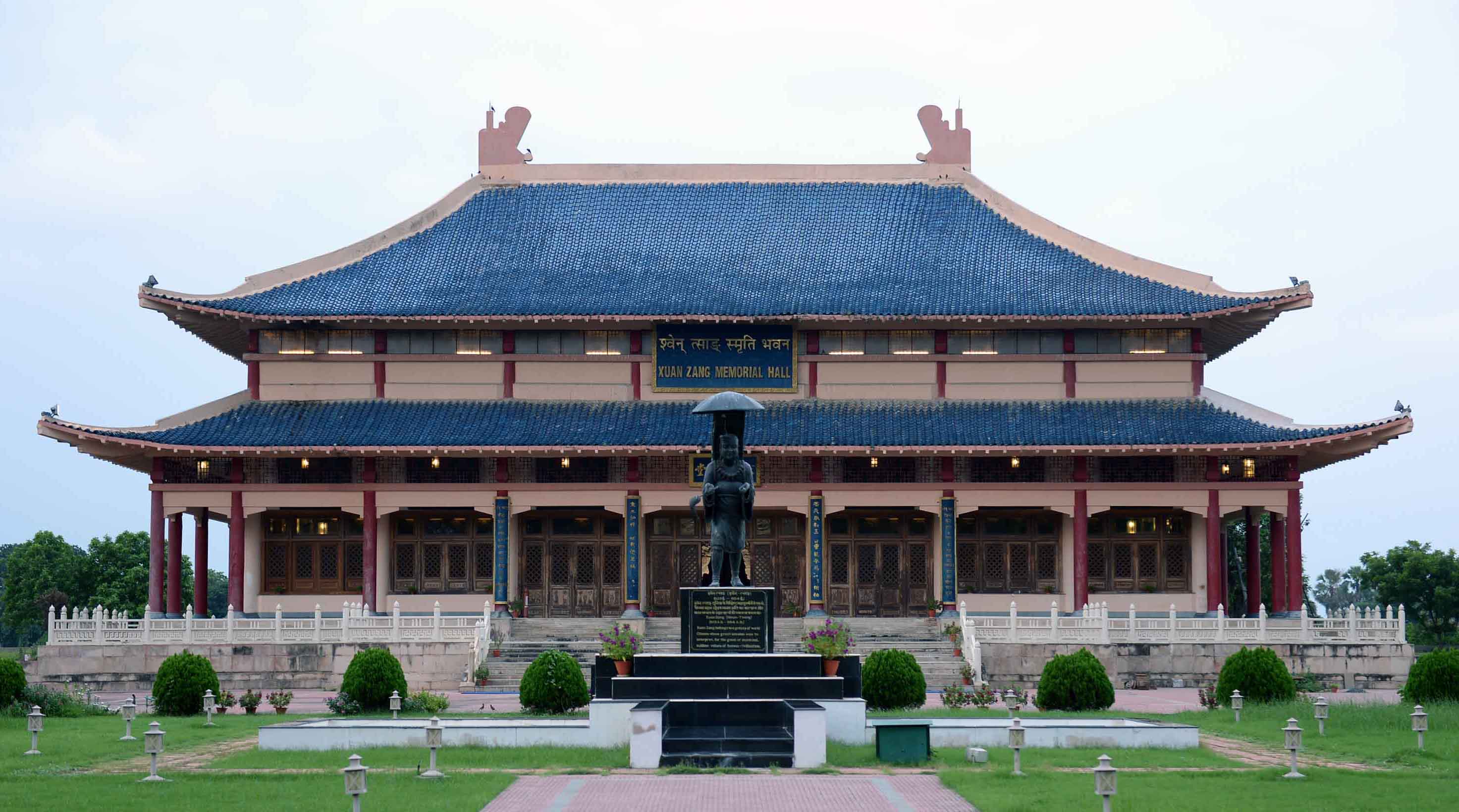 Set up as a tribute to one of the greatest Buddhist scholars and travellers of the time, XuanZang travelled overland to India from China, through Taklamakan Desert and Himalayan mountains, in the seventh century without a map.
The tremendous hardship he endured were rewarded by the 15 years of joy he enjoyed as a pilgrim in India. In his epic journal, he left behind a fascinating account of Indian culture, history, and society that he observed during his visits to the sacred sites, and while teaching and learning at Nalanda.
On his journey homewards, the legendary pilgrim carried with him 657 Buddhist texts, which later he translated into Chinese. These works helped clarify many of the misunderstandings of the Dhamma by ealy Chinese scholars, and also helped later researchers to discover many of the lost sacred sites connected to the Buddha's life.
The complex's large bell, donated by the Chinese government, contains an inscription of the Heart Sutra, the famous Mahayana text that articulates the empty and insubstantial nature of all existence. The memorial is about 2 km away beyond Nalanda ruins and its hall has beautiful murals that are stylistc replicas of Ajanta and represent of fusion of Chinese and Indian art
NAVA NALANDA MAHAVIHARA
In 1951, Bhikku Jagdish Kashyap, backed by India's first President, Dr. Rajendra Prasad founded it with a hope to revive the ancient seat of Buddhist learning. The present campus is located on the bank of a peaceful lake, two kilometers from the ruins. The university offers diploma and degree courses in Pali, Philosophy and Indian culture.
RAJGIR(Girivraj)
Rajgir is a city and a noted area in Nalanda district in the Indian state of Bihar. The city of Rajgir (ancient Rājagṛha; Pali: Rājagaha) was the first capital of the kingdom of Magadha, a state that would eventually evolve into the Mauryan Empire.
Its date of origin is unknown, although ceramics dating to about 1000 BC have been found in the city. This area is also notable in Jainism and Buddhism as one of the favorite places for Lord Mahavira and Gautama Buddha and the well known "Atanatiya" conference was held at Vulture's Peak mountain.
The name Rajgir came from Rājagaha 'house of the king' or "royal house", or the word rajgir might have its origin in its plain literal meaning, "royal mountain". It was the ancient capital city of the Magadha kings until the 5th century BC when Udayin(460-440 BC), son of Ajatshatru, moved the capital to Pataliputra.
In those days, it was called Rajgrih, which translates as 'the home of Royalty'. Shishunaga founded Shishunaga dynasty in 413 BCE with Rajgir as its initial capital before it was moved to Pataliputra.
It is sacred to the memory of the founders of both the religions: Jainism and Buddhism and associated with both the historical Mahavira and Buddha.
Lord Mahavira, 24th Tirthankara spent fourteen years of his life at Rajgir and Nalanda, spending Chaturmas at a single place in Rajgir (Rajgruhi) and the rest in the places in the vicinity.
It was the capital of one of his Shravaks(follower) King Shrenik. Thus Rajgir is a very important religious place for Jains.The twentieth Jain tirthankara, Munisuvrata is supposed to have been born here.
An ancient temple(about 1200 years old) dedicated to Munisuvrat bhagwan is also present here along with many other jain temples.This temple is also a place for four Kalyanakas of Bhagwan Munisuvratnath.
Vishwa Shanti Stupa
Vishwa Shanti Stupa (World Peace Pagoda) is a popular Buddhist pilgrim site. It is situated on the Ratnagiri hill. It is a white beauty, showing the four phases of Buddha's life through four golden statues of Lord Buddha.
The Peace Pagoda is said to be built by a Japanese Buddhist monk, Nipponzan Myohoji in 1969. This stupa is world's tallest Peace Pagoda and considered as the symbol of peace and harmony.
Jalmandir, Pawapuri
An important Jain pilgrimage, Jalmandir is situated in Pawapuri, Bihar. Jalmandir has been revered highly by Jain devotees as it is believed that it is the place where Lord Mahavira breathed his last in 500 BCE. It is reckoned to be the cremation ground for this last Tirthankara of Jain sect.
The legend has it that, the demand of Lord Mahavira's ashes was so high that a large amount of soil had to be eroded from around the funeral pyre that a pond was created here. A white marble temple was constructed and it has remained an important Jain pilgrimage in Bihar.
Bimbisara Jail
After Bimbisara handed over the kingdom over to his son Ajatsattu, the new heir became paranoid that his father may reclaim it. Overwhelmed by the fear, he had Bimbisara imprisoned without food, hoping the king would die. Bimbisara's wife, Queen Vedehi was the only permitted visitor who kept her husband alive by smuggling food for him.
When the king's health did not deteriorate, the Queen was searched and all her smuggled food was confiscated. So she smeared paste of milk, honey, and floor all over her body for the king to lick off, but the plot was detected soon and she was debarred from meeting her husband altogether. Bimbisara still kept himself alive by his meditative powers,
and would draw inspiration to see the Buddha walking up to the Vulture Peak to meditate. Getting impatient, Ajatsattu ordered his guards to slit his father veins. Bimbisara died without a hatred. The same day Ajatasattu's wife bore him a son, Udayibhadda. Feeling great love for his son, Ajatasattu asked his mother whether his father also loved him so.
"No father could have loved his son more," she said. "One time when you were a child, your father sucked on a boil that developed on your finger to help ease the pain. When the boil burst, he did not even take your finger out of his mouth to spit out the pus, fearing that its disgusting sight might frighten you. This is how deeply your father loved you."
Ajatasattu realized his grave mistake and rushed to call off the orders to have his father killed, but it was too late. Ajatasattu was full of remorse, and was long haunted by fears of being murdered for the throne. His fears were realized many years later when he was killed by the hand of his own son.
Venu Vana
Venu Vana is the Bamboo Forest, gifted by the Magadha King Bimbisara to Lord Buddha about 2500 years ago and it is said to be one of Buddha's favorite place during his stay there.
There is a big pond in the midst of the Venu Vana. It is said that Lord Buddha used to take bath in this pond before starting his day in Rajgir. The pond escalates the beauty of the forest. The peace and serenity of the place is the main attraction for the tourists.
Vulture Peak (Gridhakut or Gijjhakta)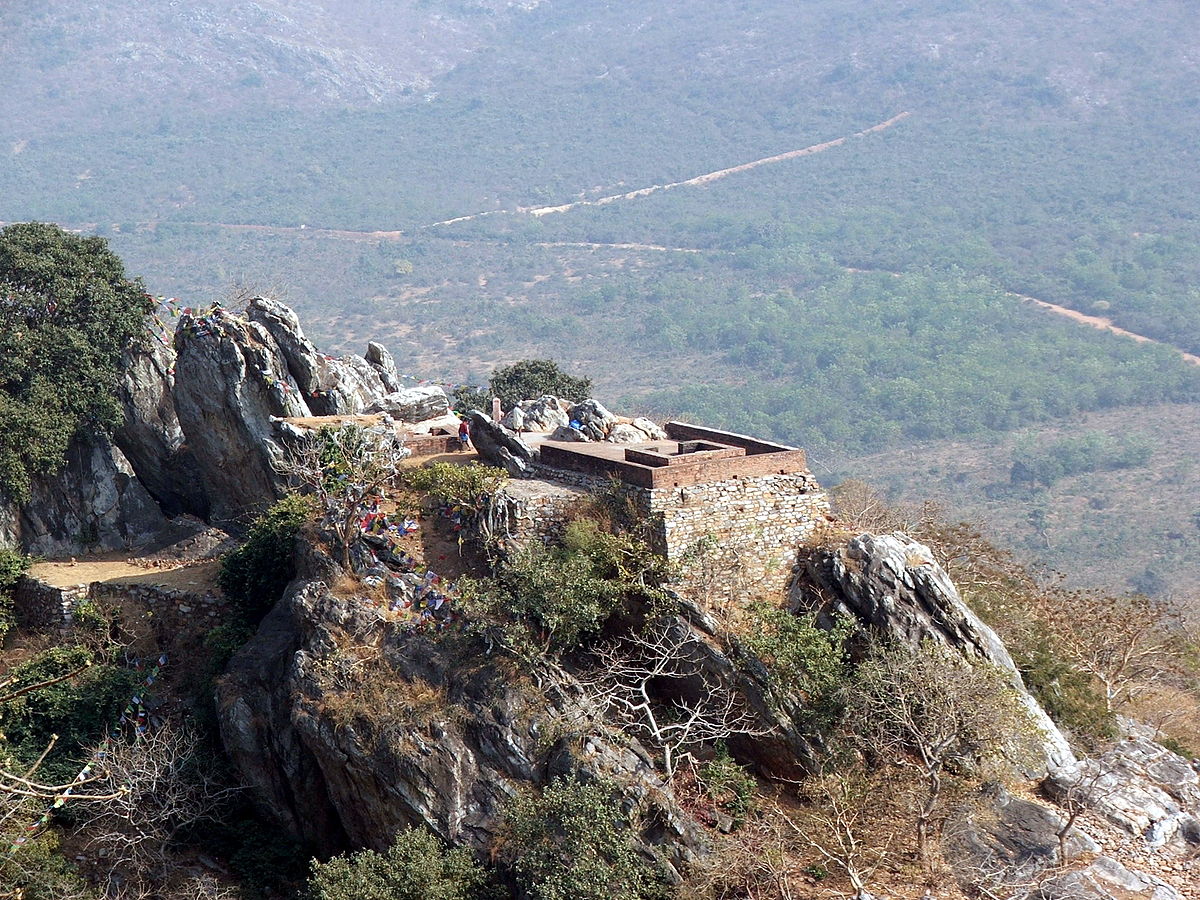 There are two ways to reach to the peak. The first option is to walk for 20 minutes beyond the stalls up the stairway, and then make a right at the fork in the path. According to XuanZang, the first cave on your right is said to be the where Ananda attained enlightenment before the First Council.
The second cave on your right is said to be Boar's Grotto, where Sariputta became an arahant. At the end of the main path you come across a stairway that leads to the top of the mountain containing ancient ruins and a contemporary shrine.
The Buddha shuttled between the Bamboo Grove and this crag, whose natural silence made it an ideal place for serious meditation. Many of the Buddha's students, including Sariptta and Ananda, became arahants in one of the caves in this rocky hill.
According to a fable, disturbed by a wicked vulture's pecking the shaved head of the monks while they were meditating, the Buddha froze the vulture into a boulder and that's how its called the Vulture Peak.
Saptaparni Cave
Saptparni Cave, also referred to as Saptaparni Cave or Sattapani Cave, is a Buddhist cave site about 2 kilometres (1.2 mi) southwest from Rajgir, Bihar, India. It is embedded in a hill. The Saptaparni Cave is important in the Buddhist tradition, because many believe it to be the site in which Buddha spent some time before his death, and where the first Buddhist council was held after Buddha died (paranirvana).
It is here that a council of few hundred monks decided to appoint Ananda (Buddha's cousin) and Upali, believed to have a good memory and who had accompanied the Buddha when he gave sermons in north India, to compose Buddha's teachings for the future generations. The Buddha never wrote down his teachings.
After the Saptaparni Caves meeting, Ananda created an oral tradition of Buddha's teaching from his memory, prefacing it with "Thus have I heard on one occasion". Upali is credited with reciting the Nikaya discipline or "rules for the Bhikshus".
Hot Spring (Rajgir)
At the foot of Vaibhava Hill, a staircase leads up to the various temples. Separate bathing places have been organized for men and women and the water comes through spouts from Saptdhara, the seven streams, believed to find their source behind the "Saptarni Caves", up in the hills. The hottest of the springs is the Brahmakund with a temperature of 45 degree Centigrade.
Ajatsatru Stupa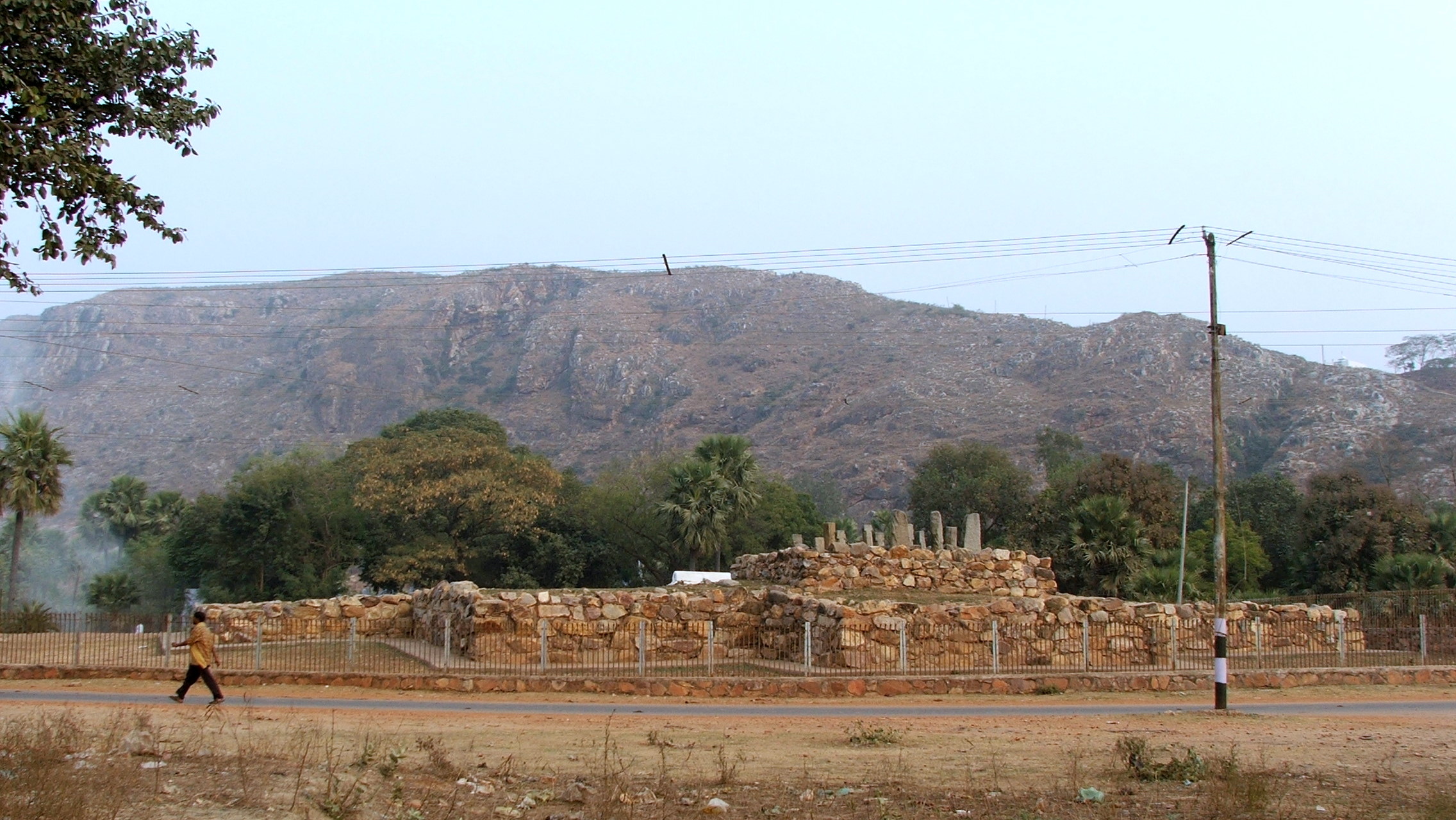 The pile of bricks, about one km from Venuvana, is said to be the stupa that Ajatsatru built to house his portion of the Buddha's relics.
Rajgir Ropeway
Said to be the oldest ropeway in India, the Rajgir ropeway line is a wonderful excursion in the cradle of nature. It is the only ropeway in the state of Bihar. The single person seater rope line is a thrilling adventure that leads you all the way to the top of the scenic Ratnagiri Hill which houses the famous Vishwa Shanti Stupa, also known as the Peace Pagoda.
The chairlift ropeway rises to a height of over 1000 feet from the ground level and is a thrilling ride to undertake. The area falls under the Pant Wildlife Sanctuary which provides unmatched views of the surrounding forest area. The ropeway gives access to the Buddhist memorabilia and constructions of a bygone era on the hilltop, coupled with picturesque views, there's nothing more you can ask for!
Rajgir's location is set in a valley so that you can expect beautiful sightseeing views all around you. The place is richly associated with Buddhism and its practices, rituals and culture. Plans have been implemented to list the Rajgir ropeway as an important heritage site by the Bihar government under the suggestion of the Bihar State Tourism Development Corporation (BSTDC).
It has been an important pilgrimage site for Buddhists, Hindus and Jains alike for centuries. There are several other landmarks on the hill top that possess great religious, historical and cultural significance.
The important city of Rajgir has long been in historical records that date back thousands of years, finding its presence in age-old Mahabharata, Buddhist and Jain texts and the Rajgir ropeway is just another fantastic addition to your places to visit.
Rajgir Ropeway Attractions
The Rajgir ropeway offers fantastic views of the adjoining Pant Wildlife Sanctuary and the surrounding five hills namely Vipalachal, Vaibhagiri, Songiri and Udaygiri, other than the Ratnagiri hill that it is connected to. The attraction of the Peace Pagoda (a.k.a. Vishwa Shanti Stupa) on the hill top is a major cultural magnet attracting thousands of tourists and pilgrims during peak seasons.
The gigantic stupa built in 1969 by the Japanese Buddhist order called Nipponzhan Myohoji serves as an earthly symbol of peace and harmony. There are a few other places of interest : Sugarakhata Caves – According to legends, it was here that Buddha had preached the Lotus Sutra and delivered sermons.
Gridhkut Peak (Vulture's Peak) – One of the several sites frequented by Buddha and his disciples for training, retreat and delivering of sermons. Its location is frequently mentioned in ancient Buddhist texts. Buddha Temple – A small, quiet temple situated on the hilltop with amazing views of the surroundings. Ashoka Stupa – A brick construction quite a distance away from the pagoda known for its tranquil landscapes.
Jarasandh Ka Akhara
Magadh's great majestic king Jarasandha's capital was Grivarj which is known today by the name of Rajgir. According to the Mahabharta, this is where Bhima fought Jarasandha and Bhima rips apart Jarasandha's body into two and threw in two opposite directions to prevent it from re-joining and hence successfully killing Jarasandha in the process.
Son Bhandar Caves
The Son Bhandar caves, also Sonebhandar, are two artificial caves belong to Jainism (to Ajivikas earlier) are located in Rajgir in the state of Bihar in India. The caves are generally dated to the 3rd or 4th century CE, based on the dedicatory inscription found in the largest cave which uses Gupta script of the 4th century CE, although some authors have suggested the caves could actually go back to the period of the Maurya empire from 319 to 180 BCE.
The main cave is rectangular with a pointed ceiling, and the entrance is trapezoidal, reminiscent of the structure of the Barabar Caves (the first artificial caves of India, dated the 3rd century BCE). The quality of the "Mauryan polish" and the finish are nevertheless much inferior. The stone of Son Bhandar is also much less hard than the granite of the Barabar caves, and therefore did not require the same degree of effort and technique.
Tomb of Mallick Ibrahim Baya
Peer Pahari (At Bari Pahari). A beautiful ancient tomb constructed on top of the rocky hill. Nearby are the ruins, which are believed to be ruins of Jarasandh Jail. The beautiful natural view from the top of the hill is very attractive.
Cyclopean Wall of Rajgir
The Cyclopean Wall of Rajgir is a 40 km (25 mi) long wall of stone which encircled the entire ancient city Rajgriha (Present day Rajgir, in the Indian state of Bihar.) to protect from external enemies and invaders. It is among the oldest specimens of cyclopean masonry across the world.
rected by the rulers of Maurya dynasty before 3rd century BC using massive undressed stone for the protection of ancient city Rajgriha (present day Rajgir). eminds the great administrative abilities of the Maurya Empires.
International Convention Centre at Rajgir
International Convention Centre is one of the first public buildings in Bihar to facilitate convention activities. The form of the Convention centre is inspired by form of the 'Stupa'. The dome of the Convention hall is one of the largest domes in recent years with the clear span of 43.26 m.
The casting of the dome on site was one of the most challenging and interesting feature of the project. Detailed stage drawings for cast in-situ of the dome were designed and prepared for the execution.
The project comprises of convention hall with 1300 capacity and a multipurpose amphitheatre with 900 capacities. Heritage museum, seminar and training complex which includes conference halls accommodating various capacities and other supporting facilities.
Ghorakatora Lake at Rajgir
This is a lake surrounded by beautiful hills. This is near WORLD PEACE PAGODA. As this area too is connected to the lord Buddha, govt. of Bihar has decided to mark this by largest statue of Buddha in India and among top 5 in the world.It's height will be 200 feet and it will take 3-4 yrs to get completed.
Pandu Pokhar (Rajgir)
Breathtaking landscapes and fun-filled activities makes PANDU POKHAR – a paradise for all. From beautiful gardens to an open air theatre, to a pond overlooking 37 feet tall bronze statue of King Pandu to a herbal maze – we are at a place to enjoy and admire nature.
A park with a unique combination of entertainment and camping makes it a wonderful place for corporate events, school excursions, family and other social gatherings. Truly, a beautiful destination for a perfect vacation. Experience the goodness of nature with fun. Starting with adventurous Zipline and Zorbing, the park is filled with fun rides, games and pleasure gardens.
At dusk, the display of colourful fountains in the pond enhances the beauty of the park. Evening walks in the serenity of the park allows nature's peace to flow in, soothing the soul and mind.
VAISHALI
Vaishali is a district in Bihar, India. It is named after the ancient city of Vaishali of Mithila, which is mentioned in the Mahabharata as well as in Buddhism and Jainism. It is a part of Tirhut division.
Vaishali derives its name from King Vishal. Even before the advent of Buddhism and Jainism, Vaishali was the capital of the vibrant Vajji confederation, since before the birth of Mahavira (c. 599 BC), which suggests that it was perhaps the first republic in the world, similar to those later found in ancient Greece.
In that period, Vaishali was an ancient metropolis and the capital city of the republic of the Vajji confederation of Mithila, which covered most of the Himalayan Gangetic region of present-day Bihar. Very little is known about the early history of Vaishali. The Vishnu Purana records 34 monarchs of Vaishali, the first being Nabhaga,
who is believed to have abdicated his throne over a matter of human rights and believed to have declared: "I am now a free tiller of the soil, king over my acre." The last among the 34 was Sumati, who is considered a contemporary of Dasharatha, father of the Hindu god, Rama.
Sights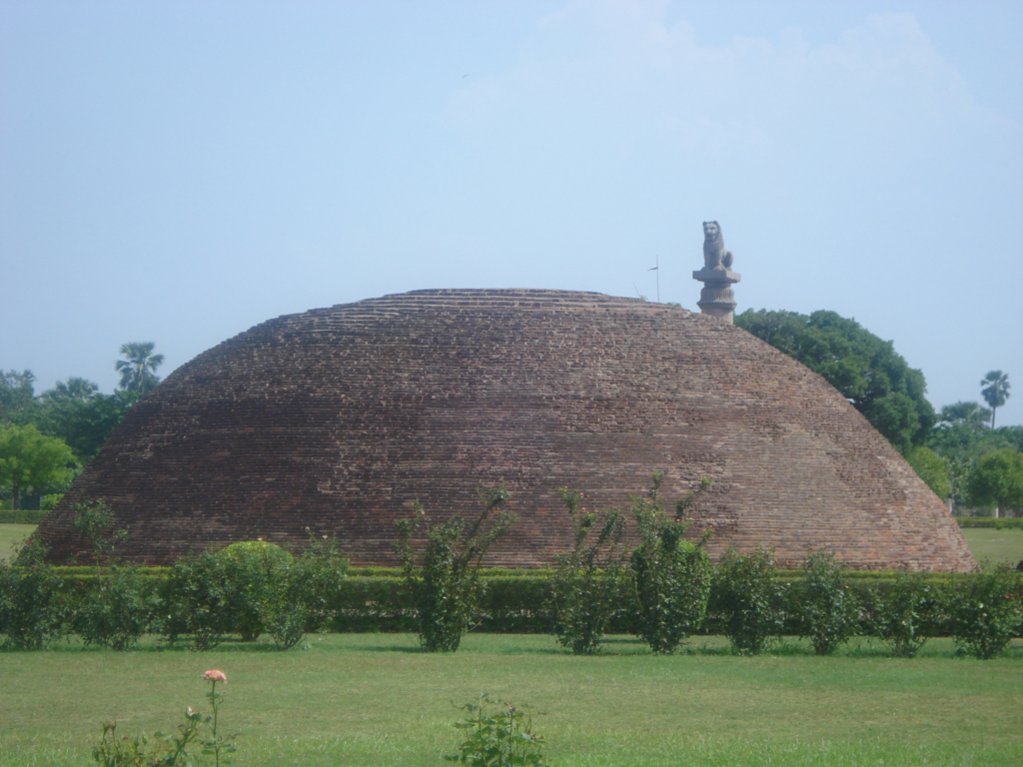 Ashoka Pillar
The pillars of Ashoka are a series of columns dispersed throughout the Indian subcontinent, erected or at least inscribed with edicts by the Mauryan king Ashoka during his reign from c. 268 to 232 BC. Of the pillars erected by him, twenty still survive including those with inscriptions of his edicts.
Only a few with animal capitals survive of which seven complete specimens are known. Two pillars were relocated by Firuz Shah Tughlaq to Delhi. Several pillars were relocated later by Mughal Empire rulers, the animal capitals being removed. Averaging between 12 to 15 m (40 to 50 ft) in height, and weighing up to 50 tons each, the pillars were dragged, sometimes hundreds of miles, to where they were erected.
The Pillars of Ashoka are among the earliest known stone sculptural remains from India. Only another pillar fragment, the Pataliputra capital, is possibly from a slightly earlier date. It is thought that before the 3rd century BC, wood rather than stone was used as the main material for India architectural constructions, and that stone may have been adopted following interaction with the Persians and the Greeks.
A graphic representation of the Lion Capital of Ashoka from the column there was adopted as the official Emblem of India in 1950.
Licchvi Stupa (Mud Stupa)
Licchvi Stupa is 35 Km from Hajipur, district headquarter of Vaishali, beside 'Abhishek Pushkarini tank'. Nowadays this holy place is known as 'Buddha Asthi-Kalash Asthal'. Lichhavi's built (in 5th Century BC) Lichhavi Stupa with the 8th part of holy mortal remains (Relic) of Lord Buddha, in Vaishali, at this place.In 1958 – 1962, in an archaeological excavation this Stupa came into light.
The Relic Casket was discovered in this excavation. The casket contained, besides the ashes of Lord Buddha mixed with earth, a piece of Conch, pieces of Beads, a thin Golden Leaf and a copper punch-marked Coin. Since 1972, the holy "Relic of Lord Buddha' has been preserved in Patna Museum.
This excavation also revealed that the Stupa at Vaishali, was enlarged & repaired 3 times in between 4entury BC – 1st century AC, during Maurya, Shung & Kushan dynasty, which is also seen today.
Shanti Stupa
The Vishwa shanti stupa is erected according to the teaching of the Saodharma Pundarika Sutra (The lotus Sutra) to disseminate love and peace and to create "The pure Land" on the eart the construction of the stupa all over the world was initiated by the most Ven.
Nichidatsu Fuji Guruji, After seeing the tragedy of atomic bombs in Hiroshima and Nagasaki of Japan, at the end of the World war 2. The Vishwa Shanti Stupa, Vaishali has been built by Nipponzan Myhoji and Rajgir Buddha Vihar Society.
Through contribution of devotees in India and Japan, The Lord Buddha's relics have been enshrined on the foundation and on the top of the stupa.
Raja Vishal's Garh
Raja Vishal ka Garh, Vaishali. There is a tremendous hill, toward the north of Vaishali. It is 6ft x 10 ft high. There are tower stays at the corners and is encompassed by a canal. The bulwarks are 15 ft high. This hill is called Raja Vishal Ka Garh.
The enormous stage has an outline of one km and dividers that are 2metres high with 43m wide channel, which is said to have been the parliament of King Vishal. Here more than 7000 could remain in the meantime. The water of the tank was utilized to bless select delegates and is extremely close to Raja Vishal ka Garh.
Vaishali Museum
Vaishali museum was established by Archaeological Survey of India in 1971 to preserve and display the antiquities found during exploration and excavation of sites associated with ancient Vaishali which was one of the oldest and largest cities of India in early historical period.
Lord Mahavir is belived to be born here. However Vaishali is best known for its association with Buddha and Buddhism.
The mucleus of this museum was a small collection of antiquities by a local villager in pre Independence days. This collection was subsequently taken over by a local museum controlled by Vishali Sangh.
With the establishment of present museum by the Archaeological Survey of India, all the antiquities were donated to it by the Vaishali Sangh. In addition the antiquities found through explorations and excavation of adjoining sites by different agencies over a long span of time are also housed in this museum. The construction of building was completed in 1967 but it was opened for the public in 1971.
Bhagwan Mahaveer Janma Smarak, Basokund
This place is know as the birth place of Bhagwaan Mahavir. BC 599 on 'chaitra shukla trayodashi' vardhamaan took birth to King Siddhartha and Queen Trishala here. In the year 1956, the then 1st President of India Dr. Rajendra Prasad visited this place to lay foundation stone for Mahavir Center for research of Jainism and it's principles of Ahimsa and study of Prakrut Language.
On the occassion of 2600 birth anivarsary of Mahavir, a grand ceremony was held here. Many development activities are planned here. A miraculous idol of Bhagwaan Mahavir found from the nearby Lake named "52 pokhar talab" has been installed here.
SITAMARHI
Sitamarhi is a town and the district headquarters of the Sitamarhi district in the Mithila region of northern Bihar, India and is a part of the Tirhut Division. In 1875, the Sitamarhi sub-division was created within the Muzaffarpur district and further in 1972, it was carved out from Muzaffarpur district to form a separate district.
Sitamarhi is a birthplace of Sita, the main character of the epic Ramayana; there are three temples of visitors' importance located here – Sita Temple, Janki Temple, and Haleshwar Sthan.
Rama Navami, a spring festival in Dumra, is widely celebrated with a large fair held to mark the occasion. Sama Chakeva is a prominent winter festival dedicated to celebrate brother-sister relationships. This is a major cultural event with marriage ceremonies and many cultural rituals that take much preparation.
Sights
Janki Temple, Punaura
Punaura Dham Mandir is one of the holiest Hindu temples dedicated to Goddess Sita, located in Sitamarhi, Bihar, India. Lakhs of pilgrims visit the temple every year.
Punaura Dham is about 5 km west of Sitamarhi. Saint Pundrik's Ashram was situated here. Sita-Kund place is the honour of being the birthplace of Hindu Goddess, Sita.
Deokuli (or Dhekuli)
It is 19 Kms. west of Sitamarhi town. An ancient Shiva Temple is situated here. A big fair takes place every year on the eve Shivaratri. Legends have it that Draupadi, the wife of five Pandavas was born here. Now it lies in the Sheohar district, carved out of Sitamarhi in 1994.
Panth-Pakar
It is 8 Kms. north-east of Sitamarhi. It is said that after her marriage, sita was carried in a palanquin to Ayodhya by this route. An old Banyan tree is still standing here under which she is said to have rested for a while.
Bagahi Math
Some 7 Kms. north-west of Sitamarhi, in Bagahi village, there is a big Hindu monastery which contain 108 rooms. This is a famous place for worship and performing Yajna.
Pupri
There is a famous Baba Nageshwarnath (Lord Shiva) temple here. It is said that Lord Shiva has himself had appeared as Nageshwar nath Mahadeo.
Goraul Sharif
It is situated some 26 Kms. from Sitamarhi town. This is a very sacred place for Muslims, after Biharsharif and Phulwarisharif in Bihar.
Shukeshwar Sthan
It is situated 26 Kms. north-west of Sitamarhi. This was the worship place of Sukhadev Muni, the great saint. A big and ancient temple, dedicated to Shukeshwarnath (Lord Shiva) still exists here.
Bodhayan-Sar
This is the sacred place where Maharishi Bodhaya had written number of epics. The great sanskrit Grammarian Panini was one of his disciples. The renowned saint Deoraha Baba has laid the foundation of a Bodhayan temple here some 37 years ago.
Haleshwar Sthan
This is 3 Kms. noth-west of Sitamarhi. As the myth goes, the king Videha had founded a temple of Lord shiva on the occasion of Putra Yeshti Yajna. His temple was named as Haleshwarnath temple.
ROHTAS
Rohtas has an old & interesting history. In pre-historic days the plateau region of the district has been the abode of aboriginals whose chief representatives now are the Bhars, the Cheers and the Oraons. According to some legends the Kherwars were the original settlers in the hilly tracts near Rohtas.
The Oraons also claim that they ruled over the area between Rohtas and Patna. The local legend also connects king Sahasrabahu with Sasaram, the headquarter of Rohtas district. It is believed that Sahasrabahu had terrible fight with Saint Parsuram, the legendary Brahmin Protector, as a result of which Sahasrabahu was killed.
The term Sahasram is supposed to have been derived from Sahasrabahu and Parsuram. Another legend connects the ROHTAS hill to Rohitashwa, son of Raja Harishchandra, a famous king who was known for his piety and truthfulness.
The District of ROHTAS formed a part of the Magadh Empire since 6th B.C. to 5th Century A.D. under the pre Mauryans. The minor rock edict of Emperor Ashok at Chandan Sahid near Sasaram confirmed the Mauryans conquests of this district. In the 7th Century A.D. This district came under the control of Harsha rulers of Kannauj.
Sher Shah's father Hassan Khan Suri was an Afghan adventure, he got the jagir of Sasaram as a reward for his services to Jamal Khan, and the Governor of Province during the latter's attachment with the king of Jaunpur.
But the Afghan Jagirdar was not able to exercise full control over this subject since the allegiance of the people was very lose and the landlords were particularly independent. In 1529 Babar invaded Bihar, Sher Shah who lost opposed him.
Babar has left in his memories an interesting account of the place. He mentioned about the superstitions of the Hindu with regard to river Karamnasa and also described how he swam across the river Ganga at Buxar in 1528.
When Babar died , Sher Shah become active again. In 1537 Humayun advanced against him and he seized his fortresses at Chunar and Rohtas Garh. Humayun proceeded to Bengal where he spent six months, while on his return journey to Delhi he suffered a crushing defeat at the hands of the Sher Shah at Chausa.
This victory secured for Sher Shah the imperial throne of Delhi. " The rule of Suri dynasty , which Sher Shah founded, was very short lived. Soon the Mughals regions the imperial throne of Dehli. After his assassination, Akbar tried to extend his empire and consolidated it. The district of Rohtas was thus included in the empire".
The next event of importance which shook the District, was the reign of Raja Chait Singh of Banaras, his kingdom included large part of Shahabad and his control extended up to Buxar. He raised the banner of revolt against English empire who had a difficult time.
At Chunar and Ghazipur, the English troops suffered defeat and the very foundations of the English power in India was shaken. But, is well known fact that Chait Singh lost eventually.
The district had a very uneventful history till we come to 1857 when Kunwar Singh revolted against the British Empire in line with the Mutineers of 1857. Most of the heroic details of Kunwar Singh is concerned with the present district of Bhojpur.
However he mutiny had its impact and produced similar up-rising and incidents here and there. The hilly tracts of the district offered natural escape to the fugitives of the Mutiny. During Independence movement the district had a substantiates contribution to the freedom movement of India.
After independence Rohtas remained a part of the Shahabad District but on 10th November 1972 Rohtas became a separate District.
Sights
Sher Shah Suri Tomb
The Tomb of Sher Shah Suri is in Sasaram in Rohtas district of Bihar. The construction work of this tomb was started by Sher Shah himself and completed by his son and successor Islam Shah some 3 months after the death of Sher Shah in 1545 A.D.
The chief architect of this structure was Alawal Khan. This beautiful mediaeval structure is made of fine sandstone. Sher Shah Suri's tomb lies in the middle of an excavated lake.
This three-storied mausoleum rises to a height of 46 meter, 13 feet higher than that of the Taj Mahal of Agra. The imposing structure is surrounded by all sides with large stone stairways leading to water of the excavated lake.
The upper terrace is enclosed by a tall wall surrounding the tomb. There are four octagonal domed chambers at four corners of this great tomb on the eastern side there is a grand doorway which is the only way to the Tomb. A beautiful causeway linked the tomb with the guardroom which was built only in 1881.
The main mausoleum building consists of a very large octagonal chamber surrounded by a wide verandah on all of its sides. The verandah is covered by a series of 24 small domes, each supported on arches and each corner of the verandah is provided with a cupola. The main tomb chamber is supported by beautiful arches and it rises about 22 feet above the verandah surrounding it. It is one of the largest domes in India. Inside the tomb there are stone Jalis of different design to allow air and sunlight into it.
Once the arches, the interior of the dome and the walls were craved with inscription from Quran and decorated with beautiful floral cravings of stone and fitted with glazed tiles of various colours. But as of now there are few traces of such decoration.
Besides this the exterior of the tomb was originally glazed and painted with combination of colours like red, blue, gold and white. But as it stands today few traces of colours can be seen in some places. Within the tomb chamber there are 25 graves, including that of Hasan Khan Suri.
The grave of Sher Shah is surrounded by 24 of his compatriots. Half-a-kilometer from Sher Shah's tomb lays the tomb of his son Aslam Shah. It is grand but incomplete. Nearby this location also lies Alawal Khan's tomb, the superintendent of these constructions on the outskirts of the town.
Maa Tara Chandi Temple
Maa Tara Chandi temple is one of the shakti peeth of the 51 Shakti peeths. The temple is situated in a cave which is at a distance of 4 kilometres from Sasaram.
This place is known as Maa Tara Chandi shakthi dham, Sahastraram and present now this place is known as Sasaram. It is said that the right eye of Maa Tarachandi fallen here in this place hence called Tara and the goddess had slaughtered Chand and hence she is called as Chandi, so this place is known as Maa Tarachandi temple.
The idol of the goddess TaraChandi in this temple is in the form of a girl child which is most attractive part of the temple.
It is believed that the goddess Tarachandi fulfils the desires of her devotees hence known as Mankamna Siddhi Devi. The goddess is decorated with red fabric (Chunri) and with red hibiscus flowers. In bhog (prasad) puri and halwa is offered to the goddess.
A huge number of devotees daily come for worshipping goddess Tarachandi. During the special days especially during Navratri, the whole temple is filled with devotees. The locals say that the temple is as much important as the Vaishnav Devi temple.
The Tarachandi temple is a symbol of harmony as the temple is near to a mosque in a same complex this kind of view can be only seen here. The Tarachandi dham shows the idol of Maa Tarachandi inside a small cave. There a temple built above the cave, the temple shows the slaughtering area, the coconut offering area and the main garbagriha.
Rohtas Garh Fort
The historic fort of Rohtasgarh is situated in Rohtas district. The ancient and glorious fort is located at the top of Kaimur hills. In Bihar it is said that the historic fort derived its name from the son of King Harischandra, Rohitashwa.
Historians states that the king stayed in the fort for several years followed by the threat on his life by enemy kingdoms. The fort is constructed at the top of hill at 1500 feet above the sea level. To reach the top of the hill, there are 2000 limestone cut steps. At the end of the limestone steps a huge gate is located that provides entry in the glorious fort.
The main structure in the fort lies 2 km away from the main entrance gate. The fort also had another advantage, being surrounded by several stream made the soil very productive.
The majestic fort made in such a way that the king and his family could say inside for months against an enemy besieging the fort. The huge hills, dense forest and wild animals provided a natural barrier to abstain the foes. The position for building the fort was wisely chosen so that it can give strategic advantage to the king ruling the kingdom.
Indrapuri Dam
Indrapuri Barrage (also known as the Sone Barrage) is across the Son River in Rohtas district in the Indian state of Bihar.
Pilot Baba Temple
Manjhar Kund
Dhua Kund
Tutla Bhawani (Tutrahi or Titula Dham) (Rohtas)
Tutula Bhawani (also Tutrahi or Titula Dham) is located nearby Tilauthu and approximately 20 Km south west from Dehri-on-Sone. This is the most beautiful place of Rohtas. From north-west and south-east, these are two large mountains.
The two large mountains one from north west and another from south east at converge to create a green valley which stretches to 1 mile , there's a spring fall in the middle and from the middle of the valley a kachuar river flows.
All this creates a fascinating scene from east this valley stretches 300 M wick wharves from west it shrinks to only 50M from west a spring fall is created which falls from a height of 200 M.
Inside the spring on the right side of it slightly lights here's a chabutara. From, the light here's a way to go there, from this chabutara on, the south of it, here's big lock which is divided into three pouts, there's a sock edict of nayak pratap dhawal which was depicted on 1158AD.
Now, a days a small temple of Tutla Bhawani has been made, people from different places visit here.
Tomb of Hasan Khan Suri(Rohtas)
There is another tomb of Hasan Khan Suri(Father of Sher Shah Suri) situated at a distance of about 500m from the Tomb of Sher Shah Suri.
Chandan Shaheed Pir(Rohtas)

This is situated on the summit of Chandan Shaheed Hill. There is an old mosque constructed during the reign of Jehangir.
Bhaluni Dham (Rohtas)
This Mandir is located in the indian state of Bihar at Natwar, Dinara. Also known as Yakshini Dham. There is a famous Temple of Goddess Durga, "Yakshini Bhawani". The temple of Yakshini Bhawani is situated near a lake.
The design and architecture of temple descript it as 6th Century. In local language Yakshini Devi is known as Jakhini Maai. On every Chitra Nauratra a fair is organized here. Here is also an ancient temple of God "Shirac "Bhankhandi Mahadevan" and situated 7 kms east of Dinara Block in Bikramganj Sub Division.
Large Number Devotees assembled to workship the Goddess for Benediction. Bhaluni is Village with community of Prists supported by other communities with excellent love affection between all the communities. The Near by Villages Kharika and Badiha is said to be cousin brother of People of Bhaluni people separated during ancestral times.
Rohtasan or Chaurasan Temple (Rohtas)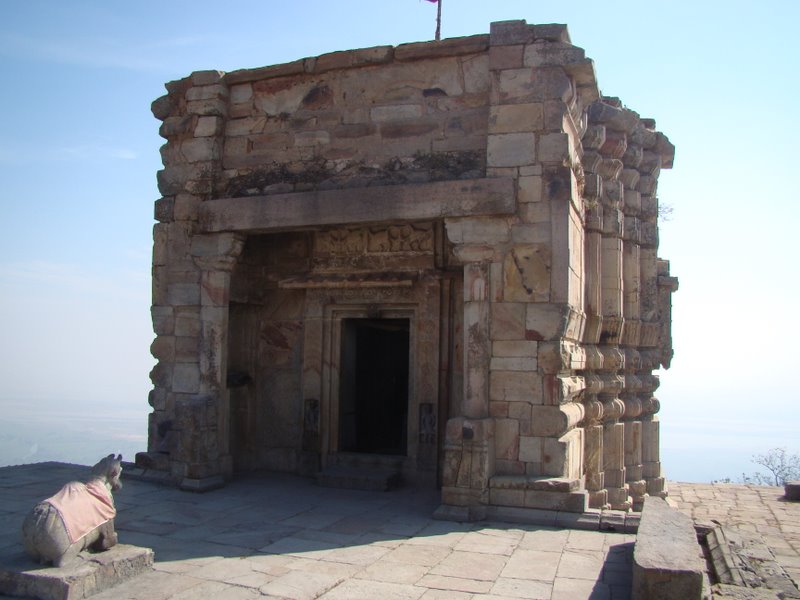 About a mile to the northeast of the Palace are the ruins of two temples. One is the Rohtasan, a temple of Lord Shiva. Iconoclasts probably destroyed the roof and the main mandap, which housed the sacred lingam.
Now only 84 steps are left, which lead to the temple believed to be in existence since the times of the Great Puranic King Harishchandra. The domes crest the Devi Mandir. The idol of the deity was missing from here, though the rest of the building is in good condition.
Gurdwara Chacha Phaggu Mal (Sasaram)
Gurudwara Sri Chacha Phagu Mal Sahib is situated in Sasaram Town, Distt Rohtas Bihar. This town is situated on Calcutta-Delhi Highway which is popularly known as Sher Shah Suri Marg. Bhai Phaggu Mall (also known as Chacha Phaggu Mall) – a Gurmukh, Masand and Devout of Gurughar, was a follower of Guru Amar Das.
To spread the message of Sikhism Guru Amar Das as a signature sent Manji's (Bed's) to different direction of the world from Goindwal Sahib. Out of them one Manji was sent to Sasaram, Bihar through Bhai Phaggu Mal ji. Once Phaggu mal ji reached Bihar, he stayed there for rest of his life and became the care taker of this location which was adopted to preach Sikhism. During his stay, he used to collect all the offerings (Chadaava) that Devotes used to donate and submit it to the Guru Sahib on his regular visits to them.
He continued this practice with 6 different Guru Sahib's. Bhai Phaggu Mal Ji was the second person in the sikh history (After Baba Budha Ji Sahib) who had met and took blessing of Six Guru Sahib's (Guru Amar Das to Guru Tegh Bahadur).
In his old age, Bhai Phaggu Mal Ji used to meditate and pray a lot to see Guru Sahib live as he felt that he is too old and cannot travel now. On this when Sri Tegh Bahadur ji went on tour in the east direction he went to his house personally.
When Guru Sahib reached his home, Bhai Phaggu Mal Ji was lying on bed. Someone told him that Guru Sahib had come. Bhai Sahib said if there is Guru Sahib then he don't need my permission. A small door opened (That door is still preserved in GurudwaraSahib) and Guru Sahib entered the room where Bhai Sahib was lying.
Guru Sahib addressed Bhai Phaggu Mal Ji as "Chacha Phaggu Mal Ji". Phaggu Mall himself received Guru Sahib, his family and congregation with charm and did selfless service, during thier stay at Sasaram.
Gurudwara Taksali Sangat (Sasaram)
Gurdwara Bari or Taksali Sangat – From Benaras, Guru Tegh Bahadur did not proceed direct to Patna Sahib but made a detour to Sasaram and Gaya. At Sasaram, in Shahabad district of Bihar, about 80 kilometres southeast of Benaras along the main Mughal Serai-Howarh railway line.
There already existed a Sikh Sangat under the local masand Phaggu Mal affectionately called Chacha (uncle) Phaggu by one and all. Chacha Phaggu had constructed a high doorway to his house so that, he told, everyone, When the Guru comes, he would enter the house without having to dismount at the entrance.
He had long longed and hoped that the Guru would come to him. Guru Tegh Bahadur fulfilled his desire when he came and stayed at Sasaram for about a month. There are now three Gurdwaras here. first one is Gurdwar Bari or Taksali Sangat.
Gurdwara Guru Bagh (Sasaram)
The Gurdwara Guru Bagh is attached to a Nirmala Sikh seminary.
MOTIHARI
The town of Motihari is located in the state of Bihar and is a very popular tourist destination among both pilgrims as well as backpack travellers. The town of Motihari is located at a distance of 156 km from the capital city of Patna. Motihari tourism is predominantly known for its historical worth.
Motihari is the city from where Mahatma Gandhi began his legendary Satyagraha for the first time against the British rule. The immense historical worth makes Motihari tourism stand out as a compelling tourist destination. The Mahatma is also credited for helping the town of Motihari reap the fruits of education, as he helped the locals establish a school in the vicinity.
The town of Motihari is a magnet for many Buddhist tourists throughout the year, as a major Buddhist stupa is situated here. This stupa is widely known as Motihari stupa and is undeniably a magnificent structure, that stands tall at a height of 104 ft. Many believe that the existing stupa is the remains of a much greater stupa.
A compelling fact of Motihari tourism is that the legendary author George Orwell was born here and one can visit George Orwell's monument. The Mahatma Gandhi Museum and Stone Pillar are the most distinguished tourist locations of Motihari Tourism.
Bapu Father of our nation while his visit to Champaran on request of Raj kumar Shukla (A farmer belonging to land of East Champaran), got impetus to start a movement against the dictatorship of British government. Those days the farmers of East Champaran were coerced to sow AFEEM (opium) and NEEL (indigo)on certain portion of their farms so that British government can make money out of it.
These crops make the agricultural land infertile. Also British government was not paying enough money to the farmers and so the plight of farmers became worse with time. Fed up with this system , one of the farmer named Raj Kumar shukla invited Bapu to have a visit to their place and help them in extirpating this law to make their life better. To ameliorate the condition of these indenture farmers of Chamapran, BAPU visited Motihari on 10th April 1917.
If we go by the report of AICC (All India congress committee) a huge mass has greeted him in his mission to get Independence and make INDIA free of British rules. The plight of these farmers made BAPU to start a historic movement named Champaran Satyagrah.
In spite of getting threatening messages from British government BAPU kept this movement alive and accepted the imprisonment. Respecting the summon , he appeared in court of Sub divisional magistrate of Motihari on 8th April 1917.
There he avowed not to obey the Rules imposed by BRITISH govt. He also visited West champaran (Bettiah) on 22nd April 1917. It was the people of whole Champaran who participated in this movement to make it successful and that's how this place got registered in the pages of Indian National movement.
Besides non co-operation movement, demonstration against SIMON commission in year 1929, gathering in Motihari against the failure of Round table conference to pledge for Indian Independence are some more historic events related to this place.
Sights
Kesaria Stupa, Kesaria (East Champaran)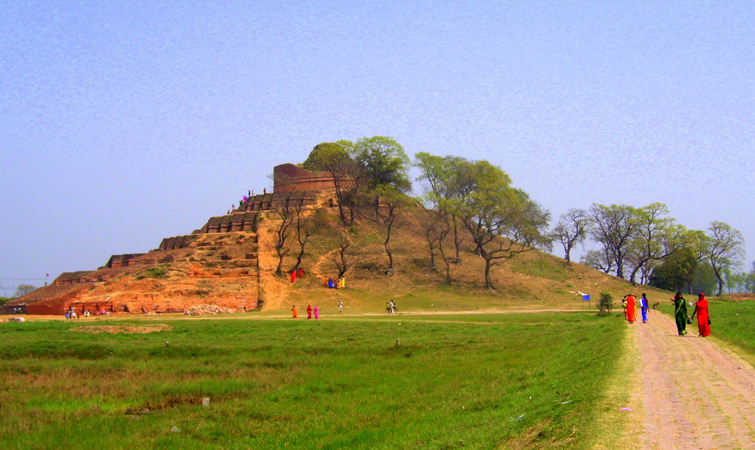 Reckoned to be the tallest and largest Buddha Stupa in India, Kesaria Stupa is one of the major attractions of Bihar tourism. The stupa is believed to have been built between 200 and 750 AD under the rule of Raja Chakravarti. With a height of 104 feet, it is an imposing structure that must be visited during a visit to Bihar.
George Orwell Museum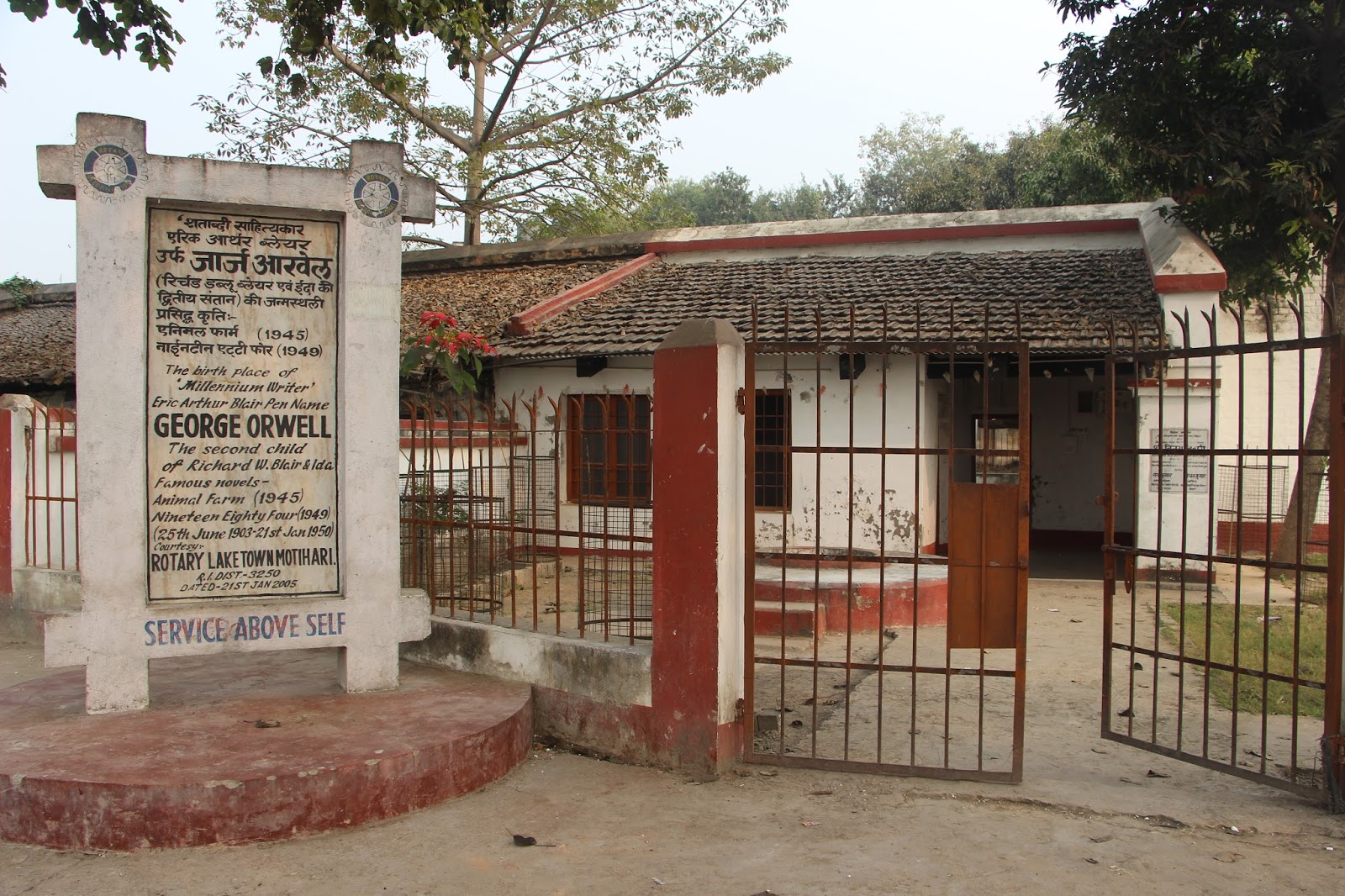 Orwell, whose real name is Eric Arthur Blair, was born on June 25, 1903 in what is now known as the Gyanbabu Chowk locality in Motihari, Bengal Presidency (present-day East Champaran district, Bihar, India), in British India. His father, Richard Walmesley Blair, worked in the Opium Department of the Indian Civil Service.
His mother, Ida Mabel Blair (née Limouzin), grew up in Moulmein, Burma, where her French father was involved in speculative ventures. Eric had two sisters: Marjorie, five years older, and Avril, five years younger. When Eric was one year old, his mother took him and his sister to England. He never visited his birthplace again. He died in 1950 aged 47.
Eric Arthur Blair (25 June 1903 – 21 January 1950), who used the pen name George Orwell, was an English novelist, essayist, journalist and critic. His work is marked by lucid prose, awareness of social injustice, opposition to totalitarianism, and outspoken support of democratic socialism. Orwell wrote literary criticism, poetry, fiction, and polemical journalism.
He is best known for his dystopian novel Nineteen Eighty-Four (published in 1949) and the allegorical novella Animal Farm (1945). His non-fiction works, including The Road to Wigan Pier (1937), documenting his experience of working class life in the north of England,
and Homage to Catalonia (1938), an account of his experiences in the Spanish Civil War, are widely acclaimed, as are his essays on politics, literature, language, and culture. In 2008, The Times ranked him second on a list of "The 50 greatest British writers since 1945".
In 2014 it was announced that Orwell's birthplace, a bungalow in Motihari, Bihar, in India would become the world's first Orwell museum. His birthplace and ancestral house in Motihari has been declared a protected monument of historical importance.
Moti Jheel
Moti Jheel is a historical canal located in the heart of the city of Motihari. Beautiful sceneries and views embellish either side of the canal. Moti Jheel is the most famous tourist attraction of Motihari and is popular among visitors touring Bihar on a regular basis.
Various activities such as boating form a major part of tourist engagement. The setting sun offers a unique opportunity to onlookers from the Moti Jheel to feel the beauty of nature.
Gandhi Sangrahalaya
The Gandhi Sangrahalaya situated in Motihari town has a wide collection of relics and photographs of the Champaran Satyagraha. The Gandhian Memorial Pillar in the ashram was designed by Nand Lal Bose, a famous artist of Shantiniketan. The foundation stone of the pillar was laid on 10th June 1972 by the then Governor, D. K. Barooch.
It is a 48 ft tall stone pillar and is situated at the same site where Mahatma Gandhi was presented in court. Gandhi Sangrahalaya has two Conference Halls for its regular meeting, seminars, symposiums, and temporary exhibitions.
It's a unique museum of its kind, which is dedicated to Mahatma Gandhi. The museum consists of a modest Guest House for its own purpose. It has a perfectly maintained lawn to accommodate its own huge gatherings on 2nd October, 30th January and other events.
MUNGER
Dubbed as the seat of Bihar School of Yoga, Munger is yet another place that is popular amongst the tourists in Bihar. The history of Munger dates back to Aryans, who called Munger the 'Midland' for their settlement. For yoga buffs, Munger is not an unknown name, thus we can expect a large foreign crowd thronging this place.
The present day Munger is a twin city, which comprises of Munger and Jamalpur. Reckoned to be one of the oldest cities of Bihar, Munger was once the capital of Mir Kasim before it fell into the hands of British. The place has several historic relics that further add to the charm here.Major Tourist Attractions:
Sri Krishna Vatika
Pir Shah Nafah Shrine
Ucheswarnath
Baptist Mission
Kharagpur Lake
Safiabad-Mirza
Rameshwar Kund
Sitla Mandir
Kali Pahadi
Chandika Astahan
Sita Kund
Gurudwara at Piparpanti
Pirpahar
Malnipahar
Mullah Mohammad Syed Grave
Rishikund
Badi Durga Maa Temple
Kastaharni Ghat
Manpatthar
Goenka Shivalaya
Bhimbandh
Maruk
Dilwarpur
Haha Punch Kumari
Munger Fort
Jai Prakash Udyan
Sights
Krishna Vatika
Named after the Proud Son of Munger and the First Chief Minister of the Bihar state Dr. Sri Krishna Sinha, Srikrishna Batika, is a very beautiful enclosed garden just opposite to Kashtaharni Ghat. To have the pleasure of both a green place and the holy river Ganga this is one of the Must Visiting place for the peoples coming to Munger.
Sri Krishna Vatika is also one of the most interesting as well as adventurous venue available in Munger as it has two "Surangs" (tunnels). Some efforts in the past had been made to pass through the tunnels also known as- Mir Kasim's Surang but these have only proved to be life taking. There are some tombs of Gul and Bahar, wards of Mir Kasim Ali.
It is said that Princess Gul and Prince Bahar used to hide under the tunnels by the riverside in order to weak vengeance upon the British officers. They used to clothe themselves with tiger skins during the nights.
Once Bahar, on his rounded in a dark might was caught sight of by a British officer who instantaneously shot the Prince dead. The truth was reveled next morning and the Prince was said to have been buried by the darga of Pir Shah-Nafah-Gul.
The Prince was found dead in a man's attire by the side of her brother's tomb, where she was also buried. The officer, responsible for Bahar's and incidentally Gul's death ordered for a daily salute of guns in the evening to mourn the loss of these children.
Chandika Astahan
On the sky of religion, Munger is one of the Bright Star. Chandi Asthan one out of the Sixty-four shakti peeths is situated in Munger. On the Northeast corner of Munger, Chandi Asthan is just 2 one kilometer away from the Munger town.
Being a Siddhpith Chandi Asthan is considered to be one of the most sacred and sanctified temples, as important as Kamakshya temple near Gauhati. Legendary stories says that it was to save the world from the anger of Lord Shiva, as he took the corpse of Sati and began dancing in the "Tandav Mudra", as a result of which the earth began to shake and the whole creation was about to destroy, Lord Vishnu managed to cut Sati's corpse in 64 pieces by his Sudarshan Chakra.
Munger Fort
The most important of the monuments at Munger is the fort, built on a rocky eminence projecting to the river Ganges which protects it from west and partly from the north, the other sides being defended by a deep moat 175′ wide. The fort encloses an area of about 222 acres and has a circuit of 2½ miles.
The rampart is 30′ thick, consisting of 4′ inner wall, 12′ of outer wall, the intervening thickness of 14′ being a filling of earth. The rampart was provided with four gateways, one on each side, and with circular or octagonal bastions, at regular intervals, carrying the usual battlements. Of the gates only the northern gate, called Lal Darwaza, is some what preserved, with some carved stones build into it, which originally belonged to some Hindu or Buddhist structure.
The history of the fort and its original foundation still remains to be thoroughly investigated.
Kharagpur Lake
The Kharagpur Lake was built by the Maharaja of Darbhanga. The lake is around 3 km away from Munger town and is used for irrigation. Panchkumari, the five princess waterfalls, is also located close to the Kharagpur Lake and has a group of hot springs, known as the Lakshmi Kund.
Yoga at Munger, Munger
This eminent centre of Bihar School of Yoga has been an object of fascination for many around the world. Just like Rishikesh, Munger also have a high fan following from international tourists. There are many Ashrams here that provide accommodation as well as training to those seeking to learn Yoga. The place guarantees to change your perspective towards life and an 180 degree turn from previous lifestyle.
Popular Attractions Must See in Bihar
Navlakha Palace, Rajnagar
Lying in ruins, Navlakha Palace is situated in Rajnagar near Madhubani in Bihar. This palace was built by Maharaja Rameshwar Singh and said to have suffered extensive destruction during an earthquake in 1934. No renovation was done after the destruction,
thus this palace remains in ruins now. It is a royal palace and even though it has been damaged so much, one can still marvel at its architectural brilliance. The palace complex comprised of gardens, pond and temples.
Kesaria Stupa, Kesaria (East Champaran)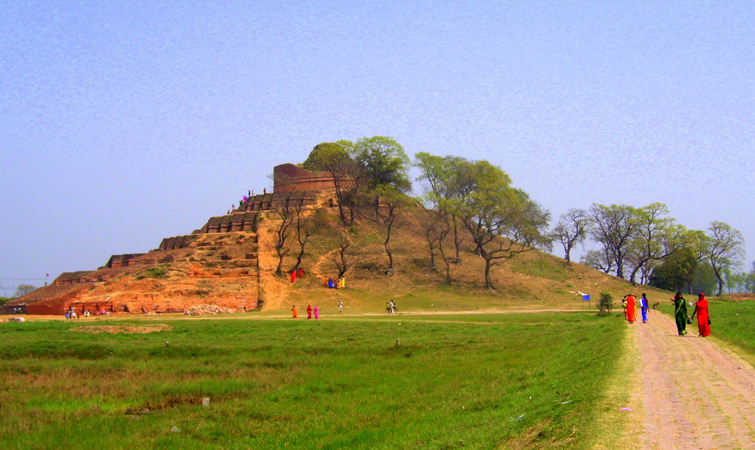 Reckoned to be the tallest and largest Buddha Stupa in India, Kesaria Stupa is one of the major attractions of Bihar tourism. The stupa is believed to have been built between 200 and 750 AD under the rule of Raja Chakravarti. With a height of 104 feet, it is an imposing structure that must be visited during a visit to Bihar.
Lomas Rishi Caves,Jehanabad
The Lomas Rishi Cave, also called the Grotto of Lomas Rishi, is one of the man-made Barabar Caves in the Barabar and Nagarjuni hills of Jehanabad district in the Indian state of Bihar. This rock-cut cave was carved out as a sanctuary.
It was built during the Ashokan period of the Maurya Empire in the 3rd century BC, as part of the sacred architecture of the Ajivikas, an ancient religious and philosophical group of India that competed with Jainism and became extinct over time. Ājīvikas were atheists and rejected the authority of the Vedas as well as Buddhist ideas.
They were ascetic communities and meditated in the Barabar caves.Still, the Lomas Rishi cave lacks an explicit epigraphical dedication to the Ajivikas, contrary to most other Barabar Caves, and may rather have been built by Ashoka for the Buddhists.
The hut-style facade at the entrance to the cave is the earliest survival of the ogee shaped "chaitya arch" or chandrashala that was to be an important feature of Indian rock-cut architecture and sculptural decoration for centuries. The form was clearly a reproduction in stone of buildings in wood and other vegetable materials.
According to Pia Brancaccio, the Lomas Rishi cave, along with nearby Sudama cave, is considered by many scholars to be "the prototype for the Buddhist caves of the western Deccan, particularly the chaitya hall type structure built between 2nd century BCE and 2nd century CE.
First is a large hall, entered at the side and rectangular in shape measuring 9.86×5.18m, which functioned as an assembly hall. Further inside is a second hall, smaller in size, which is a semi-hemispherical room, 5m in diameter, with a roof in the form of a dome, and which is accessed from the rectangular room by a narrow rectangular passage. The interior surfaces of the chambers are very finely finished.
Interact with Tribals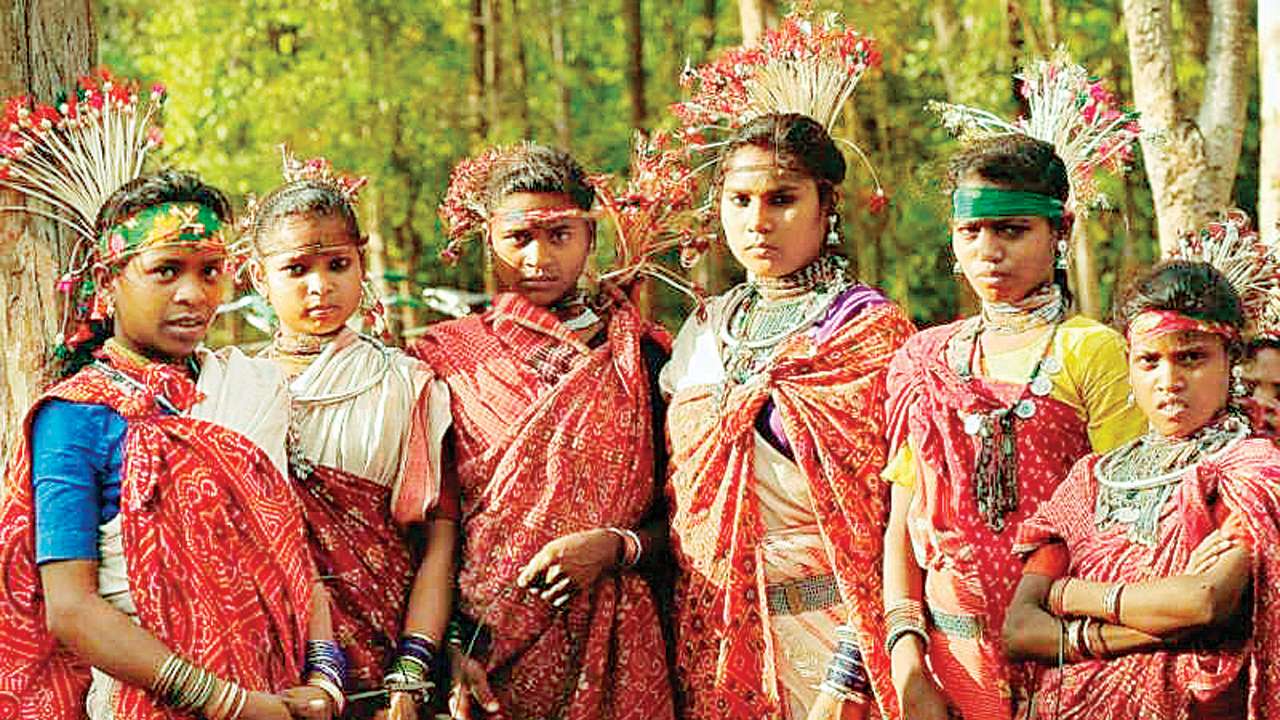 Tribes of Bihar can rightly be called the Souls of Bihar. To witness the tribal culture in Bihar can be quite exhilarating and if done with proper planning, it can be an unique experience.
Bihar is a home to several tribes like Bathudi, Binjhia, Birjia, Santhal, Tharu and Chik Baraik, each of these tribes has their specific rituals, dances, festivals and music, which certainly can be intriguing to witness. Taking a tribal tour in Bihar can be eye opening and can give a whole new perspective about Bihar.
Natural Resources
Bihar lies in the tropical to sub tropical region. Rainfall here is the most significant factor in determining the nature of vegetation. Bihar has a monsoon climate with an average annual rainfall of 1200 mm.
Forests
Distribution of the Forests: The state has got natural sal forests in the district of West Champaran in the terai region of shivaliks. Besides, Sal forests are abundant in the southern Bihar in the districts of Kaimur,Rohatas,Aurangabad,Gaya,Jamui,Munger and Banka.
The West Champaran district has moist deciduous Sal forest while south Bihar has dry deciduous Sal Forests. Most of the Natural Forests are notified as protected Forests. The Distribution of Forests in the Bihar State is as follows: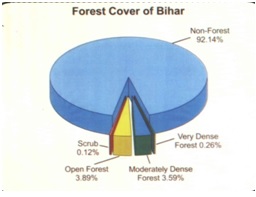 The state of Bihar presently has 6845 sq km notified natural forest area which is 7.27% of the geographical area of the state. These natural forests are spread in the districts of West Champaran, Kaimur, Rohtas, Aurangabad, Gaya, Jahanabad, Nawada, Nalanda,Munger,Banka and Jamui. The north Bihar except West Champaran is devoid of Natural Forests.
The Plant Species Composition: The important Tree species of Bihar are Sal (Shorea robusta), Shisham, Teak, Gamhar, Kadamb, Semal ,Neem Peepal Bargad,Arjun, Asan, Haldu,Mahua and Kend etc .
Important wildlife species of Bihar: The State of Bihar is rich in wild animals. The important Terrestrial species are Tiger , Leopard, Bear, Hyena, Bison, Chital, Barking Deer etc. Besides there are many varieties of Crocodile, Magars and Fishes, Gangetic turtles in River systems. Bihar has got the privilege of having the National Aquetic animal , Fresh water Dolphin in the River Ganges,Kosi ,Gandak, Mahanada and Paimar rivers of the state etc.
Vikramshila Gangetic Dolphin Sanctuary has been notified at Bhagalpur portion of the River Ganges. Bihar is also famous for different wetlands and many varieties of local bird species as well as migratory birds. Different Natural wetlands like Kanwar lake, Baraila lake, Kusheshwar nath Lake, Udaypur lake and man made lakes Nagi Dam& Nakti Dam have been declared as Bird Sanctuary.
The Bihar has breeding population of greater adjutants in Naugachia area of Bhagalpur district. The state has constructed a Rescue and Rehabilitation centre at Bhagalpur.
The sub Himalayan foothill of Someshwar and Dun ranges in Champaran constitute another belt of moist deciduous forests. These also consists of scrub, grass and reeds.
Here the rainfall is above 1,600 mm and thus promotes luxuriant Sal forests in the favoured areas. The hot and dry summer gives the deduous forests. The most important trees are Shorea Robusta (Sal), Shisham, Cedrela Toona, Khair, and Semal. This type of forests also occurs in Saharasa and Purnia districts.
Forests in Bihar
1.Bihar Forests – At a Glance:
| SL | Description | Area (in km2) | %age |
| --- | --- | --- | --- |
| 1. | Geographical Area | 94,163 | 100 |
| 2. | Forest Area | 6,473 | 6.87 |
| 3. | Very Dense Forest | 76 | 0.08 |
| 4. | Dense Forest | 2,951 | 3.13 |
| 5. | Open Forest | 2,531 | 2.69 |
2.Protected Areas:
| SL | Description | Number |
| --- | --- | --- |
| 1. | Nation Parks | 1 |
| 2. | Sanctuaries | 11 |
| 3. | Protected Forest Area | 3,208.47 km2 |
| 4. | Protected Non-Forest Area | 76.30 km2 |
3.Details of Protected Areas:
| SL | Name of Park/Sanctuary | District | Type |
| --- | --- | --- | --- |
| 1. | Barela SAZS Sanctuary | Vaishali | Sanctuary |
| 2. | Bhimbandh Sanctuary | Monghyr | Sanctuary |
| 3. | Gogabil Pakshi Vihar | Katihar | Closed Area |
| 4. | Gautambuddha Sanctuary | Gaya | Sanctuary |
| 5. | Kaimur Sanctuary | Rohtas | Sanctuary |
| 6. | Kanwar Jheel Bird Sanctuary | Begusarai | Sanctuary |
| 7. | Kusheshwarsthan | Darbhanga | Closed Area |
| 8. | Nagi Dam Bird Sanctuary | Jamui | Sanctuary |
| 9. | Nakti Dam Bird Sanctuary | Jamui | Sanctuary |
| 10. | Rajgir Sanctuary | Nalanda | Sanctuary |
| 11. | Sanjay Gandhi Botanical Garden | Patna | Botanical Garden |
| 12. | Udaypur Sanctuary | West Champaran | Sanctuary |
| 13. | Valmiki National Park | West Champaran | National Park |
| 14. | Valmiki Sanctuary | West Champaran | Sanctuary |
| 15. | Vikramshila Gangetic Dolphin | Bhagalpur | Sanctuary |
Source: Bihar Forest Department
Fertile Land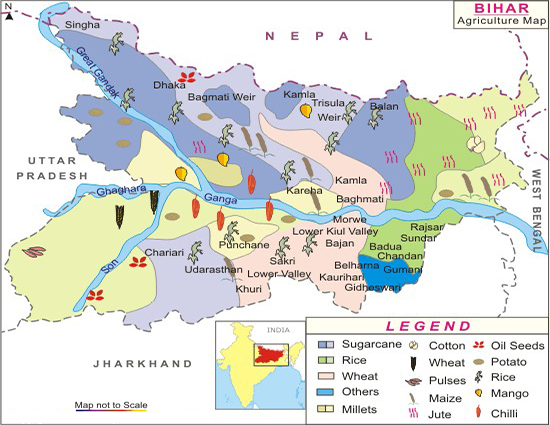 The topography of Bihar can be easily described as a fertile alluvial plain occupying the Gangetic Valley. The plain extends from the foothills of the Himalayas in the north to a few miles south of the river Ganges as it flows through the State from the west to the east. Rich farmland and lush orchards extend throughout the state.
Following are the major crops: paddy, wheat, lentils, sugarcane, jute (hemp, related to the marijuana plant, but a source of tough fibers and "gunny bags"). Also, cane grows wild in the marshes of West Champaran. The principal fruits are: mangoes, banana, jack fruit and litchis. This is one the very few areas outside China which produces litchi.
Mineral Production
The minerals are vital raw materials for a number of basic industries. The present state of Bihar contains minor minerals like soil, sand and stone, and the major minerals of the state include granite, bauxite, quartzite, pyrite, mica and limestone. There is also a possibility of petroleum reserves to be located in the districts of West Champaran, Purnea, Saharsa and Supaul.
Though a very small amount of minerals is available in the state, the revenue collection from it increased from Rs. 971.00 crore in 2015-16 to Rs. 994.90 crore in 2016-17.
Bihar is the principal holder of country's pyrite resources and possesses 94% of resources. The important mineral occurrences in Bihar are coal in Rajmahal coalfield; limestone in Kaimur (Bhabhua), Monghyr and Rohtas districts; mica in Nawada district; quartz/silica sand in Bhagalpur, Jamui, Monghyr and Nalanda districts; quartzite in Lakhisarai, Monghyr and Nalanda districts; talc/soapstone/steatite in Monghyr district.
Besides, occurrences of bauxite in Monghyr and Rohtas districts; china clay in Bhagalpur and Monghyr districts; felspar in Gaya, Jamui and Monghyr districts; fireclay in Bhagalpur and Purnea districts; gold in Jamui district; granite in Bhagalpur, Gaya, Jahanabad and Jamui districts; iron ore (hematite) in Bhagalpur district; iron ore (magnetite) in Gaya and Jamui districts; lead-zinc in Banka and Rohtas districts and pyrites in Rohtas district.
Steatite – 945 Tonnes
Pyrites – 9,539 Tonnes/Year
Quartzite – 14,865 Tonnes/Year
Crude Mica – 53 Tonnes/Year
Limestone – 4,78,000 Tonnes/Year
Soil and Climate of Bihar
Soil is one of the most important resources of a nation. It is the gift of nature of immense value. The most common use of the word soil is in the sense of a medium in which plants grow, although it has a different connotation at different time and place, and for persons engaged in different professions. Almost all the economic activities are directly or indirectly dependent on soil. Thus soil is the backbone of agricultural and industrial development.
Soil
Soil has a number of characteristics, which may be regarded as the aggregate of the physical, chemical and biological properties. The Bihar plane consists of a thick alluvial mantle of drift origin overlying in most part. The siwalik and older tertiary rocks.
The soil is mainly young loam rejuvenated every year by constant deposition of silt, clay and sand brought by different streams. This soil is deficient in phosphoric acid, nitrogen and humus, but potash and lime are usually present in sufficient quantity.
There are three major types of soil in Bihar:
Piedmont Swamp Soil – found in northwestern part of west Champaran district.
Terai Soil – found in northern part of the state along the border of Nepal.
The Gangetic Alluvium – the plain of Bihar is covered by gangetic alluvium (both new as well as old).
Climate
The climate of Bihar is a part of the climatic pattern of the Indian subcontinent. It enjoys a continental monsoon type of climate owing to its great distance from the sea.
The factors affecting the climate of Bihar are:
It extends from 22-degree north to 27-degree latitude. Hence its
 location is tropical to sub tropical.
The Himalayan Mountains in the north have a significant bearing
  on the distribution of monsoon rainfall in Bihar.
Bihar joins the Ganga delta and Assam.
Seasons and their duration:
Cold weather season – December to February.
Hot weather season – March to May.
Southwest monsoon – June to September.
Retreating southwest monsoon – October to November.
Climate
Classification
Cwa
Avg. temperature
27 °C (81 °F)
• Summer
34 °C (93 °F)
• Winter
10 °C (50 °F)
Precipitation
975.86 mm (Source:IMD)
Seasons
Winter
The cold weather commences early in November and comes to an end in the middle of March. The climate in the October and November is pleasant. The days are bright and warm and the sun is not too hot. As soon as the sun sets the temperature falls and the heat of the day yields place to a sharp bracing cold.
The temperature in Winter all over Bihar varies from 0–10 °C. On 7 January 2013, in early morning, mercury dipped to a record low to 0 °C in Gopalganj, 0.2 °C in Jehanabad, 0.7 °C in Vaishali, 1 °C in Patna, Muzaffarpur and other cities. December and January are the coldest months in Bihar.Forbesganj Bihar Also recorded -2° Celsius.
Summer
The hot weather sets in March and lasts until the middle of June. The highest temperature is often registered in May which is the hottest month in the state. Like the rest of the northern India, Bihar also experiences dust-storms, thunder-storms and dust-raising winds during the hot season.
Dust storms having a velocity of 48–64 km/hour are most frequent in May and with second maximum in April and June. The hot winds (loo) of Bihar plains blow during April and May with an average velocity of 8–16 km/hour. This hot winds greatly affects human comfort during this season.
Monsoon
Soon after Mid June this the rainy season commences and continues till the end of September, the beginning of this season occurs when a storm from the Bay of Bengal passes over Bihar. The commencement of monsoon may be as early as the last week of May or as the first or second week of July.
The rainy season begins in June. The rainiest months are July and August. The rains are the gifts of the south west monsoon. The south-west monsoon normally withdraws from Bihar in the first week of October.
Post Monsoon
An important feature of the retreating monsoon season in Bihar is the invasion of tropical cyclones originating in the Bay of Bengal at about 12° N latitude. Bihar is also influenced by the typhoons originating in the south China sea.
The maximum frequency of the tropical cyclones in Bihar is during September–November especially during the asterism called hathiya. These cyclones are essential for the maturing of paddy, and are required for the moistening of the soil for the cultivation of rabi crops.
Parks and Sanctuaries
Bihar is an Eastern Indian state with fertile plains and the river Ganga flowing right through the middle of it. In Ancient India, the state was considered as a pioneer in education, learning and culture.
Major empires rose from the plains of Bihar and left behind relics of their legacy. Also known for its bio-diversity, let us look at the National Parks (or Wildlife sanctuaries) in Bihar.
Parks and Sanctuaries
Valmiki National Park Wildlife Sanctuary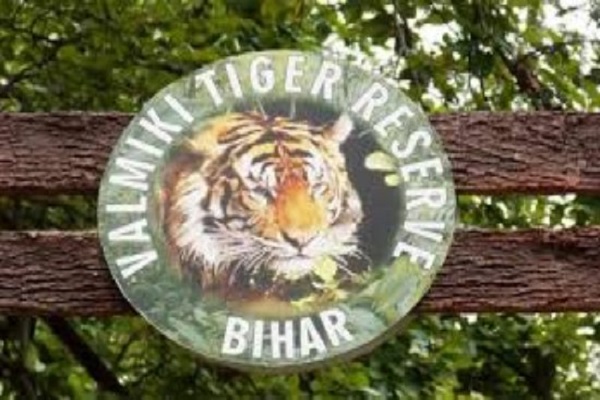 Valmiki national Park was Festablished in 1989 and covered across 340 sq km. Earlier it was a wildlife sanctuary (area is 550 sq km.) till 1978. It is located at West Champaran district of Bihar.
This park is famous for the Royal Bengal Tigers, rhinoceros and bison. Huge number of flying fox i.e a kind of bat are also observed here. It has vast grass land and a large number of wild cats move across this land. The best time to visit here is winter.
Kaimur Wildlife Sanctuary
Established in 1992 and covered up across 1350 sq km area. It is located at Kaimur Hills range (Kaimur District of Bihar) where beautiful lakes are present. This is the largest Wildlife Sanctuary in Bihar. It is famous for Black Buck.
The best time to visit here is also winter season because many species specially the birds come here and enhance the beauty of this sanctuary. This is also famous for historical terracotta painting, caves etc.
Rajgir Wildlife Sanctuary
Rajgir or Pant Wildlife Sanctuary, is situated in Nalanda Forest Division covering an area of 35.84 km2 under the Nalanda district administration. This Wildlife Sanctuary represents a remnant patch of forests nestled in the picturesque Rajgir hills within the South Gangetic Plain.
This sanctuary provides numerous ecosystem services to the surrounding landscape including varieties of flora and fauna. Therefore, to protect this forest a 35.84 km2 was notified as Rajgir Wildlife Sanctuary in 1978.
The sanctuary is enclosed by five peaks of the Rajgir hills that form a natural boundary, separating the sanctuary from the surrounding landscape of agricultural fields, habitation, roads and villages.
These five peaks are Vipulgiri (1), Ratnagiri (2), Udaigiri (3), Sonagiri (4) and Baibhavgiri (5). To the north of the sanctuary is located the Pachanan and Saraswati rivers as well as the town of Rajgir.
A survey of wildlife found 28 species of larger mammals, over 183 species of birds, 39 species of reptiles, 11 species of amphibians, 13 species of fishes, 51 species of butterflies and 6 species of scorpions. Varied diversity and abundance of wildlife that is characteristic of this region, and the range of habitats and ecosystems found in Rajgir WLS.
Vikramshila Gangetic Dolphin WildLife Sanctuary
As its name suggests that Vikramshila Wildlife Sanctuary is famous for its Dolphins. It is established in 1991 and located at Bhagalpur district of Bihar. Not only Dolphin but its biodiversity is also rich for its aquatic wildlife. It spread over 55 sq km. Total number of Gangetic dolphins in the world is approximately 1500, but half of them are found here.
Kanwar Lake Bird Sanctuary
Established in 1987 and located at Begusarai district of Bihar. It spread across 70 sq km. Kabar Taal Lake increase its importance, which is the largest Asia's largest freshwater oxbow lake. This is the famous place for the birds lovers. This is the home of thousands of birds.
Bhimbandh WildLife Sanctuary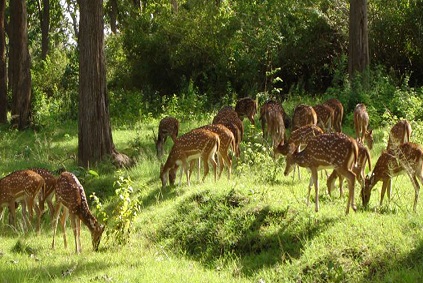 Bhimbandh Wildlife Sanctuary established in 1975 and covers across 700 sq km, situated in Munger district of Bihar state.
It is situated south of the Ganges River, at the northern edge of Chota Nagpur Plateau and west of Santhal Pargana. it is surrounded on all sides by densely inhabited non-forestry areas. In the valley portions and at the foothills are several hot springs of which the finest are at Bhimbandh, Sita Kund and Rishi Kund.
All the hot springs maintain nearly almost same temperature all year round. Of them, the Bhimbandh springs have the hottest temperature (52 °C to 65 °C) and discharge (0.84-1.12 cum/sec).
Gautam Budha WildLife Sanctuary
Established in 1976 and spread over 140 sq km, situated in Gaya district of Bihar Koderma district of Jharkhand. Leopard and Elephant are the important animals.
The refuge covers portions of the Lower Gangetic Plains moist deciduous forests and Chota Nagpur dry deciduous forests ecoregions. Plant communities include dry and moist sal (Shorea robusta) forests, ravine thorn forest, and tropical dry riverine forest. Fauna include tigers, leopards, wolves, sloth bears, chitals, chinkaras, and many species of birds.
Nagi Dam Wild Life Sanctuary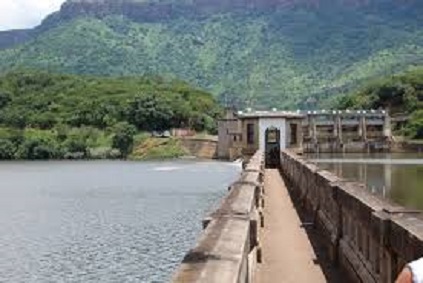 Nagi Dam Wildlife Sanctuary is Situated in Jamui District, Nagi Dam Bird Sanctuary is the smallest bird sanctuary in Bihar. It is spread over an area of about 2 sq km near Jhajha. The birdwatchers can identify a large variety of migratory birds.
Flora:
Dry moist and sal forest, Mixed Deciduous forest and thorn forest.
Fauna:
Mahuadwar Wildlife Sanctuary is home to Leopard, Jungle Cat, Chinkara, Cheetal and many spices of terrestrial and aquatic birds.
Nakti Dam Bird Sanctuary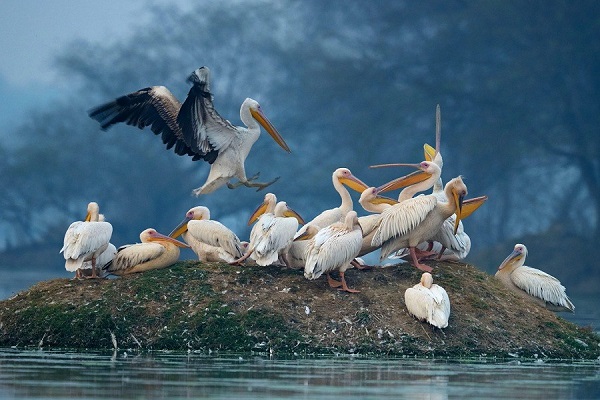 The Nagi Dam (791 ha) and Nakti Dam (332 ha) are two sanctuaries so close to each other that they can be taken as one bird area. Nagi is 7 km from Jhagha in the district Jamui, and Nakti is a further 4 km from Nagi, occupying similar habitat.
These notified sanctuaries are surrounded by rocky hillocks, formed by the damming of streams. Both these waterbodies are quite deep, with a clear watersurface. These dams were built to supply water to local farms. There are cultivable lands adjacent to both the waterbodies.
Udaypur Wildlife Sanctuary
Udaypur Wildlife Sanctuary (also spelled Udaipur) is a wildlife sanctuary located in West Champaran district of Bihar state, India. It was established in 1978, and covers an area of 8.74 km².
The wildlife sanctuary is predominantly wetland, located on an oxbow lake in the floodplain of the Gandaki River. It is home to a variety of water birds, both resident and migratory.
The sanctuary has areas of swamp forest, dry riverine forest, and khair-sissoo forest (Acacia catechu-Dalbergia sissoo). It is in the Lower Gangetic Plains moist deciduous forests ecoregion.
The sanctuary has a rest house. The nearest town and railhead is Bettiah. The sanctuary is under the authority of the Deputy Director of the Champaran Forest Division, headquartered in Bettiah.
Water Bodies
Bihar is a land blessed with rivers, beautiful waterfalls, springs and lakes.
Rivers of Bihar
Ganga
– The Ganges also known as Ganga is a trans-boundary river of Asia which flows through the nations of India and Bangladesh. The 2,525 km (1,569 mi) river rises in the western Himalayas in the Indian state of Uttarakhand, and flows south and east through the Gangetic Plain of North India. After entering West Bengal, it divides into two rivers: the Hooghly River and the Padma River.
The Hooghly, or Adi Ganga, flows through several districts of West Bengal and into the Bay of Bengal near Sagar Island. The other, the Padma, also flows into and through Bangladesh, and also empties into the Bay of Bengal. The Ganges is the third largest river in the world by discharge.
The Ganga is the most sacred river to Hindus. A lifeline to millions of Indians who live along its course and depend on it for their daily needs. It is worshipped as the goddess Ganga in Hinduism.
istorically, with many former provincial or imperial capitals (such as Pataliputra, Kannauj, Kara, Kashi, Patna, Hajipur, Munger, Bhagalpur, Murshidabad, Baharampur, Kampilya, and Kolkata) located on its banks.
There are few small river that meet river Ganga directly such as River Karmnasha near Chausa, river Kao-Thora near Bukar, river Dharmawati and Gangi between Buxar and Ara and river Gerua near Ghogha (Bhagalpur) from right side and river Mahi near Sonepur and river Baya near Bachhwara from left side in Bihar known as Ganga stem Basin.
Bagmati-Bagmati is a perennial river of North Bihar.
Originates from the shivpuri range of hills in Nepal at latitude 270 47' N and longitude 850 17'E., 16 Km North-East of Kathmandu at an elevation of 1500 m above MSL. Enters Indian territory in Bihar in the village Shorwatia in Sitamarhi district, nearly 2.5 Km north of Dheng railway station.The total length of this river is about 589 Km .It traverses nearly 195 Km in Nepal and rest 394 Km in Bihar. It outfalls in the kosi at Badlaghat.

Gandak
– The river Gandhak originates at an altitude of 7620 m above MSL in the north of Dhaulagisi in Tibet near Nepal border at Latitude 29018′ N and Longitude 83058'E, in the shownypeaks of the Himalyas. The river enters the Indian territory near Tribeni town in Nepal. Thereafterd the river flows in a southerly direction and forms boundary between Uttar Pradesh and Bihar. It flows through the west Champaran, East Champaran, Muzaffarpur, Gopalganj, Siwan, Saren and Vaishali districts of Bihar and Gorakhpur and Deoria district of Uttar Pradesh before joining Ganga at Hazipur.
Source:FMIS Bihar
Burhi Gandak– The river Burhi Gandak originates from chautarwa chaur near Bisambharpur in the district of West Champaran in Bihar and flows through the districts of East champaran ,Muzaffarpur, Samastipur and Begusarai. It outfalls into the Ganga near Khagaria. The total catchment area is 12021 sq.Km, out of which 9601 sq.Km lies in Bihar and rest in Nepal. There is no major or medium project over the Burhi Gandak river system.
Source:FMIS Bihar
Adhwara Group – Adhwara group of rivers originates from foot hills of Nepal. Nearly 70% of discharge of this river passes through the Khiroi. The rest 30 percent goes to meet the river Dhaus near Karharaghat. Then the river crosses north of Kamtaul railway station and finally falls into the Darbhanga -Bagmati at Ekmighat .
Source:FMIS Bihar
Ghaghra – originates in Tibet near Manas Sarovar and the main tributary river Sarayu.
Phalgu River– Rvered as a holy river by the Hindus this river flows by the Gaya district of Bihar and draws lot of Hindu pilgrims to the sacred spot at Gaya. In the ancient texts this river is mentioned as Niranjana River. The water flows below the ground level and only the stretch of sandy surface is visible from the top of the riverbed. Thus there are lot of mythical tales regarding the river.
Karmanasha River– Originates from Bihar's Kaimur district and is a tributary to Ganga.

Koshi River – The river Kosi originates at an altitude of over 7000 m above MSL in the Himalayas. The upper catchment of the river system lies in Nepal and Tibet. The highest peak in the world , the Mount Everest and the Kanchenjunga are in the Kosi catchment.It is known as Sapta Kosi in Nepal.It enters the Indian territory near Hanuman Nagar in Nepal.It joins the Ganga river near Kursela in Katihar district. The river Kosi drains a total catchment area of 74030 Sq.Km in India and other countries.Out of the total catchment area of the Kosi, only 11410 Sq.Km lies in India and the rest 62620 Sq.Km lies in Tibet and Nepal.
Source:FMIS Bihar
Mahananda River
– Mahananda River is one of the prime tributaries of the Ganga River in the eastern part of India. The origin of this mighty Mahananda River is from the extreme north of West Bengal from the stunning hills of Darjeeling at an elevation of 2100 km.
Originating from this beautiful hill station the Mahananda River, then flows southwards through the fertile agricultural area of Bihar and enters West Bengal flowing past English Bazaar. From Darjeeling to Bihar and after entering through Uttar Dinajpur district in West Bengal, Mahananda River, then flows in the southeast direction in to Bangladesh, near Tentulia in Panchagarh District.
The journey of the Mahananda River is still not complete and the river merges into Ganges, at Godagari Ghat after flowing for 225 miles (360 kilometers). The major tributaries of the Mahananda are Balason, Mechi, Ratwa and Kankai.
It has three tributaries in the Siliguri area called the Trinai, Ranochondi and the pair of Chokor and Dauk taken as a single tributary. The total drainage area of the river is 20,600 sq. km. of which 11,530 sq.km. lies in India. The river finally enters Bangaldesh and joins Ganga at Godagiri.

One of the most interesting facts about the Mahananda forms in its upper course an important linguistic boundary between the Bengali and the Hindi speaking areas and communities. The Mahananda River is mainly fed by the monsoons and floods occur in this river as well. It has a low water level during the summers or winters.
Source:NIH Roorkee
Punpun River – The Punpun river is an important river bank tributary of the Ganga river in lower reaches. It originates from the Chottanagpur hills of Palamau district at an elevation of 300 m in Bihar and lies between east longitudes of 84°10′ to 85°20′ east and north latitudes of 24°11′ to 25°25′.
The river mostly flows in a northeast direction and finally joins the Ganga river at Fatawh, about 25 km downstream of Patna. The river is 200 km long and is mostly rainfed and carries little discharge during non-monsoon period. It meets a number of tributaries namely the Butane, the Madar and the Morhar while flowing through the Chottanagpur plateau. The Punpun often causes heavy flood damages on the eastern side of Patna city.
The shape of the Punpun basin is roughly trapezoidal. The catchment area of the Punpun catchment is about 8,530 sq. km. which is about 1% of the total area of the Ganga basin in the country. The agriculture area under the Punpun basin is about 5,000 sq. km.
The average annual rainfall for the basin is 1,181 mm. The total gross recharge in the Punpun river system is 1.6 lakh ha-m. However, only 75% of the gross recharge can be utilised.

Son River – Son River, Son also spelled Sone, principal southern tributary of the Ganges (Ganga) River, rising in Madhya Pradesh state, central India. It flows north past Manpur and then turns northeast. The river cuts through the Kaimur Range and joins the Ganges above Patna, after a 487-mile (784-km) course. The Son valley is largely forested and sparsely populated. The valley is bordered by the Kaimur Range to the north and the Chota Nagpur plateau to the south. The river's flow is seasonal, and the Son is unimportant for navigation. Dams have been constructed on some of its tributaries. At Dehri, in Bihar state, are the headworks of the Son canal system.
Some more rivers are: Sapt Koshi,Bhutahi Balan
Waterfalls
Bihar is one fascinating tourist spot since it is one of the oldest places in the world with inhabitant's history of over 3000 years. There are many monuments, temples and other places of interest like sanctuaries and waterfalls.
This is one place where the old meld with the living present; where temples and monuments stand as memories of the past in places near places where waterfalls are situated. Most of these waterfalls are sacred and have stories added on. Pilgrims revere the waters and believe that a dip in these sacred waters absolve them of all sins. Some of the more famous waterfalls in Bihar are:
Kakolat Falls (Nawada)
Located about 33 kms from Nawada, this is a popular tourist site in Bihar. The water cascades from a height of 160 feet and the place is a refreshing change where the visitor feels rejuvenated. There is a natural pond at the base of the fall.
It is situated near the border that Bihar shares with Jharkand. There is a legend connected to the waterfall. The story is that during Treta Yug, a king was cursed and he took the form of a python. The king was later absolved from the curse when the Pandavas came to the place on their exile. The falls is an important tourist destination.
Telhar Waterfall (Kaimur)
Telhar Kund is the name of a waterfall located on Bhabua – Audhora Road in the Kaimur district of Bihar, India.The fall is located in Rohtas plateau, close to origins of Durgavati River. It is only a few kilometres from Durgavati reservoir project.
This Kund is at distance of 32 km drive from Bhabua (Kaimur District Head Quarter) and 47 km from Mohania. Nearest railway station is Bhabua Road(code BBU) at a distance of 47 km. 32 km drive from Bhabua to Telhar Kund has a beautiful natural scenery and picturesque.
It is in the lap of nature surrounded by beautiful hills and jungle. This place is really very exciting place for picnic/one day outing for nature loving people along with family and friends. One can enjoy the curls and curves of the hilly road which passes through kaimur hills. Persons going for picnic should carry their all food, water etc as there is no shops or market in vicinity of this Kund.
Near by Places: Maa Mundeshwari Temple – This is one of the oldest and famous temple situated just 28km from the Kund. This is just 7 km away from Khiri market situated on same Bhabua – Audhora Road where Telhar Kund is situated.
Karamchat Dam – This Dam is situated at 37 Km away from Bhabua. This is also a beautiful place to visit with family and friends
Karkat Waterfall (Kaimur)
The Kaimur Hills in Kaimur District is famous for the Karkat waterfall. It is a picturesque spot and an enchanting one. Visitors are drawn to the location where the water gushes down from a ravine. Karkat Waterfall has facilities for boating, swimming and fishing. The Kaimur Wildlife Sanctuary is near this waterfall.
Tutla Bhawani(Tutrahi or Titula Dham) (Rohtas)
Tutula Bhawani (also Tutrahi or Titula Dham) is located nearby Tilauthu and approximately 20 Km south west from Dehri-on-Sone. This is the most beautiful place of Rohtas. From north-west and south-east, these are two large mountains.
The two large mountains one from north west and another from south east at converge to create a green valley which stretches to 1 mile , there's a spring fall in the middle and from the middle of the valley a kachuar river flows.
All this creates a fascinating scene from east this valley stretches 300 M wick wharves from west it shrinks to only 50M from west a spring fall is created which falls from a height of 200 M.
Inside the spring on the right side of it slightly lights here's a chabutara. From, the light here's a way to go there, from this chabutara on, the south of it, here's big lock which is divided into three pouts, there's a sock edict of nayak pratap dhawal which was depicted on 1158AD.
Springs
Manjhar Kund (Rohtas)
The Manjhar Kund waterfalls also called the Manjhar K Waterfall is situated near Sasaram, the district headquarters of Rohtas District in Bihar. This waterfall is one of the finest falls in India.
Dhua Kund (Rohtas)
The Dhua Kund are a pair of waterfalls situated in the city of Sasaram. These two waterfalls have been utilised as a hydroelectricity source with the capacity to generate 50–100 MW of electricity.
Sita Kund (Sitamarhi)
The Sita-Kund is a Hindu pilgrimage site in Sitamarhi district, in the Indian state of Bihar, which has an ancient Hindu temple. It is situated 5 km west of Sitamarhi town and a popular visitor's attraction.
Punaura Dham Mandir is one of the holiest Hindu temples dedicated to Goddess Sita, located in Sitamarhi, Bihar, India. Million of pilgrims visit the temple every year and most visited religious shrine in North India.
Punaura Dham is about 5 km west of Sitamarhi. Saint Pundrik's Ashram was situated here. Sita-Kund place is the honour of being the birthplace of Hindu Goddess, Sita.
Hot Spring (Rajgir)
At the foot of Vaibhava Hill, a staircase leads up to the various temples. Separate bathing places have been organized for men and women and the water comes through spouts from Saptdhara, the seven streams, believed to find their source behind the "Saptarni Caves", up in the hills. The hottest of the springs is the Brahmakund with a temperature of 45 degree Centigrade.
Lakes
Bihar is a sacred land, where there are routes of some of the biggest religions in India like Buddhism and Jainism. This is the land where Buddha attained enlightenment. The land with many religious beliefs, myths and legends is Bihar and all the basic natural elements like rivers, lakes and other natural bodies relate somewhere to these beliefs.
Bihar lakes have a lot of significance over a lot of things; it bounds humans and also the surrounding eco-system. There are many beautiful Lakes in Bihar which attract numerous tourists for some reason or the other. At Bodhgaya in Bihar which is the centre of Buddhism around the globe, has a small but beautiful lake called the Muchalinda Lake. This lake is connected to the life of Lord Buddha and is celebrated place. Lake Kanwar in Bihar is another popular site, offering great tourism opportunities. Lake Kanwar also have a bird sanctuary which is a popular birding site in Bihar.
Kanwar Lake (Begusarai)
Situated in Begusarai District (Bihar), Kanwar Lake is one of the most famous and eco-friendly natural lakes. It attract variety of migratory birds which come from all parts of Central Asia during winter months. More than 106 species of resident birds have their home here.The lake can be visited during October and June.
Muchalinda Lake (Bodhgaya)
Muchalinda Lake is situated in the religious town Bodhgaya, which is one of the most venerated and holy site for Buddha worshipers from all over the world. In Bodhgaya, Prince Siddhartha Gautama sat beneath a bodhi tree and attained enlightenment.
Muchalinda Lake is the exact place where Buddha was meditating in the sixth week of his meditation. During his meditation process a severe thunder storm occurred and Buddha was disturbed in his meditation because of the strong storm.
Saraiya Man Lake (Bettiah)
SARAIYA MAN Situated at a distance of about 6 Kms. from Bettiah town, Saraiya man is a lake which is a beauty spot. The water of this lake is considered salubrious for digestion because of black berries (Jamun) planted on its banks which fall in the water. The lake attracts large varieties of birds.
Kharagpur Lake (Munger)
Kharagpur lake is one of the most beautiful lakes in Munger and it has been further beautified by construction of a reservoir by Maharaja of Darbhanga. It is 3km far from the Kharagpur city in the west direction.
Moti Jheel (Motihari)
Moti Jheel is a historical canal located in the heart of the city of Motihari. Beautiful sceneries and views embellish either side of the canal. Moti Jheel is the most famous tourist attraction of Motihari and is popular among visitors touring Bihar on a regular basis.
Various activities such as boating form a major part of tourist engagement. The setting sun offers a unique opportunity to onlookers from the Moti Jheel to feel the beauty of nature.
Pandu Pokhar (Rajgir)
Breathtaking landscapes and fun-filled activities makes PANDU POKHAR – a paradise for all. From beautiful gardens to an open air theatre, to a pond overlooking 37 feet tall bronze statue of King Pandu to a herbal maze – we are at a place to enjoy and admire nature.
A park with a unique combination of entertainment and camping makes it a wonderful place for corporate events, school excursions, family and other social gatherings. Truly, a beautiful destination for a perfect vacation. Experience the goodness of nature with fun. Starting with adventurous Zipline and Zorbing,
the park is filled with fun rides, games and pleasure gardens. At dusk, the display of colourful fountains in the pond enhances the beauty of the park. Evening walks in the serenity of the park allows nature's peace to flow in, soothing the soul and mind.
Ghorakatora Lake (Rajgir)
This is a lake surrounded by beautiful hills. This is near WORLD PEACE PAGODA. As this area too is connected to the lord Buddha, govt. of Bihar has decided to mark this by largest statue of Buddha in India and among top 5 in the world.It's height will be 200 feet and it will take 3-4 years to get completed.
J.P Samman yojana
जय प्रकाश नारायण
जयप्रकाश नारायण (11 अक्टूबर, 1902 – 8 अक्टूबर, 1979) भारतीय स्वतंत्रता सेनानी और राजनेता थे। वे जेपी के नाम से भी जाने जाते है। उन्हें 1970 में इंदिरा गांधी के खिलाफ विपक्ष का नेतृत्व के लिए जाना जाता है। वे समाज-सेवक थे जिन्हें लोकनायक के नाम से भी जाना जाता है।
पटना मे अपने विद्यार्थी जीवन में जयप्रकाश नारायण ने स्वतंत्रता संग्राम मे हिस्सा लिया।
जयप्रकाश नारायण बिहार विद्यापीठ में शामिल हो गए , जो युवा प्रतिभाशाली युवाओं को प्रेरित करने के लिए डॉ. राजेन्द्र प्रसाद और सुप्रशिद्ध गांधीवादी अनुग्रह नारायण सिन्हा, जो गांधी जी के एक निकट सहयोगी रहे और बाद मे बिहार के पहले उप मुख्यमंत्री सह वित्त मंत्री रह चुके है द्वारा स्थापित किया गया था।

1922 मे वे उच्च शिक्षा के लिए अमेरिका गए, जहाँ उन्होंने 1922-1929 के बीच कैलिफोर्निया विश्वविद्यालय-बरकली, विसकांसन विश्वविद्यालय में समाज-शास्त्र का अध्यन किया। पढ़ाई के महंगे खर्चे को वहन करने के लिए उन्होंने खेतों, कंपनियों, रेस्टोरेन्टो मे काम किया। वे मार्क्स के समाजवाद से प्रभावित हुए। उन्होने एम.ए. की डिग्री हासिल की।
उनकी माताजी की तबियत ठीक न होने की वजह से वे भारत वापस आ गए और पी.एच.डी पूरी न कर सके। उनका विवाह बिहार के मशहूर गांधीवादी बृज किशोर प्रसाद की पुत्री प्रभावती के साथ अक्टोबर 1920 मे हुआ। प्रभावती विवाह के उपरांत कस्तुरबा गांधी के साथ गांधी आश्रम मे रहीं।

1929 में जब वे अमेरिका से लौटे, भारतीय स्वतंत्रता संग्राम तेज़ी पर था। उनका संपर्क गाधी जी के साथ काम कर रहे जवाहर लाल नेहरु से हुआ। वे भारतीय स्वतंत्रता संग्राम का हिस्सा बने। 1932 मे गांधी, नेहरु और अन्य महत्वपूर्ण कांग्रेसी नेताओ के जेल जाने के बाद, उन्होने भारत मे अलग-अलग हिस्सों मे संग्राम का नेतृत्व किया। अन्ततः उन्हें भी मद्रास में सितंबर 1932 मे गिरफ्तार कर लिया गया और नासिक के जेल में भेज दिया गया।
यहाँ उनकी मुलाकात एम. आर. मासानी, अच्युत पटवर्धन, एन. सी. गोरे, अशोक मेहता, एम. एच. दांतवाला, चार्ल्स मास्कारेन्हास और सी. के. नारायणस्वामी जैसे उत्साही कांग्रेसी नेताओं से हुई। जेल मे इनके द्वारा की गई चर्चाओं ने कांग्रेस सोसलिस्ट पार्टी (सी.एस.पी) को जन्म दिया। सी.एस.पी समाजवाद में विश्वास रखती थी।
जब कांग्रेस ने 1934 मे चुनाव मे हिस्सा लेने का फैसला किया तो जेपी और सी.एस.पी ने इसका विरोध किया। 1939 मे उन्होंने द्वितीय विश्वयुद्ध के दौरान, अंग्रेज सरकार के खिलाफ लोक आंदोलन का नेतृत्व किया। उन्होंने सरकार को किराया और राजस्व रोकने के अभियान चलाए। टाटा स्टील कंपनी में हड़ताल करा के यह प्रयास किया कि अंग्रेज़ों को इस्पात न पहुंचे। उन्हें गिरफ्तार कर लिया गया और 9 महिने की कैद की सज़ा सुनाई गई। जेल से छूटने के बाद उन्होने गांधी और सुभाष चंद्र बोस के बीच सुलह का प्रयास किया। उन्हे बंदी बना कर मुंबई की आर्थर जेल और दिल्ली की कैंप जेल मे रखा गया।

1942 भारत छोडो आंदो लन के दौरान वे आर्थर जेल से फरार हो गए। उन्होंने स्वतंत्रता संग्राम के दौरान हथियारों के उपयोग को सही समझा। उन्होंने नेपाल जा कर आज़ाद दस्ते का गठन किया और उसे प्रशिक्षण दिया। उन्हें एक बार फिर पंजाब में चलती ट्रेन में सितंबर 1943 मे गिरफ्तार कर लिया गया। 16 महिने बाद जनवरी 1945 में उन्हें आगरा जेल मे स्थांतरित कर दिया गया। इसके उपरांत गांधी जी ने यह साफ कर दिया था कि डा. लोहिया और जेपी की रिहाई के बिना अंग्रेज सरकार से कोई समझौता नामुमकिन है।
दोनो को अप्रेल 1946 को आजाद कर दिया गया।
1948 मे उन्होंने कांग्रेस के समाजवादी दल का नेतृत्व किया, और बाद में गांधीवादी दल के साथ मिल कर समा जवादी सोशलिस्ट पार्टी की स्थापना की। 19 अप्रेल, 1954 में गया, बिहार मे उन्होंने विनोबा भावे के सर्वोदय आंदोलन के लिए जीवन समर्पित करने की घोषणा की। 1957 में उन्होंने लोकनिति के पक्ष मे राजनिति छोड़ने का निर्णय लिया।
1960 के दशक के अंतिम भाग में वे राजनिति में पुनः सक्रिय रहे। 1974 में किसानों के बिहार आंदोलन में उन्होंने तत्कालीन राज्य सरकार से इस्तीफे की मांग की। वे इंदिरा गांधी की प्रशासनिक नीतियों के विरुद्ध थे। गिरते स्वास्थ्य के बावजूद उन्होंने बिहार में सरकारी भ्रष्टाचार के खिलाफ आंदोलन किया। उनके नेतृत्व में पीपुल्स फ्रंट ने गुजरात राज्य का चुनाव जीता।

1975 में इंदिरा गाँधी ने आपातकाल की घोषणा की जिसके अंतर्गत जेपी सहित 600 से भी अधिक विरोधी नेताओं को बंदी बनाया गया और प्रेस पर सेंसरशिप लगा दी गई। जेल मे जेपी की तबीयत और भी खराब हुई। 7 महिने बाद उनको मुक्त कर दिया गया। 1977 जेपी के प्रयासों से एकजुट विरोध पक्ष ने इंदिरा गांधी को चुनाव में हरा दिया। जयप्रका नारायण का निधन उनके निवास स्थान पटना मे 8 अक्टूबर 1979 को हृदय की बीमारी और मधुमेह के कारण हुआ। उनके सम्मान मे तत्कालीन प्रधानमंत्री चरण सिंह ने 7 दिन के राष्ट्रीय शोक का ऐलान किया, उनके सम्मान मे कई हजार लोग उनकी शोक यात्रा मे शामिल हुए। 1998 में उन्हें भारत रत्न से सम्मानित किया गया।
जे० पी० सेनानी सम्मान योजना
जे० पी० आन्दोलन के दौरान दिनांक 18.03.1974 से 21.03.1977 तक भाग लेने वाले आन्दोलनकारियों को सम्मानित करने के उद्देश्य से सरकार के द्वारा "जे० पी० सेनानी सम्मान योजना "दिनांक 01.06.2009 से लागू की गयी है | इसके लिए गृह विभाग द्वारा संकल्प सं० 111 दिनांक 05.06.2009 एवं 524 दिनांक 15.07.2015 निर्गत किया गया है | जिन सेनानियों का कारा में निरुद्धता की अवधि एक माह से छ: माह तक है उन्हें रू० 5000/- (पांच हजार) एवं जिन सेनानियों का कारा में निरुद्धता की अवधि छ: माह से अधिक है उनको रू० 10000/- (दस हजार) मासिक पेंशन का भुगतान किया जाता है |
इसी कोटि के कारा में मृत एवं पुलिस फायरिंग में मारे गए व्यक्तियों के पति/ पत्नी को रू० 10000/- (दस हजार) मासिक पेंशन एवं पुलिस फायरिंग में गोली से घायल व्यक्तियों को रू० 5000/- (पांच हजार) मासिक पेंशन का भुगतान किया जाता है |

दिनांक 01.05.2015 से जे० पी० सेनानियों को बिहार राज्य पथ परिवहन निगम की बसों एवं दिनांक 01.01.2017 के प्रभाव से बुडको की बसों में भी राज्यान्तर्गत नि:शुल्क बस यात्रा सुविधा लागू कर दिया गया है |
दिनांक 01.08.2015 के प्रभाव से ऐसे जे० पी० पेंशनरों जिनको रू० 2500/- (दो हजार पांच सौ ) एवं रू० 5000/- (पांच हजार) मासिक पेंशन प्राप्त हो रहा था उनके पेंशन में बढ़ोतरी कर क्रमश: रू० 5000/- (पांच हजार) एवं रू० 10000/- (दस हजार) मासिक पेंशन किया गया है |सभी प्रकार के पेंशनरों के मृत्योपरांत उनके पति/ पत्नी (Spouse) को भी उसी दर पर पेंशन एवं अन्य सुविधाएं देय हैं |
स्वास्थ्य विभाग, बिहार, पटना के ज्ञापांक 873(14) दिनांक 23.07.2015 द्वारा जे० पी० सेनानियों एवं उनके पति/ पत्नी (जो भी लागू हों) को चिकित्सीय सुविधा लागू किया गया है |
Other Institutions
Bihar College of Pharmacy, New Bailey Road, Patna – 801 503.
Bihar Flying Institute, Civil Aerodrome, Patna.
Kishanganj Pharmacy College, Kishanganj – 855 107.
National Institute of Physiotherapy and Communication Disorders, PMP Bhawan, Kashi Nath Lane, East Lohanipur, Patna – 800 003.
Patliputra College of Pharmacy, PO – Bihar Veterinary College Campus, New Bailey Road, Patna – 800 014.
R.L.S.Yadav College of Pharmacy, Reshmi Complex, Kidwaipuri, Patna – 800 002.
Netraheen Chatra Vidyalay, Bhagalpur.
Balika Mahavidyalay, Lakhisarai.
Bihar Rashtrabhasha Parishad, Patna.
Prakrit Jain Shastra Aur Ahinsa Sansthan, Vaishali.
A.N.Sinha Samaj Adhyayan Sansthan, Patna.
Madersa Ajeejeeya, Bihar Sharif, Nalanda.
Science College, Patna.
Muk Badhir Vidyalay, Patna.
National Institute of Fashion Technology Mithapur Farms, Patna, Bihar 800001,Tel: +91-612-2340032, 2366833/4
Economy
Economy of Bihar
BIHAR ECONOMY : AN OVERVIEW
The economy of Bihar is presently on a continuous growth path, a result of sound development strategies of the state government, particularly the high levels of its development expenditure. According to the new series of data on Gross State Domestic Product (GSDP), the growth rate of Bihar's economy in 2017-18 was 11.3 percent, increasing from 9.9 percent a year before. During both these years, the growth rate of the national economy has been about 7 percent.
The GSDP of Bihar in 2017-18 was Rs. 4,87,628 crore at current prices. At constant (2011- 12) prices, the figure stood at Rs. 3,61,504 crore. The resulting Per Capita GSDP in 2017- 18 are — Rs. 42,242 (current prices) and Rs. 31,316 (constant prices).
In 2016-17, the highest growth rate was recorded by tertiary sector (12.8 percent), followed by primary sector (9.8 percent) and secondary sector (4.2 percent).
From a medium-term perspective, the sectors that are seen to grow at a faster rate and contribute most to the overall economy of Bihar are — mining and quarrying (60.0 percent), manufacturing (17.5 percent), TSCS (transport, storage, communications and services related to broadcasting) (11.4 percent). All these sectors have recorded a double-digit growth rate. Among the subsectors, air transport is seen to have grown at a very high rate of 35.2 percent.
For a comprehensive view of the current status of Bihar's economy, We categorise in to two section:-
Agriculture and Allied Sectors
Industry Sector
Agriculture and Allied Sectors:-
Located in the eastern part of India, Bihar has an area of 93.6 lakh hectares, accounting for nearly 3 percent of the country's total geographical area. Primarily, the climate is subtropical with peak summer temperatures averaging around 40 degree Celsius during March-May and 8 degree Celsius in winter months during December-January.
During 2018, the annual rainfall received due to the south-west monsoons in Bihar stood at 689.6 mms, which is about 20 percent less than the long run average rainfall of 848.2 mms.
The land use pattern has remained nearly unchanged over the last few years. The cropping intensity in the state has increased marginally from 1.44 in 2012-13 to 1.45 in 2016-17. Overall, about 56.55 percent of the land was under cultivation in Bihar during 2016-17.
The cropping pattern, nearly unchanged over the years, reveals that Bihar is primarily a cereal economy, with more than 85 percent of its gross cropped area under cereals. Considering the fact that Bihar has achieved self-sufficiency in foodgrain production, specific schemes for cultivation of pulses and oilseeds in rice fallows areas have been undertaken in the state under the scheme of 'Targeting Rice Fallow Areas (TRFA)' in Eastern India.
Among the major cereals, an increasing trend in production can be seen for both maize and rice, registering growth rates of 6.0 and 4.0 percent respectively, during the last five years. The total production of coarse cereals was 3.15 lakh tonnes in 2017-18, registering a growth rate of 6.0 percent between 2013-14 and 2017-18.
The productivity of cereals increased from 2595 kg per hectare in 2013-14 to 2839 kg per hectare in 2017-18. This has been made possible with sustained efforts by the state government through provision of quality seeds, tools and equipment through subsidy programmes and encouragement to adopt technologies to mitigate climatic risks.
The technological developments in the state have enabled diversification towards horticultural crops in Bihar. The overall production of vegetables increased from 142.42 lakh tonnes in 2015-16 to 148.12 lakh tonnes in 2017-18. The total acreage under fruits was 3.09 lakh hectares, producing a total output of 42.29 lakh tonnes during 2017-18.The consistent efforts of the state government through establishment of high-density orchards has encouraged production of mango, litchi and guava.
In 2017-18, the total consumption of fertilizers in Bihar was 49.95 lakh tonnes, which was slightly lower than the 51.95 lakh tonnes in 2015-16. Urea consumption was the highest at 40.8 percent of the total consumption, relative to other nutrients during 2017-18 in Bihar. Further, it is also noticed that nearly 60 percent of the fertilizer consumption in Bihar is during the rabi season.
The establishment of organic corridor is part of the Agricultural Road Map III and it is envisaged to cover around 25,000 acres during the period 2017-22, involving a fiscal outlay of Rs 255.00 crore. For promotion of organic farming, farmers have been identified in villages along river Ganges in the districts of Patna, Nalanda, Bhagalpur, Vaishali, Samastipur, Begusarai, Lakhisarai, Khagaria and Munger.
In Bihar, 44.67 lakh animals were treated during 2017-18, which is higher than those treated in the previous year (41.03 lakh). About 526.72 lakh animals were immunized in Bihar and the coverage of artificial insemination stood at 28.23 lakh animals in 2017-18.
In absolute terms, Bihar's milk production increased to 92.41 lakh tonnes in 2017-18, increasing from 71.97 lakh tonnes in 2013-14.
A substantial increase in production of eggs is evident from its growth rate of 6.84 percent in the recent years. In 2017-18, egg production stood at 121.85 crores in Bihar. Similarly, meat production in the state increased from 2.92 lakh tonnes in 2013-14 to 3.43 lakh tonnes in 2017-18.
The abundant fresh water resources in the state provide impetus for development of fisheries. The fish production in the state steadily increased from 4.32 lakh tonnes in 2013- 14 to 5.87 lakh tonnes during 2017-18, registering a growth rate of 7.0 percent.
ENTERPRISES SECTOR
The growth in agro-based industries in Bihar (19.2 percent) was almost five times the growth rate achieved across all states of India (3.6 percent). In case of non-agro-based industries in Bihar, the growth rate was again higher in Bihar (6.9 percent) than the growth rate achieved at all-India level (4.4 percent).
In Bihar, the total number of Unincorporated Non-Agricultural Enterprises (UNAE) was about 34.48 lakh, about 5.4 percent of all such enterprises in the country. Bihar's share of 5.4 percent of all enterprises in India was lower than Bihar's population share of 8.6 percent of India. It was estimated to employ 53.07 lakh workers.
In Bihar, 11 sugar mills are presently in operation, of which 9 are part of private sector and two of public sector. In 2017-18 crushing season, sugar mills crushed 747.89 lakh quintals of sugarcane, 176.75 lakh quintals more than the previous year.
The sugar recovery rate was 9.57 percent in 2017-18, marginally higher than in the previous year (9.17 percent). It is also important to mention that, on an average, sugar mills were in operation for 125 days a year, entailing better utilisation of installed capacity.
Under COMFED, 9 dairy cooperative societies are presently functioning, and 21.0 thousand milk cooperative societies were organised till 2017-18. The number of functional cooperative societies increased from 14.8 thousand in 2016-17 to 15.2 thousand in 2017- 18, registering a growth of 2.8 percent. Marketing of dairy products by COMFED has improved immensely in last few years.
The number of retail outlets increased from 15.9 thousand in 2016-17 to 17.7 thousand in 2017-18, implying a growth of 11.8 percent. The sale of milk, ghee, lassi, paneer, dahi, ice-cream has registered a significant increase between 2016-17 and 2017-18.
Under the Mukhyamantri Kosi Mulberry Scheme, 7 districts in the Kosi region were selected for promotion of mulberry production. To increase the production of mulberry in Saharsa, Supaul, Madhepura, Araria, Kishanganj, Katihar and Purnea, the state government provided pumpset to 1975 farmers, worm rearing tools to 2447 farmers, and 642 farmers received assistance for construction of rearing house.
The state government allotted Rs. 1415.10 lakh to Jeevika to provide above-mentioned facilities to the farmers. In 2017-18, the state government provided Rs. 3262.31 lakh to Jeevika exclusively for the Mulberry Project.
Between 2016 and 2017, there has been a growth of 13.4 percent in the arrival of tourists. More encouragingly, the growth rate of foreign tourists' arrival was 7.1 percent.
Source:Economic Survey Report 2018-19:-Finance Department